2nd Annual Chanukah Dinner Party with The Moody Jews of Boise
Description
This event is SOLD OUT.
Monday, December 3rd, 2018
$25 general, $30 preferred ($30/$35 at the door)
Doors open at 5:30pm for dinner and drinks. Performance to follow. Ticket price inclues a traditional Jewish vegetarian dinner buffet.
The Moody Jews of Boise are proud to present the 2nd Annual Chanukah Dinner Party in the Sapphire Room on Monday Dec 3, 2018. The Moody Jews play a variety of upbeat Yiddish music from the Eastern Europe (Ashkenazi klezmer) as well as Latin and Middle Eastern styles (Sephardic), representing the various traditions and cultures related to Judaism. There we be an extra helping of Chanukah songs and traditional Chanukah dinner to bring this festival of light to life.
This all-ages show includes a traditional Jewish vegetarian dinner buffet (potato latkes, grilled veggies, salad and dessert), combining food, music, and dancing for a wonderful evening. This will be a lot of fun for Jews, non-Jews and Jew curious. All are welcome!
The Moody Jews will be joined by special guests Katie Garonzik and the Half Maccs performing a set of jazz standards by Jewish composers.
This show sold out last year, so don't delay in grabbing your tickets this year.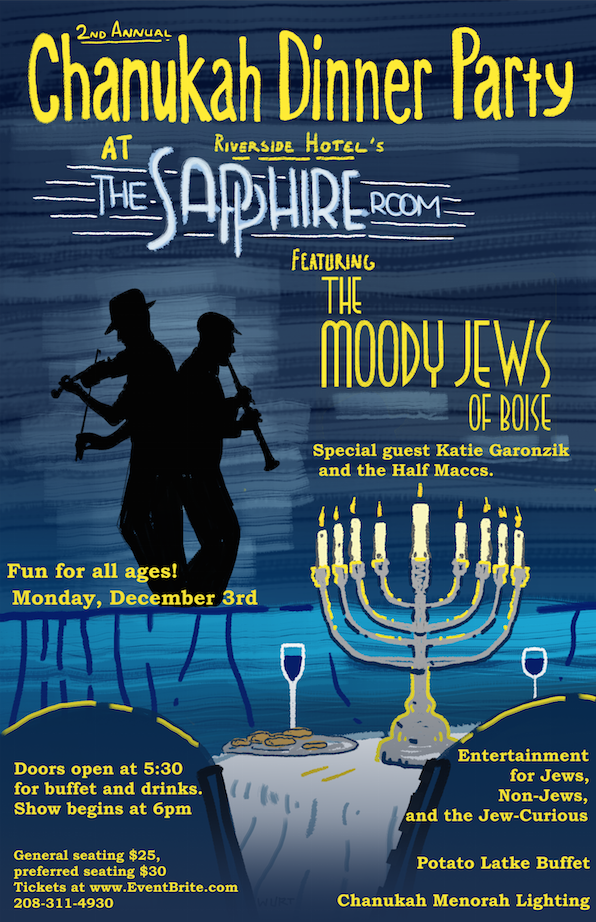 ---
Join us in The Sapphire Room for table-side service with a full food and bar menu! View the menu HERE.
The Sapphire Room is all-ages and family-friendly. Every person that enters must have a ticket; no babes in arms.
FREE, convenient parking.
Many tables in the Sapphire Room are at bar height. Those requiring lower or ADA accessible seating will be most comfortable at the following tables: 25, 28, 33, 35, 36, 41, 60, or at the bar. For questions about accessible seating, please call 208-331-4930 or email music@riversideboise.com.

100% refunds are available until 24 hours before the event. Refunds cannot be processed after the event occurs for any reason.
Boise's best-kept secret! The Sapphire Room at The Riverside Hotel, 2900 Chinden Blvd. Boise, Idaho 83714.
---
Need assistance? WE CAN HELP! Phone orders are available from 9am - 4pm, Monday - Friday by calling 208-331-4930. If you need help after-hours or on weekends, please call 208-331-4949, or email music@riversideboise.com, and we'll get back to you as soon as we can. Thank you for supporting local live music!