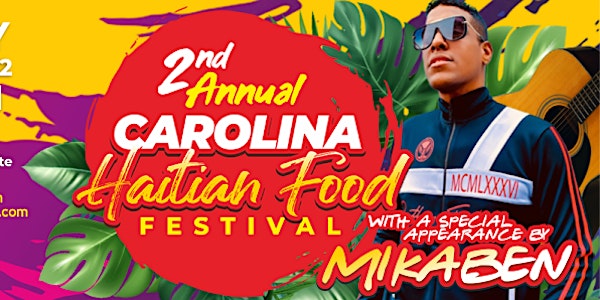 2nd Annual Carolina Haitian Food Festival
The largest celebration of Haitian food and culture in the Carolinas is back! With a special performance by Mikaben. Hosted by Zoe Poze.
When and where
Location
Midwood International and Cultural Center 1817 Central Avenue Charlotte, NC 28205
About this event
The Festival - the first of its kind in the state - will showcase Haitian food trucks, businesses, music, culture and community on a large scale. There will be something for everyone: events, shopping, food, music and most of all - an amazing atmosphere and a real sense of community. It will be the ultimate showcase of Haitian cuisine and culture in the region.
Special performance by Mikaben. Hosted by Zoe Poze.
FAQ
What should I expect during the event?
You should expect Haitian food trucks, Haitian-owned businesses and vendors, good music, performances, light shopping, an amazing atmosphere and a sense of community.
What's the dress code?
Cute and comfortable clothes. Cultural garb, or the Haitian flag colors, even better!
Are kids welcome?
Yes! This is a family-friendly event. There will be an area with games and activities and treats.
Do I have to pay for parking?
On-street parking is free to all attendees.
Is it indoors or outdoors?
Both.
How can I become a sponsor or vendor?
Visit https://www.carolinahaitianfoodfestival.com/sponsors, or call 980-292-0905 or email carolinahaitianfoodfest@gmail.com.
What Haitian food trucks will be there?
Bon Fritay Haitian Food Truck, Ms. Didi's Caribbean Kitchen, Kreyol Flavors, Caribbean Buzz