2nd Annual Cannabis Law, Accounting & Business Conference

Thursday, October 26, 2017 from 7:00 AM to 6:00 PM (EDT)
Event Details
Last year we created the first of its kind Cannabis Law, Accounting & Business Conference. The response was so great we launched cLAB, a national organization with our next chapter opening in Las Vegas. This year we are excited to bring the conference back to South Florida. Please join us and your fellow attorneys, accountants, insurance/regulation, consultants, investors, entrepreneurs, c-level executives, and others. Join your colleagues in an exciting journey towards setting higher standards in the cannabis community. Participate in making a difference. As the multibillion dollar cannabis industry continues to grow so too does need for greater standards of professionalism. The purpose of our annual cannabis conference is to help professionals do what they do better.
PRESENTERS 

AGENDA
 8:00 AM     Registration & Breakfast with Networking
 8:45 AM      Opening Remarks and Welcome
     -Gerald Greenspoon, Co-Managing Director, Greenspoon Marder
9:00 AM – 10:00 AM   SESSION ONE: Florida For Care: SB 8A, 2018 Legislative/Department of Health Update and New MMTC Applications – What attorneys need to know
Florida For Care starts our day discussing the current status of legislation and implementation for medical cannabis with a further look at the road ahead for Florida cannabis law.
     -Ben Pollara, Florida For Care
     -Eric Stevens, Florida For Care
     -Matthew Ginder, Greenspoon Marder
10:00 AM - 10:30 AM   NETWORKING BREAK – Join sponsors in the Networking Lounge for a coffee chat
10:30 AM – 11:30 AM  SESSION TWO: Banking, Finance, Tax & Cannabis Law 
This session explores the legal difficulties related to banking in the cannabis industry. How to legally manage cannabis derived revenue and properly account for it.
     -Lex Ford, First Green Bank
     -Mary Gelinas, Daszkal Bolton
     -Steve Jancic, Amercanex
     -Elaine Geller, Amercanex
     -Daniel Sparks, BiotrackTHC
11:30 AM – 12:30 PM  SESSION THREE – Ask The Experts: MMTC Applications, Doctor Rules, Testing & Litigation
Florida For Care assembles a panel of experts to discuss a variety challenges  to cannabis from application, to recommending, to independent lab testing and litigation.
     -David Kotler, Cohen Kotler P.A.
     -Michael Minardi, Regulate Florida
     -Jon Robbins, Akerman
     -James Horvath, Evio Labs
     -Dr. Michelle Weiner, PRIME Wellness Integrative Medicine
12:30 PM –  2:00 PM   BUFFET LUNCH – Lunch with the MMTCs – Legal Challenges to Operating
Florida For Care sits down for a unique opportunity to speak with the CEOs of 3 operating Florida MMTCs to discuss the strengths, weaknesses, opportunities and threats to the road ahead for cannabis.
     -Kim Rivers, Trulieve
     -Jose Hidalgo, Knox
     -Jake Bergmann, Surterra
2:00 PM – 3:00 PM   SESSION FIVE: Real Estate, Land Use & Zoning, Environmental & Water Rights Issues
As cannabis is legalized in more and more states, it is important for the real estate practitioner to be aware of the type of operations and facilities permitted in that state and to advise clients, from a land use and zoning standpoint, on how their properties may be affected.
     -Alicia Lewis, Greenspoon Marder
     -Marc Gemignami, Dominion AG
     -Zach Kobrin, Knox Medical
3:00 PM – 4:00 PM   SESSION SIX: Labor & Employment Issues in Cannabis: Employer Rights vs. Employee Rights
This session explores issues such as whether employers can discipline an employee for off-hours and off-site use or influence, when it is pursuant to a valid prescription (in medical marijuana states), or for off-hours and off-site recreational use (in recreational marijuana states), and the like.
     -Myrna Masonet, Greenspoon Marder 
4:00 PM – 4:30 PM   NETWORKING BREAK – Join sponsors in the Networking Lounge for Sweets & Treats
4:30 PM – 5:30 PM  SESSION SEVEN: Intellectual Property in Cannabis: What Can You Protect?
Our last session explores how cannabis businesses go about protecting their brands when federal trademark protection is unavailable to marks used on federally illegal goods and services.
     -Justin McNaughton, Greenspoon Marder
5:30 – 7:30   COCKTAIL RECEPTION - Networking Party in the Networking Lounge 
 *Agenda subject to change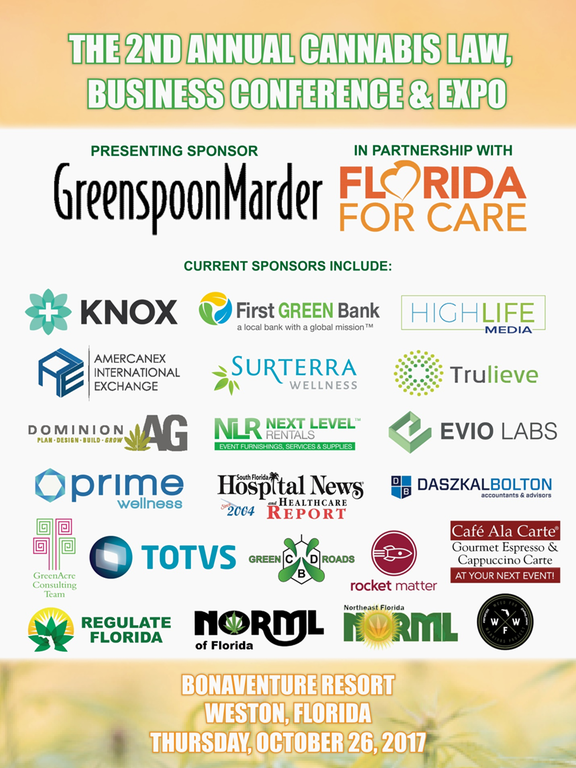 When & Where

Bonaventure Resort & Spa
250 Racquet Club Road
Weston, FL 33326


Thursday, October 26, 2017 from 7:00 AM to 6:00 PM (EDT)
Add to my calendar
Organizer
The Legal Learning Series is dedicated to providing higher continuing legal education programs and offering legal experts, consultants, service and technology providers the opportunity to educate the community. We offer comprehensive half day seminars, full day seminars, conferences, lunch and learns, professional development courses to be hosted within law firms, legal networking opportunities, and training.

Attendees of the Legal Learning Series include top level professionals: lawyers, judges, administrators, paralegals, legal assistants, case managers, litigation support managers, legal consultants, and others. Join your colleagues in an exciting journey towards setting higher standards in the legal community. Participate in making a difference.

We are always looking for great speakers, topics and venues so please share. We also appreciate you sharing our events with your social networks and contributing to our group. It takes a village to raise a Legal Learning Series.