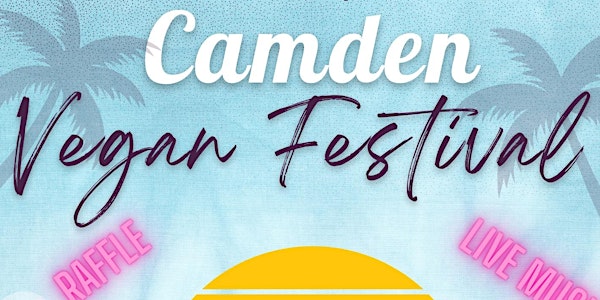 2nd Annual Camden Vegan Festival 2022
Vegan Food Festival promoting holistic wellness! Healing the mind, body, and spirit!
When and where
Location
Camden Waterfront Lot 13 NE Delaware Ave & Cooper Street Camden, NJ 08102
About this event
FOE wellness and Camden Repertory Theatre Partner to present: The 2nd Annual Vegan Food Festival; bringing awareness to injustices related to health and wellness! It will be a fun filled day full of the best plant based goodies and music that the city of Camden, NJ and surrounding areas have to offer! Our mission is to educate families on preventive methods that are proven to maximize life and quality of life. Please join us as we educate and celebrate with one another!
Wealth and health of the Mind, Body, and Spirit are all vital to positive growth and we have vendors that cater to all of these components!
Vendor Update:
Ox's Way @oxsway
Bhakti Books and Art
Woman- By Design
The Fabulous Fig @thefabulousfig
Goji Babies: Plant Based Snacks @gojibabies
Leilani's Luminescences
Brown Babycakes @brownbabycakes
AtiyaOla Sankofa - Spirit Foods @spirit1stfoods @atiya_olas_spirit_first_foods
Moss Boss
Serenitee Pure and Natural @sereniteepureandnatural
Community Doulas of South Jersey @communitydoulasofsj
Onje Sea Gold @onjeseagoldseamoss
Juice Capitol @juicecapitol
PANELISTS:
Charolyn Mosley @coachshay2020
Aurelio Rodriguez @vegan_wolverine
PERFORMERS:
Trumpet Chics @trumpetchics
DJ Aurelio Rodriguez @vegan_wolverine
RAFFLE SPONSOR:
MoM's Organic Market @momsorganicmarket
If you have any questions or concerns contact: foewellness@gmail.com.
Rain or Shine Event!