2nd Annual Cal Poly Design & Dev Hackathon

Saturday, January 31, 2015 from 8:00 AM to 8:00 PM (PST)
Event Details
Are you a software engineer, web developer or graphic designer? Are you a marketer, or startup enthusiast? Come spend 12 hours to build a mobile app, web site or project that will make life better at Cal Poly and your community. It's a day of hacking with your fellow Cal Poly students where you can think up ideas, pitch concepts to each other, create teams to quickly build as much as you can, and present the results.
The Cal Poly Hackathon is designed for Cal Poly students. It's a great way for you to make new connections, learn skills, and get feedback from mentors and your peers. It will be a creative, supportive environment – OK, maybe just a little bit competitive too. Bring your energy and enthusiasm and let's build together.
During the Cal Poly Hackathon we will have experienced mentors on hand to help you with different technologies for development and design. On Saturday evening at 8:00 pm each team will demo their product/website/mobile app and receive feedback from an expert panel. After voting by the judges, and by all of you, we will celebrate with some fun prizes.
Past hackathons have led to job opportunities, internships and student teams forming start ups of their own, and we hope to see you join that notable list! The Cal Poly Hackathon is also a great résumé builder!
The event will be held in the Bonderson Engineering Center at Cal Poly in San Luis Obispo. You will need to be there on Friday evening January 30 for the kickoff night (6-8 pm). Bring your ideas and we will help everyone form teams. Hack on your project starting Saturday morning (January 31) and show your demo on Saturday evening at 8 pm. See the schedule below for more information. Plenty of food and refreshments will be provided, just bring your own computer. 
How to Sign Up
Help us get the right mix of participants by picking the right ticket: if you can code, pick the Developer/Engineer ticket (50 available). Can you do HTML or visual design but not code? Pick the Designer/UX ticket (50 available). Content developer, marketer or startup enthusiast? Pick "Marketer/Idea Person" (20 available). There is no charge to attend but we can only fit a limited number of people so sign up early!!
Schedule:
Kickoff : Friday, Jan. 30
Location: BONDERSON (Bldg. 197-104)
6:00 - Doors open, registration/check-in, pick up your t-shirt, start mingling! 
6:30 - Welcome, overview and pizza
6:45 - Keynote presentation 
7:00 - Idea brainstorming & team forming
Event ends between 8-9pm, doors close at 10 pm
Formed teams are welcome to start working on their Hackathon project off site or at one of the 24-hour locations on campus but Bonderson doors will close at 10 pm.
12-Hour Hackathon: Saturday, January 31
Location: BONDERSON (Bldg. 197-104)
7:00am - Doors open—First-in first-choice to snag the best tables and locations for your team!
7:30am - Breakfast and coffee served
8:00am - Formed teams start building apps and web sites
12:30pm - Lunch served
5:00 pm - 3 hours remaining - Crunch time!
6:00-7 pm - Pitch training workshop for teams
6:30 pm - Dinner served 
Spectator ticket holders arrive at 8:00 pm for team pitches!
8:00pm - Team Pitches begin
9:30 pm - Winners announced
10:00pm - Out of the bldg. - Cleaning & Done
This event is a collaboration between the Cal Poly's Center for Innovation and Entrepreneurship and the Creative Media Development club.
Do you have questions about the Cal Poly Hackathon? Contact Lorraine Donegan or the Center of Innovation & Entreprenuership for more information and sponsorships.
Here are a few photos from the 2014 Cal Poly Design & Dev Hackathon, it was a blast!
Click here to see the 2013 Evernote Hackathon video produced by Galen Tran.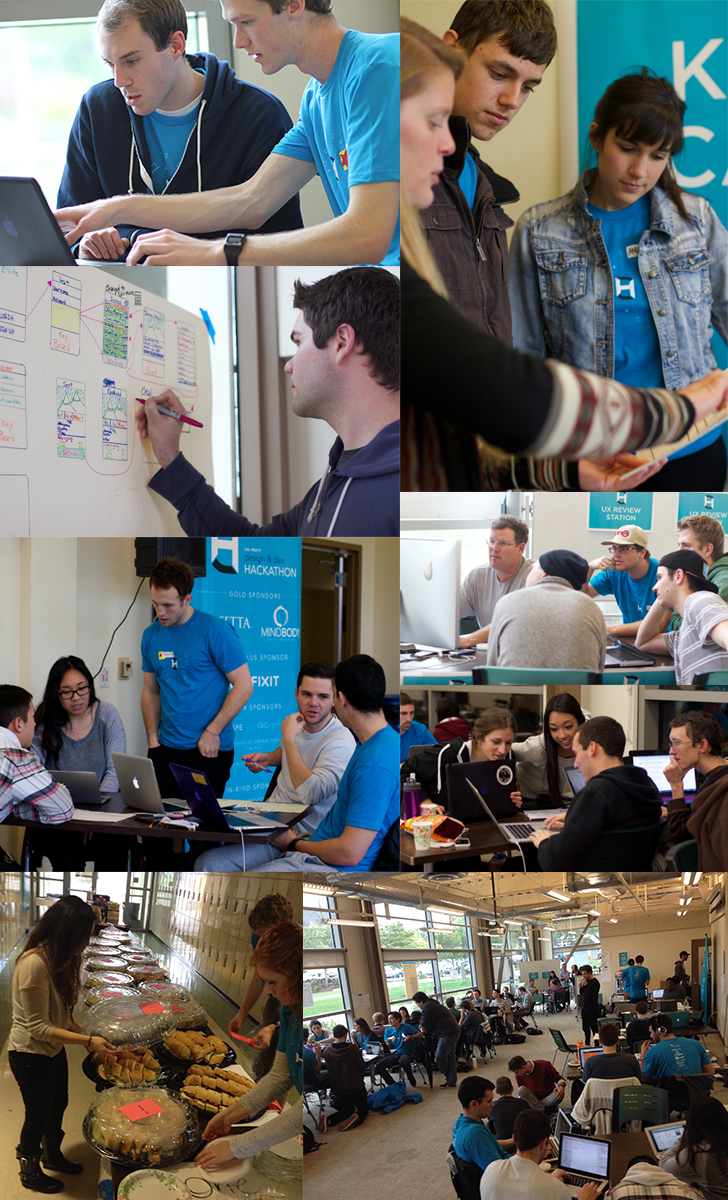 When & Where

Cal Poly State University
1 Grand Avenue
Bonderson Building 197-104
San Luis Obispo, CA 93407


Saturday, January 31, 2015 from 8:00 AM to 8:00 PM (PST)
Add to my calendar
Organizer
Lorraine Donegan is a professor in the Graphic Communication department at Cal Poly San Luis Obispo. She is one of four members of the More than a Motto team; Brian Greenwood (EIM) and Dawn Janke (Director of Cal Poly's Writing & Rhetoric Center) and Keri Schwab (EIM).
More information about our conference: morethanamotto.calpoly.edu
About the More than a Motto Project
Learn by Doing permeates all aspects of academic and campus life, and the More than a Motto project team has set out to document the meaning of the university's Learn by Doing approach to education through this expansive project that includes publication of a signature book entitled More than a Motto: The Meaning Behind Cal Poly's Learn by Doing Signature, development of an e-book, an annual conference and an academic journal.
The book content will center on case studies highlighting Learn by Doing at Cal Poly. Case studies will be chosen by the authors in consultation with the Advisory Board as well as through accepted proposals for the inaugural Learn by Doing conference on May 15, 2015
About the More than a Motto Team
The idea for a book on Learn by Doing originated with lead authors Brian Greenwood, an associate professor in Experience Industry Management (EIM) and Dawn Janke, director of Cal Poly's Writing & Rhetoric Center. While serving together in a leadership capacity with the Center for Teaching, Learning, & Technology (CTLT) from 2011-13, Greenwood and Janke came in contact with many new faculty interested in enhancing their teaching and increasing Learn by Doing opportunities in their courses. They realized the need for a book not only to help promote Learn by Doing for new faculty but also to highlight Learn by Doing for current and prospective students and parents, alumni, donors and industry partners. The project was born.
Keri Schwab, assistant professor in EIM, and Lorraine Donegan, professor in Graphic Communication, join Greenwood and Janke on the project team. Schwab brings a new faculty perspective and extensive writing and publishing experience to the project. Donegan's expertise in linking technology with book design matches perfectly with the project, and as creative director, she will work with student assistants to help develop the design for the signature and e-book.