2nd Annual Cabarrus Beekeepers Present: Jennifer Berry and Dr. David Tarpy
Cabarrus Beekeepers Association are proud to present Jennifer Berry and Dr. David Tarpy at our 2019 Cabarrus Beekeepers Present: seminar.
About this Event
2nd Annual Cabarrus Beekeepers Present: Jennifer Berry and Dr. David Tarpy
For over 19 years, Jennifer Berry has been the Apicultural Research Professional and Lab Manager for the University of Georgia Honey Bee Program. Her research objectives have focused on queen breeding, keeping bees alive, the sub-lethal effects of pesticides on beneficial insects and IPM techniques for varroa and small hive beetle control. Jennifer's extension duties include teaching beekeeping to people from all walks of life, including those in Central and South America, to those imprisoned in Georgia's maximum & medium security prisons. She is also passionate about educating the public about the importance of beneficial insects and is somewhat of a regular columnist for Bee Culture magazine. On nights and weekends, she operates Honey Pond Farm, a honey bee venture that sells quality nucleus colonies, and teaches classes on how to raise superior queens and keep bees alive at her farm in Georgia.
David Tarpy is a Professor of Entomology and the Extension Apiculturist at North Carolina State University since 2003. As Extension Apiculturist, he maintains an apiculture web site dedicated to the dissemination of information and understanding of honey bees and their management, spearheads numerous extension projects (such as the 2005 New Beekeeper Cost-sharing program that created hundreds of new beekeepers within the state), and launched the Beekeeper Education & Engagement System (BEES)—an exciting online learning resource for knowledge and understanding of bees and beekeeping. His research interests focus on the biology and behavior of honey bee queens in order to better improve the overall health of queens and their colonies. Specific research projects include understanding the effect of multiple mating on colony disease resistance, using molecular methods to determine the genetic structure within honey bee colonies, and the determining the regulation of reproduction at the individual and colony levels. His work has provided some of the best empirical evidence that multiple mating by queens confers multiple and significant benefits to colonies through increased genetic diversity of their nestmates, particularly through increased tolerance to numerous diseases. More recently, his lab group has focused on the reproductive potential of commercially produced queens, testing their genetic diversity and mating success in an effort to improve queen quality.
2018 Cabarrus Beekeepers Present: Kim Flottum, Editor, Bee Culture Magazine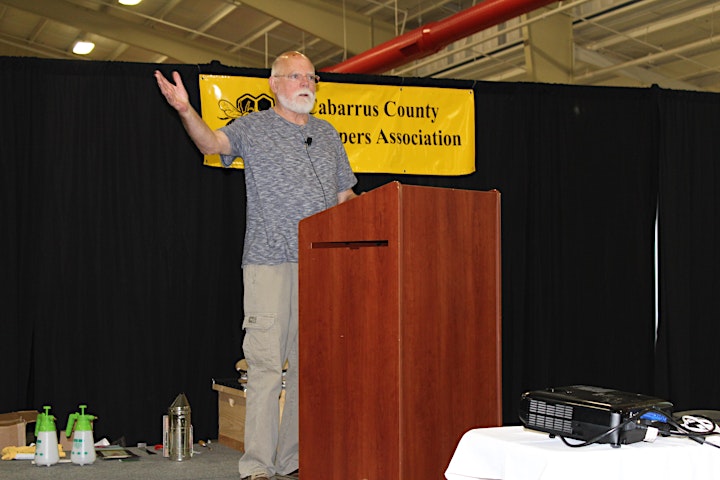 Lunch Buffet included with advance purchase of ticket.