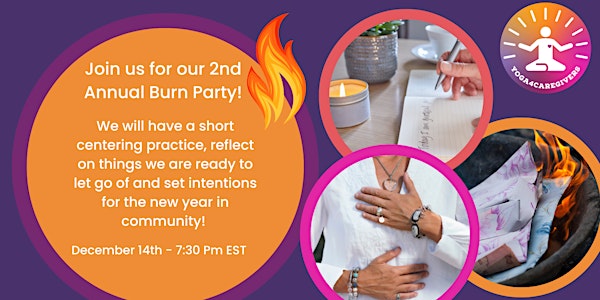 2nd Annual Burn Party Gathering for Caregivers with Yoga4Caregivers
Join us for our 2nd Annual Burn Party and as we reflect to let go of the things that no longer serve us and set our intentions for 2023
About this event
Our Yoga4Caregivers community is gathering together for our 2nd Annual Burn Party!
During this virtual event we will gather together in community to pause and reflect on your year so that we can set clear intentions for ourselves in 2023. This can be a challenging time of the year for so many of us and it can impact us in different ways and can even show up with mixed emotions and sensations in the body. You might be dealing with loss, regret or grief or maybe you are filled with purpose, motivation and hope for a new start, or perhaps you are not certain what you are feeling about the new year.
We will gather this evening to create a safe to connect with each-other or simply to be with yourself and your own thoughts. Alex Howson will lead us into a centering practice where we can scan the body for any sensations and activate our nervous system for rest and relaxation. Ellen MaKay will help us mindfully reflect on our past year and provide helpful journal prompts to stimulate our thoughts and feelings. Sonja Quijada will help us set intentions for the year ahead and Jennifer Henius will wrap up the session.
During our virtual gathering you will:
Acknowledge and celebrate yourself and your wins from this past year
Create space for self-care to replenish your energy as we move into the new year
Connect with other caregivers in a mindful sharing circle
Mindfully check in with your thoughts, emotions, feelings and sensations in the body
Relax in the present moment through breath work and meditation
Journal through reflective practices
Cultivate awareness and self compassion
Create space for your intentions, beliefs and hopes for 2023
What to bring: a pillow to keep comfy, a journal or something to write in, a pen, a lighter or match and a bowl you can burn your notes in should you wish to do so although this is not necessary
Where: this event will take place virtually via Zoom- all are welcome but you must register in advance
Cost: this session is free, however donations are welcome at
What should I wear?
Whatever makes you feel comfortable like leggings, pajamas, sweatpants, or shorts. The main goal for the event is self-awareness and relaxation.
What if I don't want to be on camera?
No worries! You are never required to keep your camera on, although we always love to see your faces and it helps us all to connect a little better when we can see each-other but cameras are never required.
Visit our website and sign-up for our newsletter at www.yoga4caregivers.com
Follow us on Social Media and Subscribe to our YouTube Channel
Stay in touch and follow us on social media:
YouTube
https://www.youtube.com/@yoga4caregivers
Facebook:
https://www.facebook.com/yoga4caregivers
Instagram:
www.instagram.com/yoga4caregivers
Twitter: