2nd Annual 'Brunch Fit for a Queen' - Celebration of Women's History Month
Description
The Lead Girl Foundation 'Brunch Fit for a Queen'
The 2nd Annual Brunch Fit for a Queen: A Celebration of Women's History Month is a celebration, a gathering, a jumping off point for women to begin connecting and discussing issues surrounding their work, calling and the world around them.
The Lead Girl Foundation is thrilled to invite you to Brunch Fit for a Queen. We have crafted this gathering out of our firm belief that the leadership of women is key to forming a better tomorrow.
We want to be intentional about empowering women who are doing all kinds of amazing things across many sectors, by bringing together women from all walks of life. Coming together in conversation to share our experiences, hopes, and fears will create solidarity to empower us as we continue to move toward a greater equality.
Brunch Fit for a Queen is not your typical brunch outing! For this gathering we've chosen six topics that impact women in leadership. To ensure everyone's involvement in crafting the conversations, only 70 tickets will be available! SO, grab yours TODAY!
Our hope is that out of our time together, you gain new information and insight to guide you in your purpose. We hope you will make new connections to people who share your vision so that your work will be amplified and enriched. We believe these conversations will lead to actionable outcomes that will impact womanhood and our world in real ways.
View pictures from our very first here, Brunch Fit for a Queen!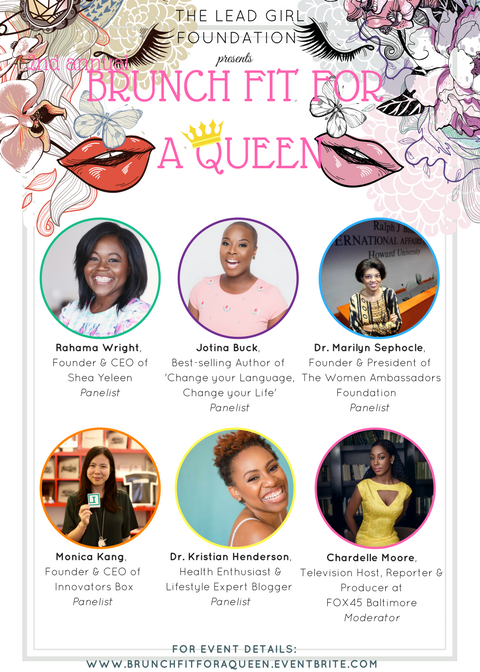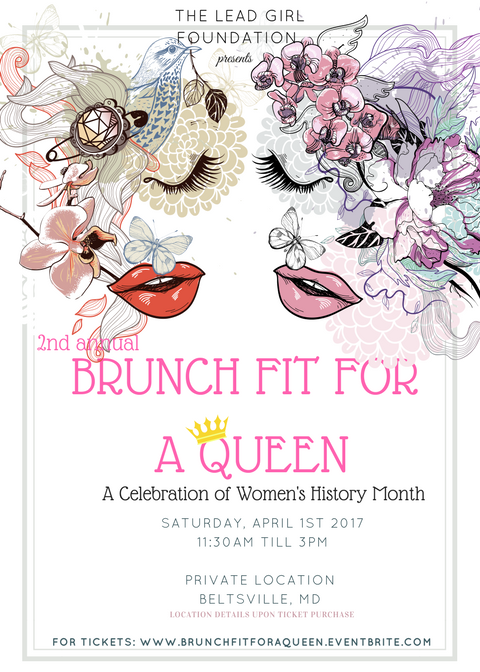 LOGISTICS
*Brunch Fit for a Queen will take place at a private location in Washington DC. Upon registering, you will receive a full address to the venue.
*Continental breakfast and bottomless mimosas will be provided at Brunch Fit for a Queen and is included in your registration cost.
[This event is open to both Men & Women!]
*If you are interested in vending, sponsoring and/or volunteering for this event please email, team@theleadgirlfoundation.org
-----------------------------------------------------------|
FAQs
Are there ID requirements or an age limit to enter the event?
There is no ID requirement for this event, but ALL guest should be 18+ to attend.
What is the dress code?
No jeans or sneakers.
Is my ticket transferrable?
Yes, ickets are tranferrable.
Is my ticket refundable?
Tickets are non-refundable.
How do I get the full address?
After purchasing a ticket, you will recieve a confirmation and complete address.
Where can I contact the organizer with any questions?
If you have any further questions, you can reach us at team@theleadgirlfoundation.org