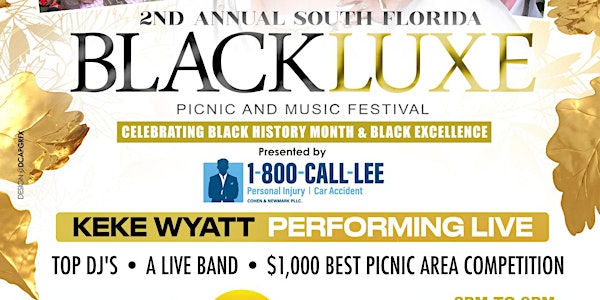 2nd Annual BlackLuxe Picnic
The BlackLuxe Picnic Festival(FORMERLY BLACKNIQ) is a unique food, beverage and music festival in a luxury picnic setting.
When and where
Date and time
Saturday, February 18 · 2 - 9pm EST
Location
Sunset Cove Amphitheater 20405 Amphitheater Circle Boca Raton, FL 33498
About this event
The BlackLuxe Picnic Festival is a unique food, beverage and music festival celebrating the excellence of the black culture in a luxury picnic setting. In 2022, the founders of BlackLuxe sought to bring the African American community together to celebrate peace, love and unity. Blackluxe will take place twice a year, during black history month and Juneteenth weekend.
BlackLuxe features various DJs, live bands, stilt walkers, food trucks serving authentic cuisines and tasty drinks, bright and colorful photo installations and décor used for vibrant and beautiful photo opportunities.
Patrons are encouraged to dress their best, preferably in colorful "Derby" style picnic attire and fashionable head pieces that accentuates the beauty of African American culture. DRESS TO IMPRESS!!! age 21 and over event.
Unique components of BlackLuxe Picnic Festival are that picnic goers can bring their own foods, picnic baskets, picnic blankets and picnic tables, but DRINKS are not allowed. However, the component that takes The BlackLuxe Picnic Festival to another level is the "BEST PICNIC AREA" competition. Patrons are encouraged to set up lavish picnic areas in the hopes of winning a large cash prize. The competition is judged secretly. Additionally, attendees can reserve tent tickets and vip seating
The 2nd BlackLuxe Picnic Festival and BlackLuxe Picnic Festival weekend will take place in West Palm Beach Florida kicking off with The Black Leadership Summit on Friday February 17th, followed by The BlackLuxe Picnic Festival on Saturday February 18th and culminating with an excursion on Sunday February 19th at Peanut Island. For more detailed information, please visit www.blackluxepicnic.com
For V.I.P packages or sections please contact 561-800-7636 or info@blackluxepicnic.com
age 21 and over event
For hotels and room reservations click here --> Hotel 1, Hotel 2
The Black Leadership Summit tickets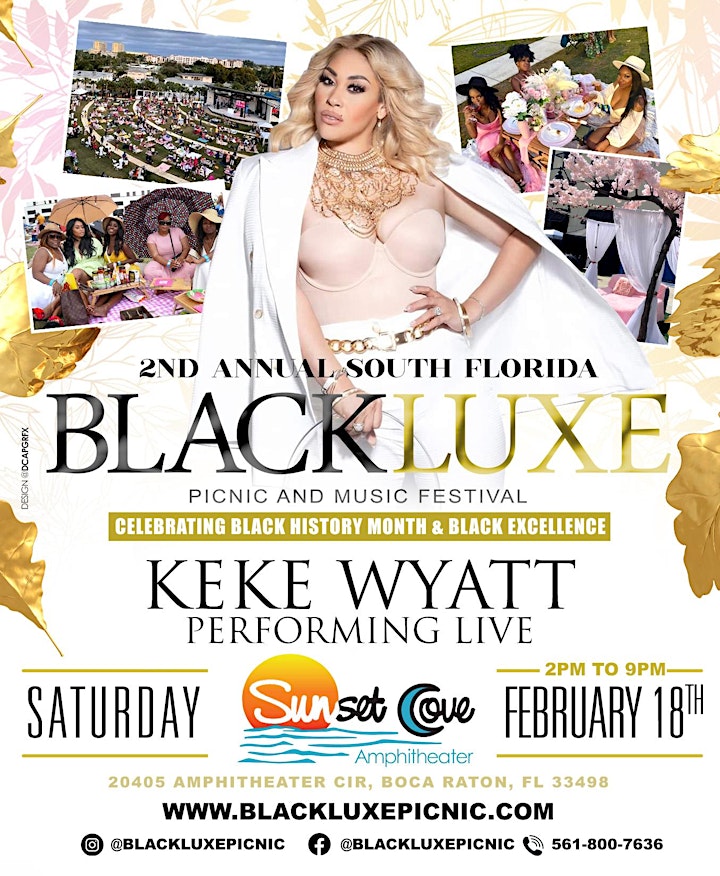 Disclaimer
I hereby agree to indemnify and hold Genesis Marketing and Promotions and their affiliates as it relates to Blackluxe picnic free and harmless from any loss, liability, damage, cost or expense that they may incur as result of the death or any injury or property damage that said participant may sustain while participating in activities at any such Genesis Marketing and Promotions Events.