2nd Annual BeHealthful Retreat

Sunday, September 27, 2015 from 11:00 AM to 5:00 PM (CDT)
Event Details
 Sale! Use code: BEHEALTHFULCHI to get %35 off all  lunch registration options!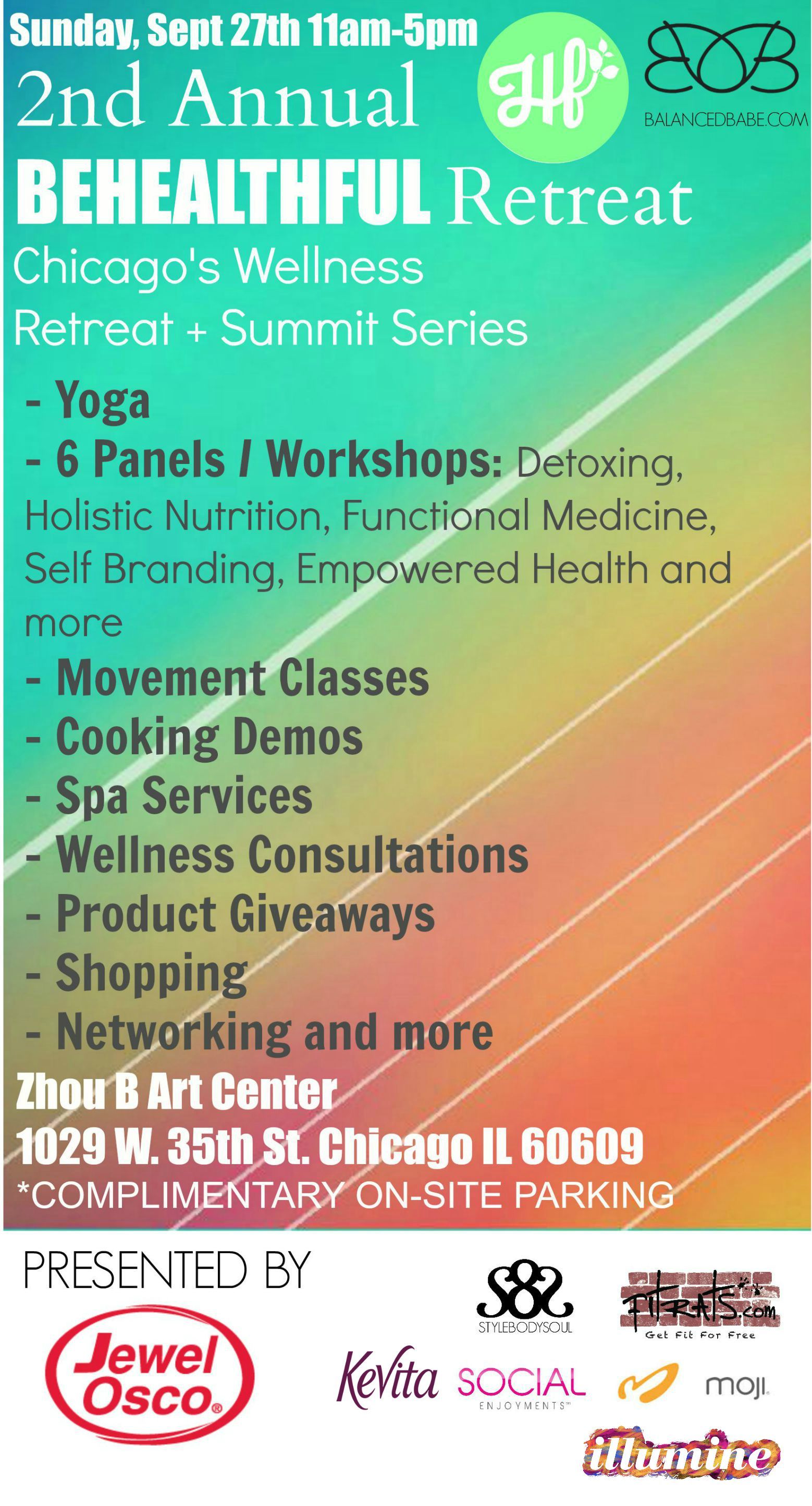 We Are Back!
YOGA. SPA. WELLNESS. EMPOWERMENT
BeHealthful is back! We are a one-day trans-formative wellness summit that pulls elements from a retreat experience to provide attendees with an in-depth and interactive adventure. 
Read on to see what's in store for you on Sunday, September 27th. 

Check out what is included in your registration!
Receive complimentary mini spa and wellness services, indulge in healthy food tastings and demos, and shop | discover new brands from over 55 spa and wellness vendors in our Holistic Oasis
Lunch options, Cooking demos, product samples, breakthrough workshops and MORE!
Meditate and explore your inner self

with creative writing in our 2nd Floor Zen Lounge by Rooted Center.
Eat, network, relax and sit back in our 1st floor Zen lounge where you will find cooking demos and DIY beauty classes.
Participate in 2 days of complimentary pre-conference workshops hosted by storefronts throughout Chicago - check out our class list here. 
Complimentary on-site parking at the venue space.

City parking stress - be gone! Simply drive on over to our venue, Zhou B, and park in the attached parking lot of the gallery (can hold up to 1000 cars).
Build your own itinerary upon arrival to experience your own holistic awakening and to connect on a deeper level with yourself and the wellness community. It's time to BeHealthful.
---
What you will learn:
How to incorporate more holistic and homeopathic remedies into your life

How to meditate, zen and ground yourself for personal change

Different forms of self care and services that can enhance your beauty from the inside out

How to break free from limiting beliefs and achieve your dreams

How to promote yourself, your service, or your ideas to potential customers, partners and more

How to create and make nutrient dense recipes, DIY beauty products and other home remedies
How to express yourself in the form of creative writing
How to detox safely and more!
---
Our Conference Venue: Zhou B Art Center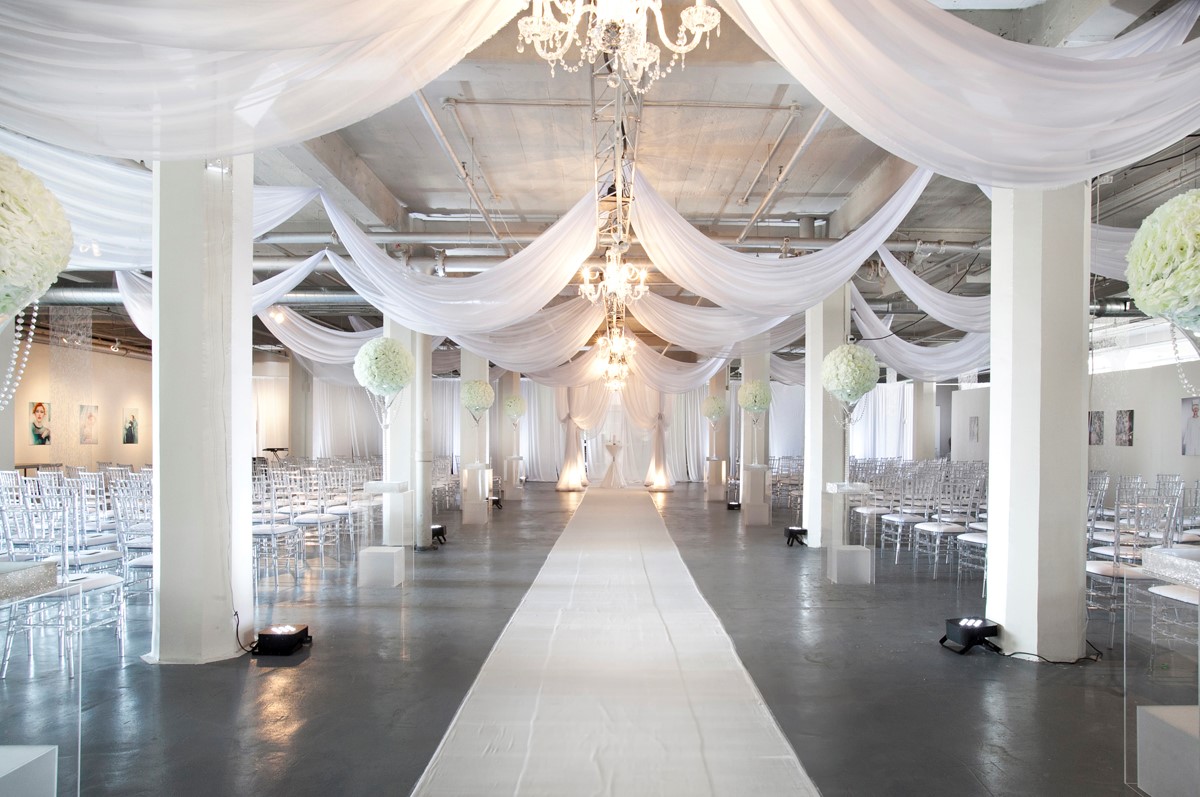 Located in the Bridgeport neighborhood, with it's influential and historically rich and varied past, BeHealthful will host it's 2nd Annual Retreat and Conference at the famed Zhou B Art Center.  
With easy access from major expressways, free parking on premises, large yet intimate spaces for our multiple classes and workshops, and a unique and creative environment, Zhou B is the perfect backdrop for our guests to enjoy a hassle-free day of connecting with other like-minded women. What better way to spend an early Sunday afternoon.
---
COMPLIMENTARY MINI SPA AND WELLNESS SERVICES INCLUDE:
Hand Massages

Manicures

Head and neck Massage

Ayurvedic consultations

Ayurvedic beauty services

Intuitive readings

Oxygen facials

Hydrafacials

Eyelash applications

Makeovers and contouring techniques

Basic facials

Chair massage

Posture assessments

Chiropractic adjustments

Vitamin b-12 shots

Empowerment and weight loss consultations 

and more!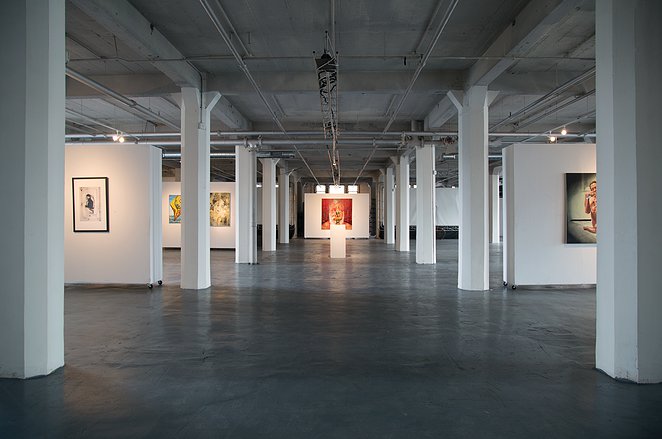 ---
PANELS AND WORKSHOPS:
11:30 - 12:30: Integrative Health: balance hormones, improve energy & drop lbs the right way Lead by Dr. Arielle Levitan, Dr. Romy Block. Dr. Dena Mendes, and Melissa O'Brien RD. Unlock secrets to living a balanced lifestyle with realistic advice you can utilize today from medical experts and integrative practitioners. Learn how to balance your hormones, improve thyroid function (which could be the culprit of chronic fatigue), and how to use food as medicine. Find out how to make homeopathic remedies for every day purposes and learn which herbs and ingredients are best for specific bodily functions! Want to learn how to make something specific? Email us questions you have for our panelists to: eryns@sbsimage.com
12:40 - 1:40pm: Just DO it: How to Embrace Transitional Periods of Your Life Lead by Leah Caplanis, Sarah Baker, Natalie Slater, Patrice Yuzel and Whitney Reynolds. Transitional periods of life can be exciting, scary, and daunting. Our panelists share their stories of transformation, the tools they use to navigate these curveballs, and what the steps are for beginning a new path for your career and life. 
1:50 - 2:50pm: The Art of Pitching: How to capture the attention media, a potential business partner, or a new client: Lead by Melissa Perez of WCIU, Allie Lefevere, Dr. Neeta Bhushan, and Michelle Mekky of Henson Consulting. No matter what industry you are in, everyone can master their elevator pitch. Whether you are trying to promote your services, your business, or bring awareness to a topic close to your heart, you can break through set-backs that prevent many from experiencing their true potential by learning from our speakers. Discover how you can make a paradigm shift within your own career or your community.
3:00pm - 4:00pm Breaking the "detox" stigma: How to cleanse your body with foods the right way Lead by Dawn Jackson Blatner, RD, Jessica Dogert, RD, Jasmine Jafferali & Monica Yearwood, Ayurvedic Practitioner. How do you know what is really a "Detox" and what is a fad? Soup cleanse, juice cleanse, raw cleanse and more. We navigate different ways that you can cleanse from foods and the safe and right way to reset your gut, improve energy, and lose weight effectively and safely.
4:10 - 5pm: An inflexible mind stops success: Strategies for leading a fearless life Lead by Steffani Lefevour ,Valerie Groth, Bela Gandhi, Taylor Miller and Nicole Pearl the Beauty Girl. Do you struggle with body image, or are stuck on an unrealistic idea of what beauty means? Do you wish you can improve one area of your life but get frozen in time analyzing the risks? Put your thoughts to action, welcome a fearless mindset, and gain strategies for leading the life you are destined to have. 
See all of our PANELISTS
here
!
Check out our Panel Gallery: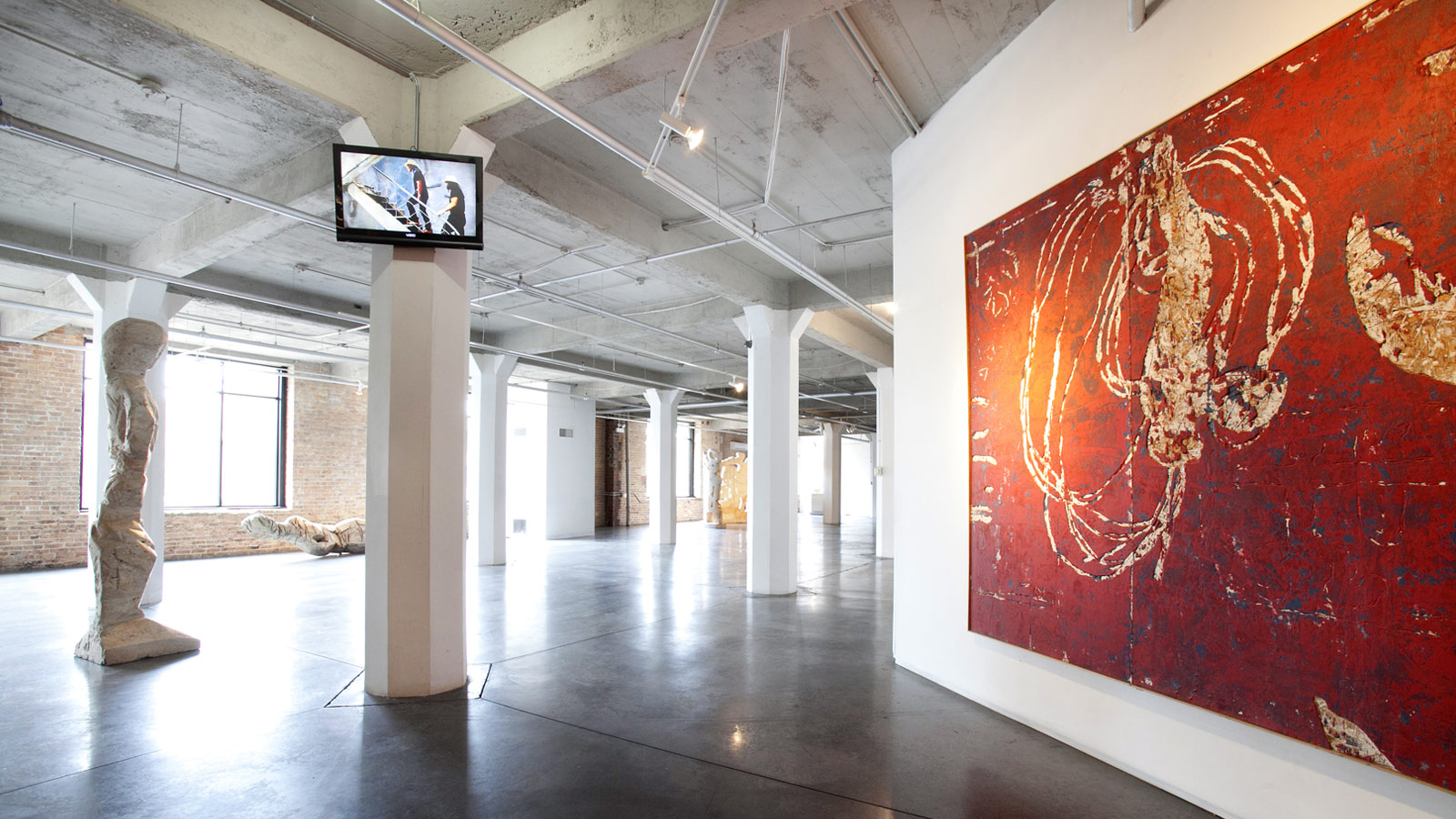 ---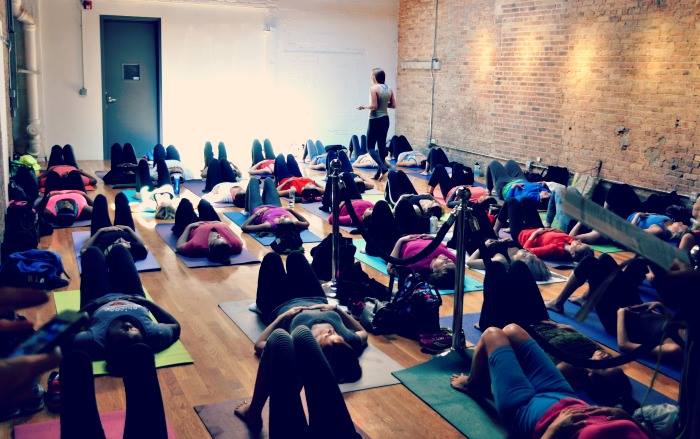 6 Movement classes: Each movement class will be 45 minutes long with a concluding 30 minute meditation with 15 minute breaks in between. See our list of classes and teachers HERE!
Our Movement Gallery: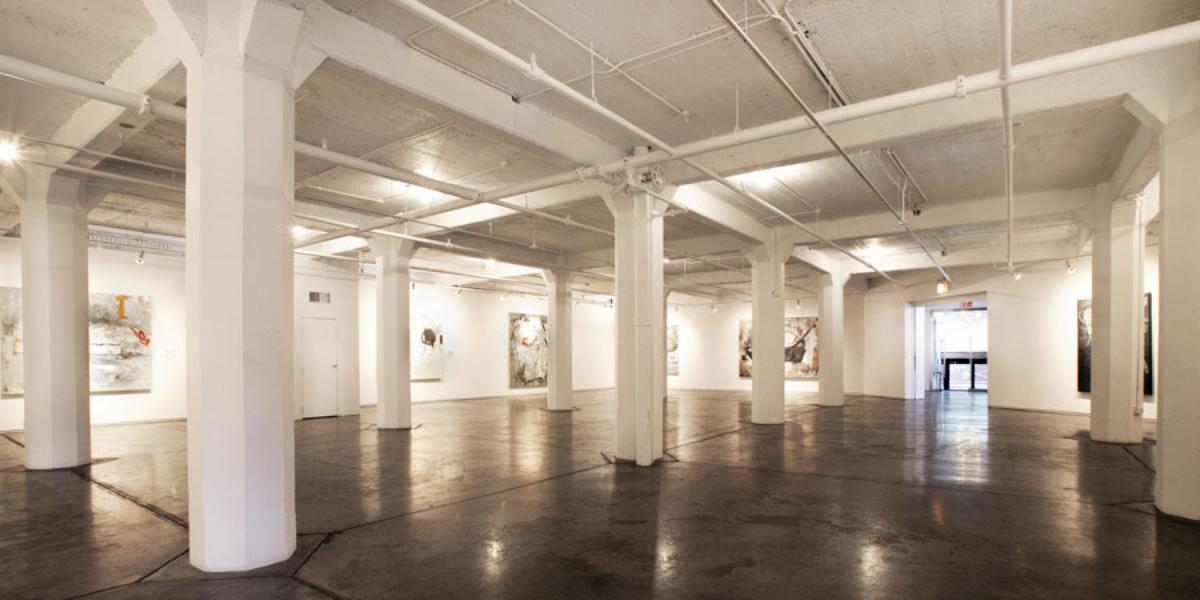 ---
FOOD: What would a party be without food? Check out who will be serving you:
LUNCH PARTNERS: $10 pre-paid or menu options day-of from your choice of...
Bombay Wraps
Bountiful Eatery
Food Sponsors:
Door to Door Organics
KitchFix
Jewel Osco 
Essentia Water 
Native Foods Cafe
Snap Kitchen
Fruve Juice
Hi-Vibe juice
Sprig Foods
Our Zen Lounge: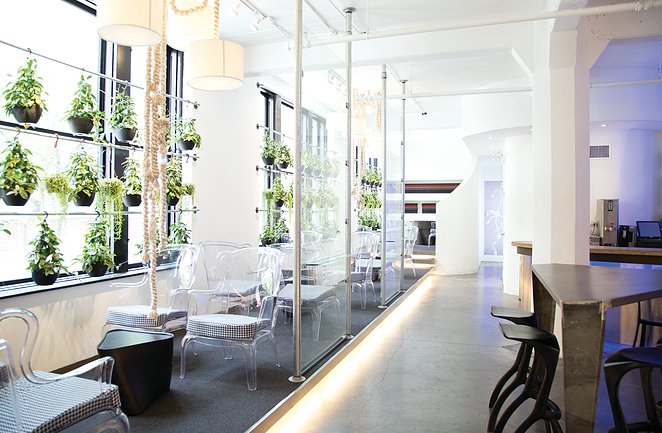 ---
Newly Added Vendors: Amour De La Terre + Arbonne + FitLine + New Day Wellness Center + Universal Wellness + Leah Chavie Skin Care +  Laura B Folkes + Hamsa Ayurveda + Rooted Self Expression Center + Whispers of Love + Myspa @ The Fairmont + Invision + Naturally Chic Nails + Omeron + Social Enjoyments + Athleta + Naughty Housewife + Organo Organic Coffee + Vesna European Goodies + YASOU skin care +Villa Gabriella Organic Olive Oils and Wine + Mary & Marie + Mestrength + A Balanced You Massage + ELITE Sports Therapy + Sideways cookie brittle + Sprig Foods + Kathy Theodore Travel + Anna Shadid + Balance by Jitka + Chicago Institute of Natural Health + Chuan Spa + Dana Hotel Spa + Daisy Fitness Wear + Delos Therapy + and more!
Be a part of the holistic movement taking over Chicago - mingle with like minded change agents of the wellness community, embrace a day of mindfulness, expand your network and tribe all under one roof at our 2nd Annual BeHealthful Retreat.
HOSTED BY: BALANCEDBABE.COM
PRESENTED BY: JEWEL OSCO
CO-PRODUCERS: SBSIMAGE.COM + FITRATS.COM
SUPPORTING SPONSORS: SOCIAL ENJOYMENTS + GO MOJI + KEVITA 
YOGA SPONSORS: ATHLETA NORTHBROOK + 2HOT YOGA + Lifeway
**All sales are final - tickets can be transferable**
Learn more and stay up to date with us on our website: BeHealthfulRetreat.com
Sarah Baker
BalancedBabe.com
Holistic Business Coach Plant Based Nutrition / Health Coach & Host of BeHealthful
Neeta Bhushan
neetabhushan.com
Founder of StepIntoGreatness Tour, Creator of EmotionalGRIT (TM) & The Independent Awakening Foundation
Dawn Jackson Blatner, RD
DawnJacksonBlatner.com
Registered Dietitian
Dr. Romy Block
vousvitamin.com
Board Certified Endocrinologist and Co-Founder of Vous Vitamin
Leah Caplanis
socialenjoyments.com
CEO Founder
Jessica Dogert, RD
Nutrition WOW
Registered Dietitian
Bela Gandhi
http://www.smartdatingacademy.com/
Founder and President of Smart Dating Academy
Valerie Groth
inspirationwithval.com
Life Coach and Podcast Star
Jasmine Jaferalli, MPH
healthyjasmine.com
Health Coach
Allie Lefevere
AllieLeFevere.com
Women's Coach & Creator of Beauty Experiment
Steffani Fort Lefevour
myhappilife.com
CEO Founder
Dr Arielle Miller Levitan MD
Vousvitamin.com.
Board Certified Internal Medicine Physician
Michelle Mekky
Henson Consulting
PR Expert, Television Journalist
Dr. Dena Mendes
Dena's Healthy U
5 time cancer survivor, holistic healer
Taylor Miller
taylormillerhhc.com
Former All My Children Star and Holistic Health Coach
Melissa O'Brien
Jewel Osco
Registered Dietitian
Nicole Pearl
Thebeautygirl.com
Beauty Editor
Melissa Perez
WCIU You & Me This Morning
Producer
When & Where

Zhou B Art Center
1029 West 35th Street
Chicago, IL 60609


Sunday, September 27, 2015 from 11:00 AM to 5:00 PM (CDT)
Add to my calendar
Organizer
BeHealthful is a retreat/conference hybrid series and community that is dedicated to bringing awareness to holistic health in Chicago. Created by BalancedBabe.com and produced by StyleBodySoul, LLC.