Beyond Virtual Festival incl. K-Quest: completing missions around town and online to learn, engage and have fun! Family-friendly activities
About this Event
The Chuseok Festival celebrates the rich cultural diversity of the SF Bay Area by showcasing Korean traditions, music, arts, cuisine, and community. Our mission is to inspire exploration and discovery of Korean culture across communities and generations, while offering the area's Korean Americans a way to celebrate together an important traditional holiday.
This year, in light of the ongoing coronavirus pandemic, the Festival is going virtual and is dedicated to supporting local businesses, organizations and individuals working hard to overcome difficulties during these challenging times.
FESTIVAL HIGHLIGHTS
K-QUEST: Community & Culture: Complete scavenger hunt-style missions around town and online to explore local Korean history, art, food, etc. Keep track of your participation by using a special app, and earn points for prizes.
Learn, Engage and Have Fun! | Flexible | Self-paced | Safely Distanced
Online Cultural Workshops & Interactive Panel Discussions : Learn new skills while enjoying hands-on virtual workshops, including K-food (kimchi and more) and traditional Korean crafts / Meet and hear from Korean American beverage (beer, makgeolli, wine) and other makers about their paths in building their small businesses.
K-Pop & Other Musical Performances: Enjoy traditional and pop music, dance and other performances. Stay tuned for details.
"Culture-in-a-Box": Introduce children to Korean culture through a kit full of fun activities and more.
Art Contest for Youth: Submit artwork that reflects one of three themes (your choice), including what "Chuseok" means to you. Open to K-12 students. In collaboration with the Oakland Asian Cultural Center. Details coming soon.
Spotlight on Local Community: Discover and support local Korean artists, makers, businesses, and non-profits serving the Korean community.
Festival Merchandise : Unique handmade face masks and other products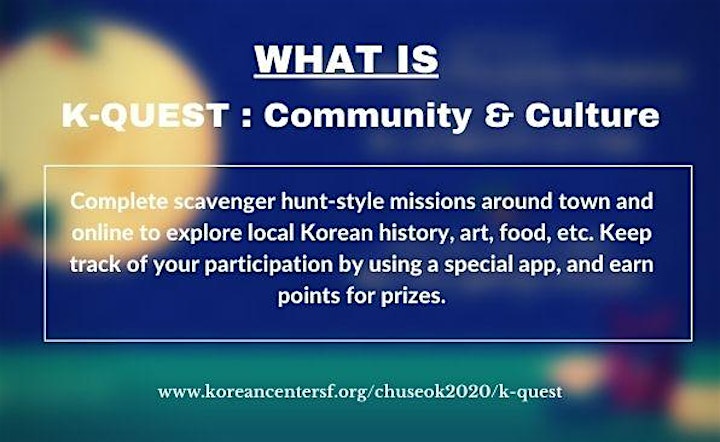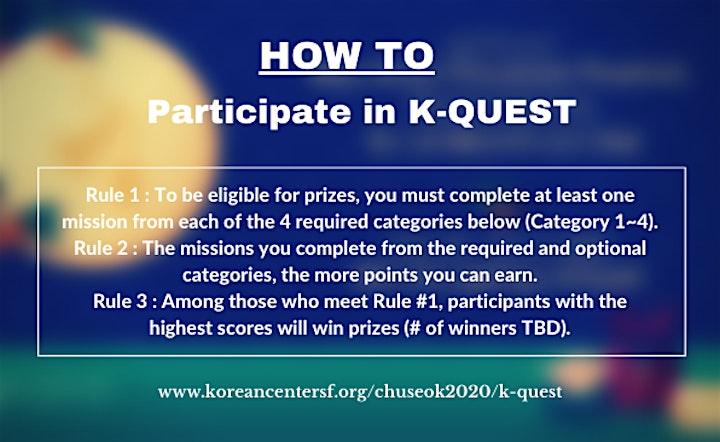 Click the link below to learn more aboutK-QUEST
All activities at this year's Chuseok Festival are being offered free of charge to participants (vendors as well as attendees), recognizing the challenging times many are facing. For those in a position to make a donation, KCI would greatly appreciate any financial support to help offset festival costs, as well as to support our social services and programming for seniors.
No amount is too small. Thank you in advance for your support!
Click HERE to donate today.