2nd Annual Art Figur Tour de Shore 2k Swim - 2016
Sales Have Ended
Ticket sales have ended
Thank you for participating!
Sales Have Ended
Ticket sales have ended
Thank you for participating!
Description
2nd Annual Art Figur
Tour de Shore
2k Swim
Along the New Rochelle Waterfront
September 11, 2016
Hudson Park, New Rochelle


To Honor the Memory of our Teammate and Friend,
Dr. Art Figur - Athlete, Adventurer, Teacher, Healer
************************************************************************
General Info
Warm-up / Check-in: 7:15A-8A. Course Outline and Safety Talk 8:10.

Check-in Ends at 8AM SHARP. Race starts at 8:30

This will be a 2,000M "Out and Back" Swim from the Beach at Hudson Park.

All Participants must be 18 Years or older.

Wetsuits permitted.

Warm-up will be allowed only after positive check-in and waiver signatures.

Swim takes place rain or shine. Caps will be required and furnished.

Course will be marked and guided by kayaks. Area will be protected by official boats.

Swimmers must stay on course and complete the turn-around within 45 min.

Race Director has the final authority to cancel the Swim in unlikely event of unsafe conditions.
T-Shirts for the first 100 early registrants. Awards and Refreshments following the Swim
Awards: 1st, 2nd, 3rd for both Male and Female in the following Age Groups:
18-24, 25-34, 35-44, 45-54, 55-64, 65-74, 75+ Special Award for first Male and Female.
Fees: $50 if RECEIVED no later than August 24th / $60 afterward. On-site entries accepted
Van Service Departs New Rochelle Train Station at 7:15 and will return following the Awards.
*************************************************************************************************************************************


Dr. Art Figur –Athlete, Adventurer, Healer, Teacher, Friend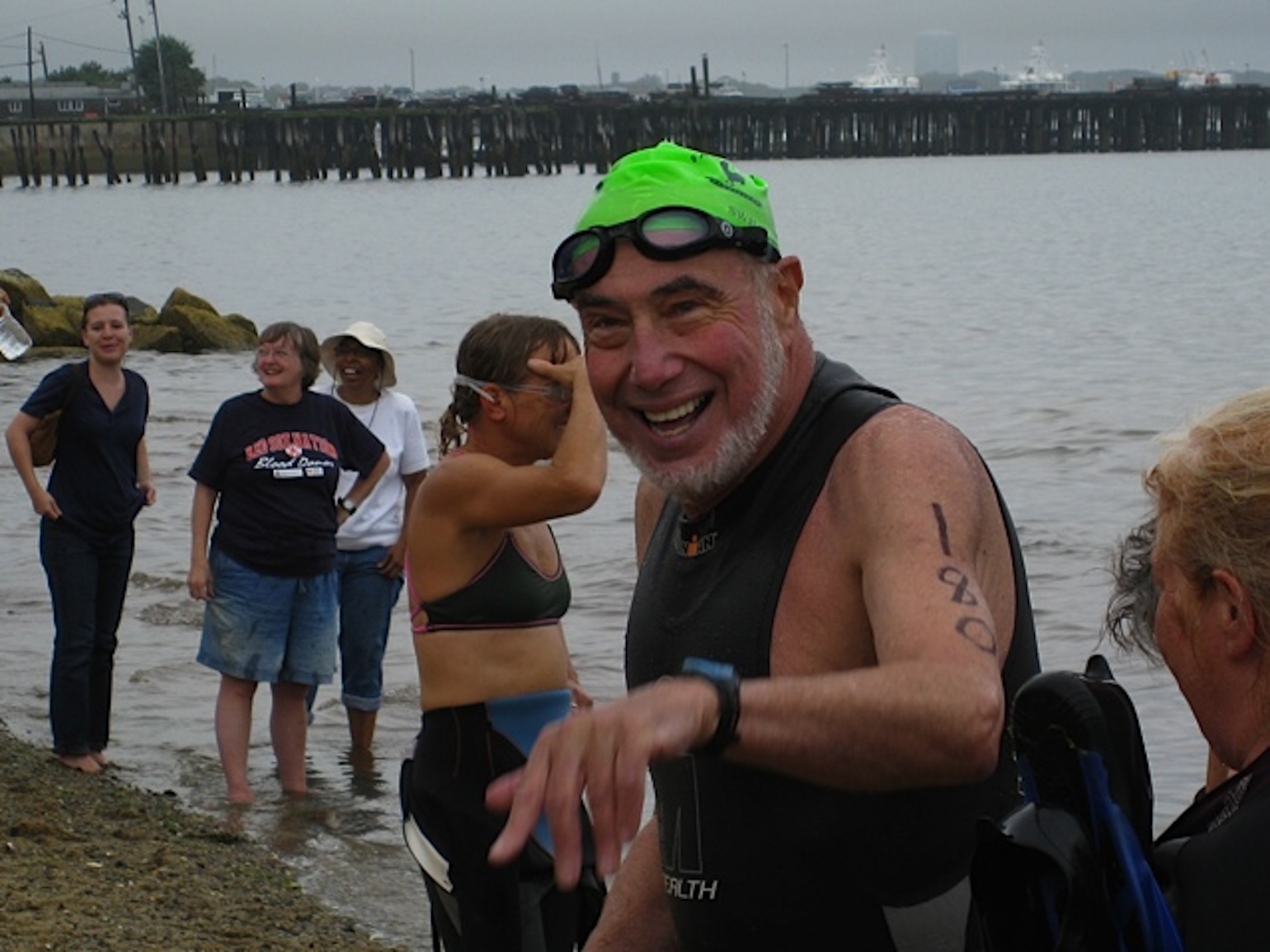 Born 1928 to an Austrian Jewish family, Art Figur was secreted across the border to escape the Nazi take-over with just days to spare. His parents managed to escape just six weeks later. Eventually finding their way to New York, Art attended Dartmouth, went to Medical School, and served as a Physician in the US Navy. Eventually rising to Director of Medicine, at Mount Sinai Medical Center, Art lived the last 48 years in New Rochelle.
Art was a teacher of medicine - and of life - teaching through academics and through how he lived his life. Even the renowned doctors and colleagues who attended his last moments at Mt Sinai Hospital said they never stopped learning from him.
As an athlete, Art was a Swimmer first, having started that as a boy in Vienna –and having finished there as a Masters Athlete at the first-ever Maccabean Games to be held in a former Nazi Country. Art won all his events as an 80+ competitor …and - importantly to him - as an American.
But Art was more than a Swimmer, having run three Iron Man's in Hawaii (the last in his 70's), 16 Marathons, and biking across the US – coast –to-coast - at age 67! Art was an adventurer having hiked and climbed many mountains throughout the
world, Kayaked white water Rivers, made countless Open Water Swims, and actually swimming in a hole cut for him in the Arctic ice at the geographic North Pole.
But all of that pales compared to Art as person and as a friend. Ask anyone who ever met Art and they will tell you how he made them feel when interacting with him, even for the first time – Art's natural warmth and genuine interest made everyone he encountered feel important, accepted, and part of his boundless circle of friends.
But Art's most treasured lesson, he taught by example – it is The Art of Living –and it is why we remember him and dedicate this first-ever New Rochelle Tour de Shore to his memory.