Description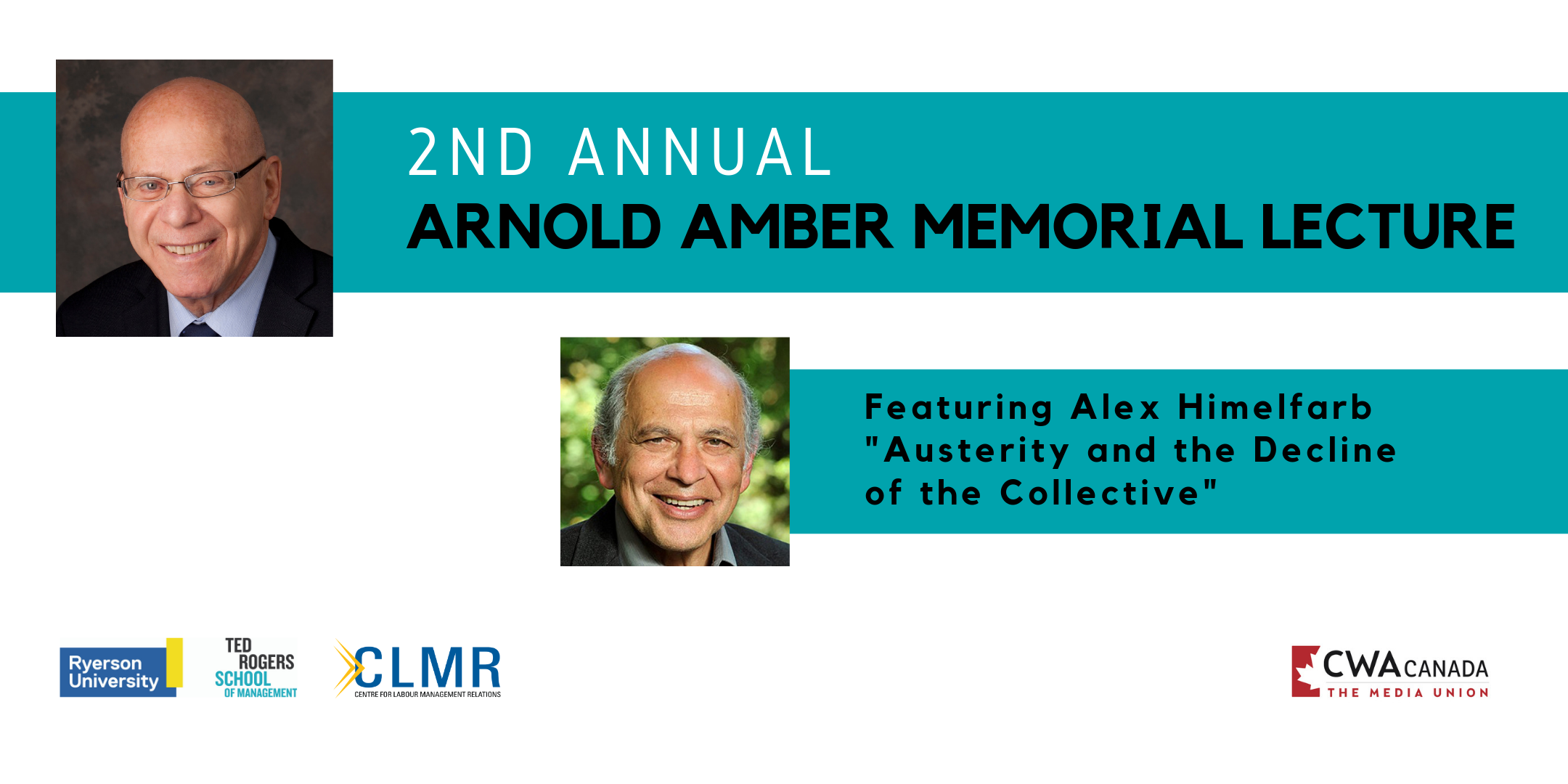 Event Description:
The 2nd Annual Arnold Amber Memorial Lecture, sponsored by CWA Canada - The Media Union, honours Arnold Amber's accomplishments and contributions as a long time advocate of the just and fair. Arnold fought the good fight to the end and this annual lecture is intended to keep up that fight.
The 2019 Annual lecture, titled "Austerity and the Decline of the Collective", will feature Alex Himelfarb who will explore the past forty years of tax cuts, privatization, deregulation and the resulting social, political and cultural consequences. Other speakers will include Martin O'Hanlon (President, CWA Canada) and Peggy Nash (Senior Advisor and Chair, Advisory Committee - CLMR, Ryerson University).
---
Lecture Dedication:
Arnold Amber was the first president of CWA Canada, the country's only all-media union, which represents 6,000 workers at the CBC, Canadian Press and newspapers and other media companies coast to coast. For him, being a union leader was part of a greater movement for social and economic justice, freedom of the press, and responsible, caring and transparent democracy. As he saw it, protecting quality jobs and quality journalism and ensuring social and economic equality was vital for a healthy society — and a healthy democracy.
If we had more leaders like Arnold in positions of power, the world would be a wonderful place indeed.
Speaker Bio:
Alex Himelfarb has held a succession of senior positions with the federal government over 28 years, including Executive Director of the National Parole Board, Associate Secretary of the Treasury Board, and Deputy Minister of Canadian Heritage, culminating in his appointment as Clerk of the Privy Council and Secretary to the Cabinet — the most senior public servant in the federal government. He served as Clerk for three Prime Ministers from 2002 until 2006 when he was appointed Canada's Ambassador to Italy with concurrent accreditation to Albania, San Marino, and as High Commissioner to Malta. Before entering the public service, Alex taught at the University of New Brunswick for nearly a decade, and more recently served as Director of the Glendon School of Public and International Affairs at York University, where he continues to serve as Director Emeritus. He currently chairs or serves on a number of voluntary sector boards.