Description
On Sunday, June 4th, The Veterans Group will again be partnering with the Battleship New Jersey to host our 2nd Annual All-American Car Show! We will be showcasing award-winning classic and antique American cars! Admission to the 2nd Annual All-American Car Show is open to the public with a paid ticket to the Battleship New Jersey.

CAR REGISTRATION

Car registration is $35 and includes admission and a tour of the Battleship New Jersey. We will be showcasing American cars only. Registration and setup will start at 9:00am and end at 11:00am.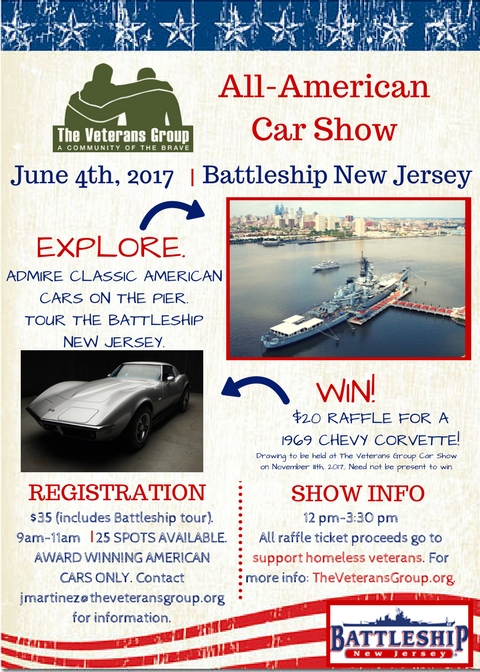 RAFFLE
Enter to win a beautifully restored 1969 Chevy Corvette Stingray! Tickets are $20 each; you may enter to win as many times as you want, but only a limited amount of tickets will be sold so get your tickets early! 'Like' and follow the The Veterans Group Facebook page to find out about other upcoming events where raffle tickets will be sold! The winning ticket will be drawn on November 11, 2017.
CAUSE
Proceeds will benefit The Veterans Group, a nonprofit organization that empowers Veterans in need to achieve success in civilian society by providing them with transitional housing, food, counseling, and educational programs.
THE VETERANS GROUP
The Veterans Group is a 501(c)3 nonprofit organization operating two homes in the University City section of Philadelphia, PA. We house up to 41 Veterans in a warm, family-like atmosphere where we work with them to develop and achieve their goals through personal individualized education plans. We empower our residents by providing support and guidance ranging from their basic needs, such as housing and warm meals, to access to educational programs and job training. Our ultimate mission is to empower these Veterans, who might otherwise stand forgotten, to achieve success in the civilian society they fought so valiantly to defend.

CAR SHOW DISCLAIMER
By submission of this registration the "owner" of the stated vehicle releases The Veterans Group and the Battleship New Jersey from any liability associated with, but not limited to, damage or theft of the stated vehicle or any other personal property of the "owner" or the parties in affiliation to the "owner" as well as injury or death to the "owner" or the parties in affiliation to the "owner" in transit to the event, while anytime at the event, or in transit from the event.