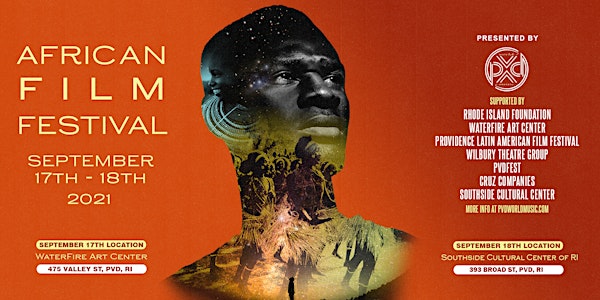 2nd Annual African Film Festival
PVD World Music celebrates the 2nd Annual African Film Festival on September 17 -18 , 2021
When and where
Location
Southside Cultural Center of Rhode Island 393 Broad Street Providence, RI 02907
About this event
AFRICAN FILM AND MUSIC FESTIVAL
Enjoy outdoor cinema and join us as we celebrate African films, filmmakers and traditional music and dance at the African Film and Music Festival on September 17 and 18, 2021!
PROVIDENCE, RI, September 10, 2021: PVD World Music's African Film Festival returns to Providence for the second year on Friday, September 17, and Saturday, September 18, 2021, shining a spotlight on contemporary films and filmmakers from Africa and the African Diaspora. The festival will include traditional African music and dance performances and offer opportunities to learn more about the vibrant arts of the African continent. In respecting COVID-19 regulations, the festival will take place at two outdoor theaters, and follow a 'drive-in' model, where the audience will be able to enjoy the films safely from their vehicles and outdoor seating areas.
The PVD World Music African Film Festival will take place at two premier locations in Providence. It will open with a festive celebration on Friday, September 17th at the WaterFire Art Center located at 475 Valley Street in Providence, RI at 5:00 PM. The Festival will continue on Saturday, September 18th at a different location, the Southside Cultural Center of RI, located at 393 Broad Street in Providence, RI at 5:00 PM.
The film line-up for Friday and Saturday will include important contemporary works such as "Tango Negro: The African Roots of Tango" by Angolan Filmmaker Dom Pedro(2013); "A Taste of our land'', by Rwandese Filmmaker Yuhi Amuli (2020); "Amilcar Cabral" by Cape Verdean filmmaker Ana Lucia Ramos (2001); and, "The Return of Old Man Kabura", by Burundian Filmmaker Ngendakumana (2005).
PVD World Music's African Film Festival is sponsored by local champions including The Rhode Island Foundation, Waterfire Arts Center, Wilbury Theatre Group, Amazingly Africa, PVD Fest, PLAFF and the Southside Cultural Center. The film line-up is curated by Chance Boas, founder and organizer of the PVD World Music Institute which aims to promote, celebrate and enhance the musical traditions and arts of Africans and Indigenous Peoples in Rhode Island for present and future generations.
Admission is free and open to the public. ALL ARE WELCOME.
To purchase tickets, please visit Pvdworldmusic.com.
For program updates, please follow @pvdworldmusic on Instagram and for further information, please contact: info@pvdworldmusic.com
FOR IMMEDIATE RELEASE: September 10, 2021.