Description
The Bay Area's historic 7 Mile House is producing the 2nd annual 7 Mile House Jazz Fest on Saturday, May 4, 2019 from 12pm-12am. The event will be held outdoors with a $25 entrance fee for the entire day (limited presale tickets available for $20).
The festival features 10 bands, an impressive array of the Bay Area's top jazz musicians and ensembles. It will also mark the second annual "7 Mile House Jazz Awards" for the following categories: Outstanding Bay Area Jazz Presenters, Outstanding Bay Area Jazz Promoters, and Outstanding Bay Area Jazz Artists; and will be hosted by KCSM Jazz 91 DJ, Alisa Clancy and other on-air personalities.
The 7 Mile House Jazz Fest is sponsored by KCSM Jazz 91, The California Jazz Conservatory, The Stanford Jazz Workshop, Gelb Music, and the SF Weekly. Featured artists are listed below. More details can be found at www.7milehouse.com/jazzfest2019.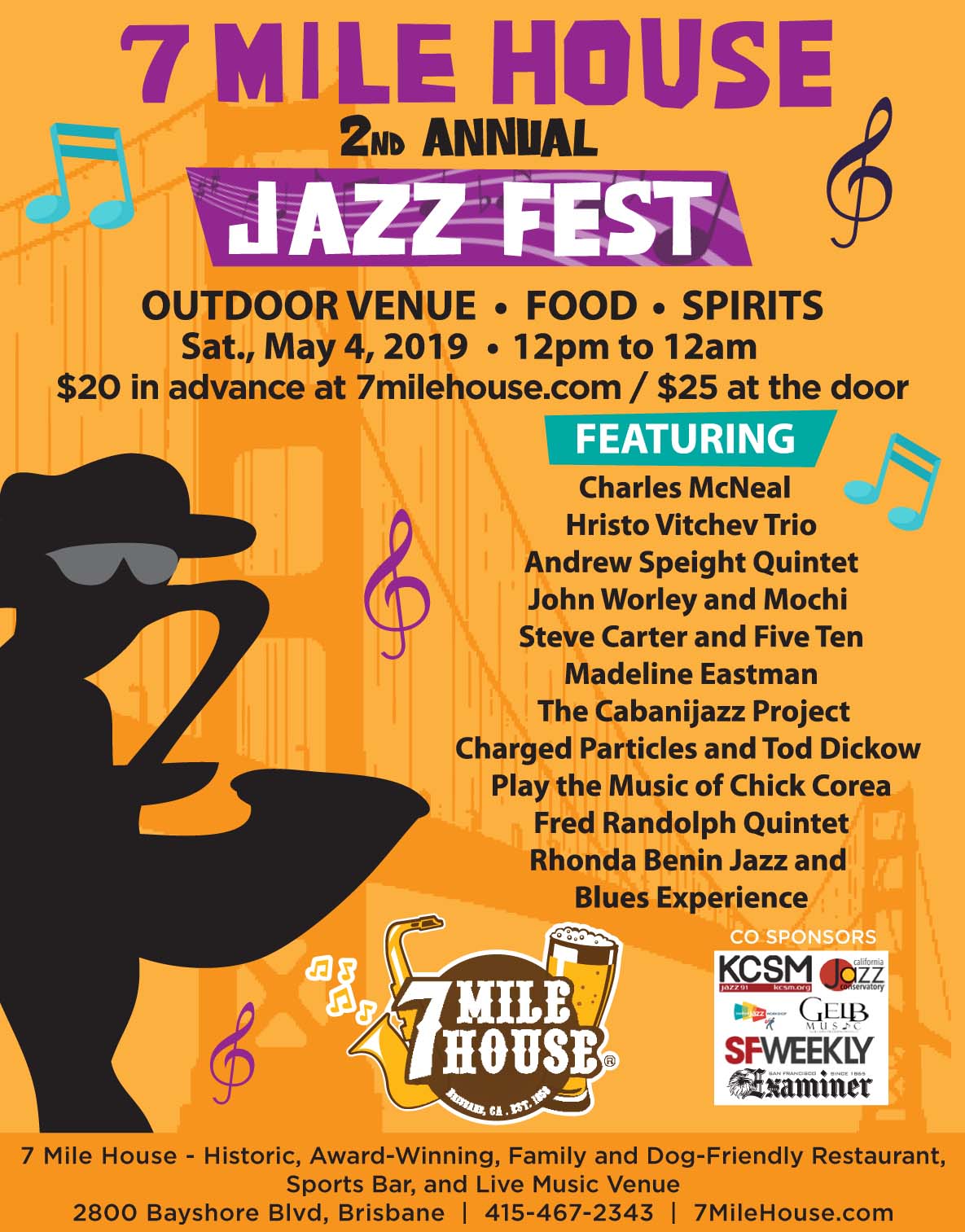 ---
2019 7 Mile House Jazz Fest Performer Schedule
*Doors open at 12pm

12:45 pm to 1:30 pm: Charles McNeal Quartet (charlesmcneal.com/Home_Page.html)
Charles McNeal, Saxophone
Joe Warner, Piano
Gary Brown, Bass
Rob Rhodes, Drums
1:50 pm – 2:40 pm: Hristo Vitchev Organ Trio (hristovitchev.com/en/music/)
Hristo Vitchev, Guitars
Brian Ho, B3
Mike Shannon, Drums
3:00 pm – 3:50 pm: Andrew Speight's Best Bop (music.sfsu.edu/people/faculty/andrew-speight)
Andrew Speight, Saxophone
Matt Clark, Piano
Michael Zisman, Bass
Austin Harris, Drums
4:10 pm to 5:00 pm: John Worley and Mo Chi (www.johnworley.com)
John Worley, Trumpet and Flugelhorn
Amy Dabalos, Vocals
Sebastien Lanson, Guitar
Ken Okada, Bass
Wally Schnalle, Drums
5:20 pm – 6:10 pm: Five Ten (Fivetenmusic.com)
Jeff Narell. Steel Pans
Steve Carter. Keyboards
Dennis Smith Bass
Billy Johnson. Drums
Marquinho Brasil. Percussion
6:30 pm – 7:20 pm: Madeline Eastman with the Keith Saunders Trio (www.madelineeastman.com/)
Madeline Eastman, Vocals
Keith Saunders, piano
TBA, bass
Vince Lateano, drums
7:40 pm – 8:30 pm: Cabanijazz Project (www.cabanijazzproject.com/)
Javier Cabanillas - Composer, Congas, Band Leader
Jamie Dubberly - Trombone
Ben Torres - Tenor Sax
Galen Green - Bari Sax
Julio de la Cruz - Keys
Kevin Silveira - Bass
Brian Andres - Drum Set Hybrid
Omar Ledezma Jr. - Lead Vocal
8:50 pm – 9:40 pm: Charged Particles and Tod Dickow Play the Music of Chick Corea (www.chargedparticles.com)
Tod Dickow (tenor saxophone)
Murray Low (keyboard)
Aaron Germain (basses)
Jon Krosnick (drums)
10:00 pm – 10:50 pm: Fred Randolph Quintet (www.fredrandolph.com/)
Fred Randolph, Basses
Erik Jekabson, Trumpet
Sheldon Brown, Saxes, Flute
Dan Zemelman, keyboards
Greg Wyser-Pratte, Drums

11:10 pm – 12:00 am: Rhonda Benin Jazz and Blues Experience (www.rhondabenin.com/)
Rhonda Benin, Vocals
Tammy Hall, Piano
Ron Belcher, Bass
Leon Joyce, Jr., Drums
Geechi Taylor, Trumpet
PHOTO CREDIT: WALTER ATKINS
=========================
2ND ANNUAL 7 MILE HOUSE JAZZ FEST FAQ
WHERE WILL IT BE HELD?
The venue will be outdoors at the auto repair shop next door. All cars will be moved out and the shop will be cleaned in time for the festival! There will be tents and heaters. Please dress in layers or bring a blanket. We do live in the SF Bay Area after all so you never know!
HOW DO I BUY TICKETS?
$20 Early Bird tickets can be only purchased online at http://7milehouse.com/jazzfest2019
$25 General Admission Tickets are available at the door.
IS THERE PARKING?
Please take a cab, Uber or Lyft because parking is limited.
WHAT'S THE WEATHER GONNA BE LIKE?
Looks like it will be a beautiful day between 62 to 52 degrees! See forecast here: https://www.accuweather.com/en/us/brisbane-ca/94005/daily-weather-forecast/327058?day=5
WILL THERE BE FOOD AT THE FESTIVAL?
Yes! In fact, our FAMOUS BBQ RIBS AND CHICKEN will be on sale for you all to indulge!. Plus we will also have Adobo with Rice and some deep fried appetizers such as our mega popular Sweet Chili Garlic Wings, Zucchini Sticks and Lumpia to name a few. If you want to order from our regular menu, please order from 7 Mile House next door.
There will be a full bar with cocktails, beer and wine!
Absolutely no outside food and drinks allowed.
CAN I LEAVE AND COME BACK?
Yes. Make sure you have your bracelet and get stamped when you leave. You can go home, take a nap then come back if you want! The festival is 12 hours long!
CAN I BRING MY DOG?
Yes, the festival is dog-friendly. Dogs must be on leash and well-behaved. We have a dog menu if you'd like to indulge! We reserve the right to ask you and your dog to leave if you or your pet become unruly or noisy.
WHAT SHOULD I BRING?
Dress in layers, bring a blanket, sunglasses, hat, your phone to record the amazing music and a jazzy mood coz this show is gonna be unforgettable!
WILL 7 MILE HOUSE BE OPEN?
Yes, the restaurant is open for regular business. There will be no music inside 7 Mile House.
WHAT FORMS OF PAYMENT DO YOU ACCEPT?
Cash and credit cards: Visa, Mastercard and Discover
CAN I MAKE RESERVATIONS?
Although we normally accept reservations, we WILL NOT ACCEPT RESERVATIONS on the day of the festival. Walk ins only.
IS SMOKING ALLOWED?
Smoking is not allowed at the Jazz Fest.