Description
Friends of Taconic State Park
Invites You to Meet
Page Dickey*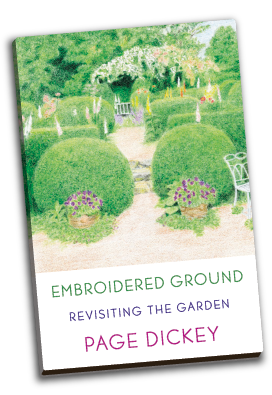 Saturday, March 17, 3:30 pm
Copake Grange
Copake, New York
Garden Slide Presentation
Book Signing
Wine and Hors d'oeuvres Reception
Lecture & Reception: $65.00
Lecture Only: $25.00

Event and Book: $80.00
Extra Books: $20.00
To Benefit the Friends of Taconic State Park

*Page Dickey is one of America's best known and loved gardeners and garden authors. In her most recent book, Embroidered Ground, the inspiration for the Friends' Second Annual Garden Lecture welcoming the start of spring, she writes about the pitfalls, challenges, successes, and pleasures of her thirty-year-long process of making a garden, about gardening with a husband, about the changes that come to garden and gardener with aging. In a luscious slide talk, she shares her personal views on what contributes to a garden's success—structure, fragrance, atmosphere, patterns and textures, her love of multiseasonal shrubs.
Previous books include Gardens in the Spirit of Place; the award-winning Breaking Ground: Portraits of Ten Garden Designers; Duck Hill Journal: A Year in a Country Garden; Dogs in Their Gardens and Cats in Their Gardens. A contributor to numerous magazines over many years, she lectures across the country and is one of the founders of the Garden Conservancy's Open Days program.
Page Dickey lives and gardens with her husband in the company of assorted dogs, cats, and chickens in North Salem, New York.

Visit us at Friends of Taconic State Park, and on Facebook