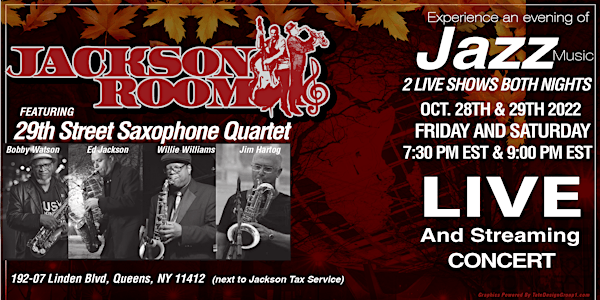 29th Street Saxophone Quartet-October 28 & 29th, Friday and Saturday
29th Street Saxophone Quartet Live & Streaming Concert
Refund Policy
Contact the organizer to request a refund.
Eventbrite's fee is nonrefundable.
About this event
29th Street Saxophone Quartet, the internationally acclaimed supergroup of alto saxophonist/group founder Ed Jackson, alto saxophonist Bobby Watson, tenor saxophonist Willie Williams, baritonist/co-founder Jim Hartog will reunite for a pair of shows at the Jackson Room in Queens, New York, Friday, October 28th and Saturday, October 29th. The group will perform 2 sets each night at 7:30 and 9:00 pm in front of a live audience. The event will also be live streamed.
The 29th Street Saxophone Quartet was first assembled in 1982 and quickly became well-known throughout their original stomping grounds of New York City for their fiery swing, cohesive performances, stirring individual solo contributions and eclectic infusion of jazz, show tunes, funk, rap and other experimental works while on stage. From '82 to the late 1990's the group would tour in both the U.S. and throughout Europe, all the while recording 10 albums before going on hiatus.
After the 29th Street Saxophone Quartet disbanded Jackson, a graduate of the distinguished New England Conservatory of Music, would continue to perform regularly with his group the Ed Jackson Quartet at his own jazz club (the aforementioned Jackson Room). Williams would continue to perform as the lead for the Willie Williams Quintet which includes his son and rising star/ trumpist Ace Williams. Hartog, also a graduate of the New England Conservatory of Music, continues to perform and remains a sought-after instructor in the Netherlands, where he has lived since 2001. While the Grammy-nominated composer, educator, saxophonist and arranger Bobby Watson would continue to perform, tour and record music to this day.
With the band reuniting after almost two decades apart, expect ticket sales to go quickly as well as a very warm welcome back from their many fans worldwide.
Free healthy snacks and beverages will be provided at the event.
Please note: If for any reason you decide to come to our live audience performance of this event you can purchase tickets in advance here: $30 In -Person Ticket
Free healthy snacks and beverages included when you purchase an In-Person event.