Description
University of Hawai'i President David Lassner, PhD '98 and University of Hawai'i Alumni Association President Bernadette Baraquio AA '94, BA '96 cordially invite you to the 29th Annual Distinguished Alumni Awards on Thursday, May 18, 2017 at the Sheraton Waikiki Hotel.
The event will raise essential funding for the UH Alumni Association, a not-for-profit organization that awards student scholarships, connects alumni through its events, supports UHAA chapters and UH campuses, and facilitates communication between UH and its alumni.
Timeline
Cocktail reception and silent auction at 5:30 p.m.
Opening ceremonies at 6:30 p.m.
Business/Aloha attire
Non-hosted self parking (cash only) - $10
Non-hosted valet parking (cash only, tip not included) - $15
RSVP by May 10, 2017 at 11:59 p.m.
A portion of your payment is tax-deductible. Tickets will not be mailed; reservations will be held at the door.
For more information about the Distinguished Alumni Awards dinner and silent auction, please visit UHalumni.org/daa, call (808) 956-2389 or toll-free 1-877-842-5867, or email events@uhalumni.org.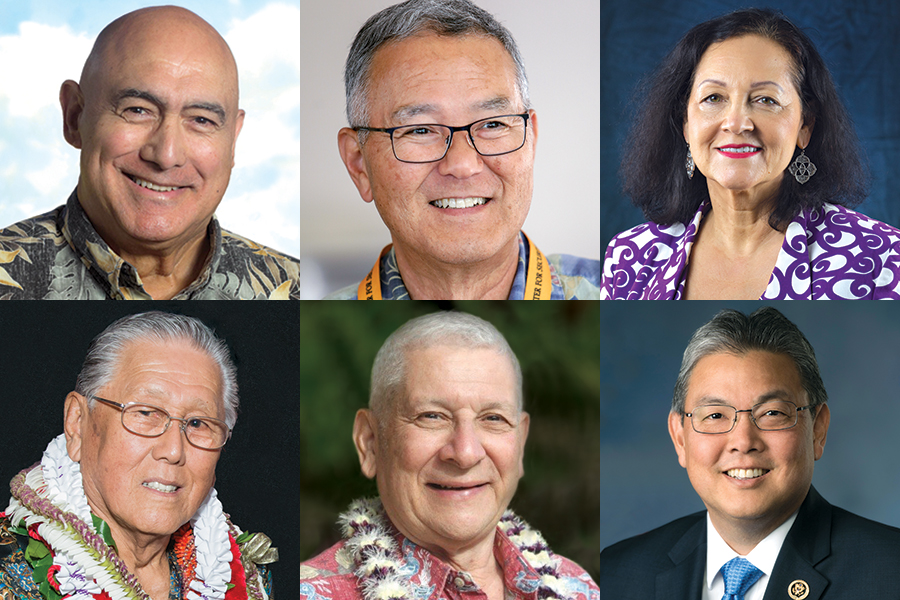 This year's honorees are:
2017 UH Alumni Association Distinguished Alumni Award Recipients
- Rockne Freitas (EdD '95 Mānoa, MEd '83 Mānoa) ‒ Former Chancellor, University of Hawai'i‒West O'ahu
- James Hirai (BEd '74 Mānoa) ‒ Brigadier General (Retired), U.S. Army
- Kitty Lagareta (BA '81 Mānoa) ‒ Chief Executive Officer, Communications Pacific, Inc.
- Harold Nishimura (BEd '78 Mānoa) ‒ Retired Professor, Carpentry, Hawai'i Community College
______________________________________________________________________________
UH Founders Alumni Association Lifetime Achievement Award Recipient
- Samuel Slom (BA '63 Mānoa) ‒ Former State Senator, Hawai'i Senate District 9
________________________________________________________________________________
UH Alumni Association President's Award Recipient
- K. Mark Takai (MPH '93 Mānoa, BA '90 Mānoa) ‒ Former U.S. Representative, Hawai'i Congressional District 1
Organizer of 29th Annual Distinguished Alumni Awards
Alumni from all 10 campuses of the University of Hawaiʻi System are unified as members of the University of Hawai'i Alumni Association (UHAA). Our alumni 'ohana includes nearly 300,000 UH graduates living in all 50 states and in more than 125 countries. As the official alumni organization of the UH System, UHAA promotes and supports the University of Hawai'i by connecting alumni and friends with the university and with each other, strengthening stakeholder relationships in the community, and inspiring pride among the University of Hawai'i 'ohana.