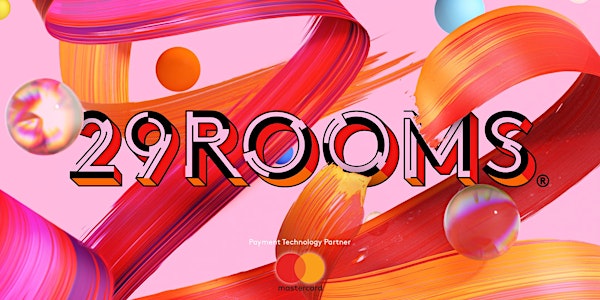 When and where
Location
Palace of Fine Arts 3362 Palace Drive San Francisco, CA 94123
Description
29ROOMS SAN FRANCISCO - JUNE 21-24
**LAST CHANCE TICKETS AVAILABLE FOR A LIMITED TIME - DETAILS BELOW**
The Bay, we are coming for you!
Experience Refinery29's imaginative spirit IRL through an interactive funhouse of style, culture, & creativity brought to life by a group of global artists and visionaries across mediums, and powered by you!
Come create, play, & explore this sensory playground. Make your way through each of the 29 individually curated rooms that are packed with magic and brimming with inspiration.
It's time to unleash your creative side.
Are you ready?

---
Did you miss your chance to buy tickets to 29Rooms San Francisco? You're in luck! For all you last-minute planners, we're giving you one last opportunity to secure your spot at the event. Starting June 14 at 11 a.m. PDT, we're releasing a limited quantity of additional tickets. Choose your preferred time slot, and check out. Hurry, hurry. Once these tickets are gone, they're really gone.
Sessions:
29Rooms General Admission - $39
Your 29Rooms General Admission ticket includes:
Guaranteed, streamlined entry to 29Rooms.

Three hours to create, explore and experience our interactive playground (aka plenty of time of let your imagination run wild)!

An overload of social inspiration while giving back (a portion of ticket proceeds will go to non-profit partners).

29Rooms General Admission tickets are available the following dates and times:

Thursday, June 21st - Sunday, June 24th
11am-2pm

3pm-6pm

7pm-10pm

For more info, check out www.29Rooms.com.


---
IMPORTANT INFORMATION
In order to get the most out of your visit to 29Rooms, we recommend arriving 15 minutes before the session start time to allow for quick and easy check-in (e.g. arrive by 2:45 p.m. for a 3 p.m. start time), as the experience can take the full three hours.
29Rooms Ticket Policy
There are no ticket refunds or exchanges. All sales are final.

Tickets are only valid for the date and session on your PDF ticket. (Please check your PDF ticket at time of purchase.) Sessions are for three hours only.

If you can't find your PDF ticket, please visit the

Tickets

section of your Eventbrite account.

In the event that purchaser cannot use ticket, tickets are transferable (i.e. purchaser can give their ticket to a friend for use). Entry is based on ticket barcode (not name of purchaser).

Each ticket will be scanned and only good for ONE single-person entry. There is no re-entry.

Tickets can only be purchased online via Eventbrite.

Event is rain or shine.

Refinery29 can only guarantee the validity of your ticket if purchased directly from Eventbrite. Any tickets purchased through third-party vendors cannot be verified or accommodated when issues arise.
---
FAQ's
Gimme the basic deets on 29Rooms.
29Rooms is located at The Palace of Fine Arts (3362 Palace Drive, San Francisco, CA). 29Rooms is open June 21 to 24. There will be three, three-hour sessions per day, more details on specific session timing to come.
Will there be a line?
Like many live events you've been to, there might be a line. However, since you'll be arriving during your designated time slot, the line will move fast. We recommend that you arrive 15 minutes before your specified entry time and have your mobile or printed ticket ready to present at check-in. This is one event you won't want to be fashionably late for.
Is there parking at The Palace of Fine Arts?
Parking will available at The Palace of Fine Art. Stay tuned for more details!
Is 29Rooms kid friendly? What about pet friendly?
29Rooms is open to all ages, and children under 2 are free! However parental discretion is advised based on certain rooms that feature mature content. Strollers are allowed, however we might ask you to park it in our stroller holding area.
As for your pet, only service animals trained to assist an individual with a disability will be allowed in 29Rooms. The owner of the animal may be asked to describe the support the animal provides.
Is 29Rooms handicap/wheelchair accessible?
Yes, and all are welcome. If you have any specific concerns, questions, or requirements, please contact us via comment or DM on @29Rooms on Instagram.
Are there public bathrooms?
Of course. We gotchu.
When will 29Rooms come to my city?
We are always exploring new places to take 29Rooms. Follow @29Rooms for the latest updates.
Will tickets be sold at the door?
Tickets will only be sold online, while supplies last. Stay up to date on ticket sales by following @29Rooms on Instagram for of-the-moment updates.
How long will it take to explore 29Rooms?
You'll have up to three hours to explore 29Rooms! In order to get the most out of your visit, we recommend arriving 15 minutes before the session start time (e.g. arrive by 2:45 p.m. for a 3 p.m. ticket) and no later than 20 minutes after the start of your session. Also, once you're in, you're IN! There is no re-entry after you exit 29Rooms.
What if I get hangry? Will there be food?
Water is always welcome. Stay hydrated kids! There will not be food available in 29Rooms, however, The Palace of Fine Arts is just a short 10-minute walk to Chestnut Street in the Marina District, which is home to many cafes, restaurants, and shops.
What items should I leave at home?
Weapons of any kind, illegal substances or paraphernalia, outside food/drinks, large umbrellas, large backpacks, bad attitudes, and bad vibes. We reserve the right to deny entry for items not listed here that will impede the enjoyment or the safety for you and other attendees of 29Rooms. In general, we ask that you try to think how you can make your visit a positive experience for all.
Will there be coat check?
Unfortunately, no. Unless it's part of your look, you might want to consider leaving your coat at home to be hands-free for exploring and creating!
Who can I speak to about press coverage of 29Rooms?
For press inquiries, contact: press@refinery29.com.
Have a question we didn't answer?
Find us on Instagram @29Rooms. DM us or leave a comment.