Description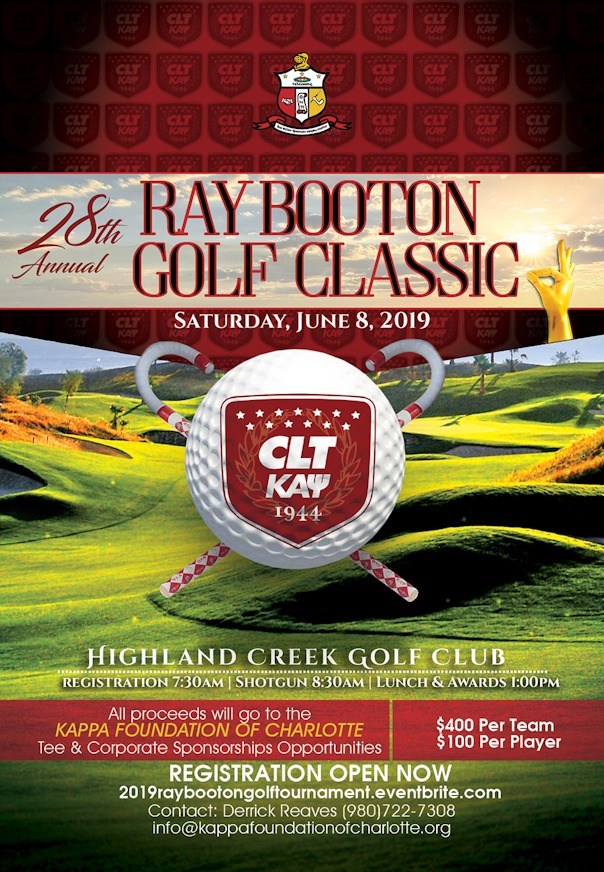 Thanks in advance for your participation in the 2019 Ray Booton Kappa Golf Classic, June 8th, at Highland Creek Golf Club.
Your participation will make a huge difference with our Guide Right fundraising goals.
As one of the first 7 African Americans to be in the Charlotte-Mecklenburg Police Department, Ray Booton was instrumental in the community and a barrier breaker for golf in the local community. It is with great honor that our flagship tournament continues to bear his name. With your continued assistance and support, we truly feel that we can reach even more of our campaign goals that allows us to assist more & more of our youth.
This year you will see several changes in our tournament format designed to enhance your playing enjoyment as we say thank you for supporting our flag ship tournament event.
Incredible hole-in-one challenge with $10,000 for a hole in one (first player only & hole to be announced)
Beverage stations instead of moving carts no one will be more than 3 holes from libations
A 50-50 Cash gift as we split in half the collective amount to one of our lucky contributing golfers
Enhanced gift bag for each golfer along with range balls before play
Putting contest with a prize for the winner
Enhanced trophies for the winning teams
Banquet meal and a desert table (specialty cakes)
Raffled and Auction items will be available
An early start time in the summer heat of 8:30 am
For signage, ALL logos and materials should be sent to darren@signarama-pineville.com