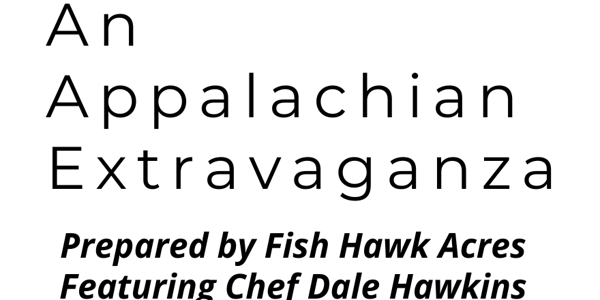 28th Annual Ramp Dinner
Come to the Upshur County Public Library's 28th Annual Ramp Dinner, an Appalachian Extravaganza, from 5-8 p.m. on Friday, April 21, 2022!
By Upshur County Public Library
Date and time
Friday, April 21 · 5 - 8pm EDT
Location
Upshur County Public Library 1150 Route 20 South Rd. Buckhannon, WV 26201
About this event
This event is brought to you by the Upshur County Public Library in partnership with Fish Hawk Acres. Chef Dale Hawkins of Fish Hawk Acres will be preparing the meal. Additionally, Key to Adam, a local guitar and violin duo, will be providing entertainment during the dinner. We are happy to announce that we are going to be eating inside the library this year! Take out is also an option, and will be available at the same location.
This is a unique opportunity to sample the following gourmet ramp dishes. If you would like the non-ramp version of the meal, please specify when reserving your ticket.
The menu includes:
Fish Hawk Acres Signature Baked Ham (no ramps)
Stir Fried Vegetables with Squash, Carrots, Onions & Zucchini (with and without ramps)
Roasted Spring Potatoes (with & without ramps)
Potato & Ramp Soup (and soup without ramps)
Garden Salad with Fresh Greens, Tomatoes, Cucumbers & Carrots, served with Dill Buttermilk Dressing (with and without ramps)
Fancy Ramp Quiche (with ramps only)
Dinner Rolls with Ramp Butter & Butter Packets
Strawberry Shortcake
Tickets are $25 a person and $12.50 for children under 12. All proceeds benefit the Upshur County Public Library. Advance ticket purchases are required and will be accepted through 10:00 a.m. on Monday, April 17. Reservations and payment are accepted through EventBrite, in person at the Circulation Desk or by calling the Library at (304)473-4219, extensions 10 or 14, during regular library hours. If you own a business and are interested in Corporate Sponsorship opportunities for this event, please ask for more information. Library hours are 9:00 a.m. through 6:30 p.m. Monday through Thursday, 9:00 a.m. through 5 p.m. on Fridays, and 9:00 a.m. through 2 p.m. on Saturdays.
This culinary experience is available only once a year and has been a tradition in Upshur County since 1994. Since 1979, the mission of the Upshur County Public Library has been to provide our community with lifelong learning opportunities by providing access to materials, services, technologies and programs for patrons of all ages. These programs and services are only possible through active and sustained community support.
Frequently asked questions
When would be the best time to attend?
Are tickets available at the door?
I own a business and have heard Corporate Sponsorship for the event is a possiblity?
When is the absolute last time I can be assured of purchasing a ticket for this event?