28th Annual DR MARTIN LUTHER KING JR Interfaith & Intercultural Celebration
What would Dr. King say today about JUSTICE? Join in a dynamic interfaith and intercultural experience this MLK weekend. All are welcome!
About this Event
Join the South Coast Interfaith Council and community partners at the 28th Annual Community-Wide Dr. Martin Luther King, Jr. Interfaith & Intercultural Celebration!
Sunday, January 19th, 2020
3:00pm - 5:00pm
Hosted by Pastor Wayne Chaney, Jr. of Antioch Church of Long Beach
at Ernest McBride Park (inside the Rec. Room), 1550 Martin Luther King, Jr. Avenue, Long Beach 90813
. . . . .
DON'T MISS THIS INSPIRATIONAL EVENT
You won't want to miss our powerful Keynote Speaker:
ERIC BUTLER, Restorative Justice Educator & Activist, Founder of TALKING PEACE.
A Hurricane Katrina survivor, Eric Butler relocated to Oakland, CA where he grew to gain prominence for his hands-on restorative justice work with youth in an Oakland school. Now a Restorative Justice Educator and Activist, Eric travels the country to teach and inspire others.
Learn more about Eric at www.facebook.com/rjwithericbutler >>
. . . . .
BRING AN ITEM FOR THE TOILETRIES DRIVE!
Honor Dr. King's life with an act of service to help a young person in need.
We are collecting items for at-risk Long Beach youth in partnership with the Conservation Corps of Long Beach. Please bring any of these items to drop off at the collection table at the event:
* New Toothpaste
*Floss
*Washcloths
*Soap
*Deodorant
. . . . .
ENJOY A COMMUNITY-WIDE CELEBRATION
Gospel Choirs | Gospel Soloists | Interfaith Litany | Community Reception | FREE to the Public
. . . . .
THE MLK INTERFAITH CELEBRATION IS PRESENTED BY THE SOUTH COAST INTERFAITH COUNCIL.
COMMUNITY PARTNERS INCLUDE
Antioch Church Long Beach
NAACP Long Beach Branch
TALKING PEACE
VERB
. . . . .
SPONSOR
To become a sponsor, contact Milia Islam-Majeed, Executive Director, South Coast Interfaith Council (SCIC) at 562-983-1665 or milia@scinterfaith.org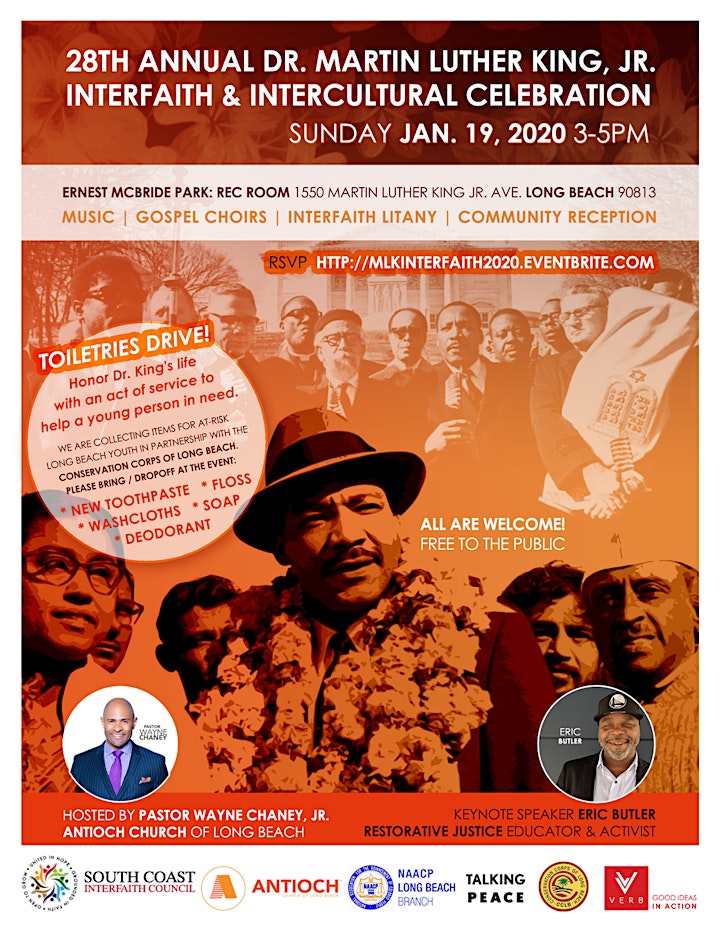 SPREAD THE WORD AND BRING A FRIEND.