Intro: Etzer Cantave, President DuSable Heritage Association Film: DHA Video & Thus Spoke The Sea Q&A: Arnold Antonin, Film Director
About this event
Please register for webinar access here:
https://us02web.zoom.us/webinar/register/WN_BSe8MJY7TZud3ltB_7R1mw
The Haitian Sea, as you've never seen or heard it before: the sea tells the story of its relationship with the Haitian people, showcases its riches, reveals its mysteries and raises the alarm. From the excessive use of its resources to the consequences of climate change and pollution, all is revealed in different shades of blue. Haiti's fate will be linked to the coasts and the children of Haiti – voodoo priestesses, fishermen, merchants, entrepreneurs, urban planners, historians, biologists and climate experts – help to tell the tale. A candid depiction of the challenges and the opportunities that must be seized before it's too late.
FREE EVENT & DONATIONS ARE ENCOURAGED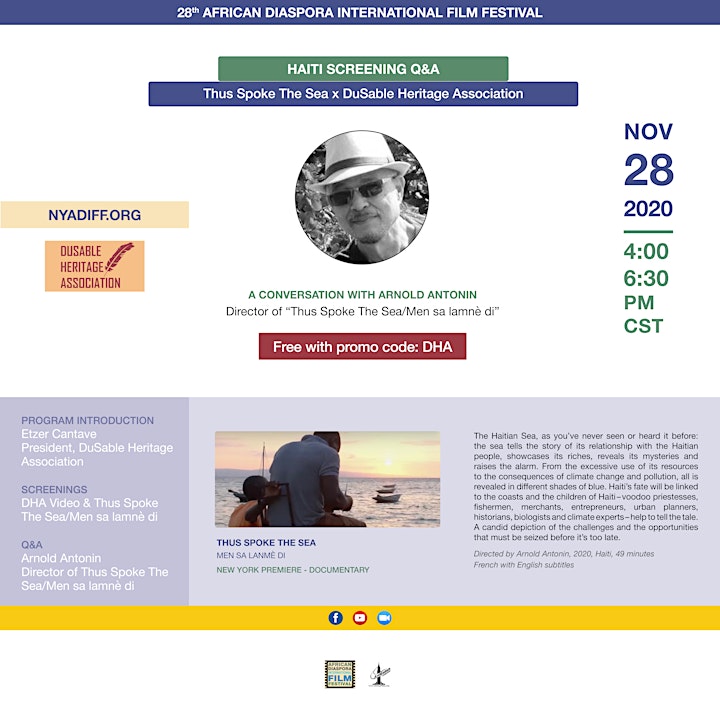 Organizer of 28th African Diaspora International Film Festival
DuSable Heritage Association (DHA) is a non-profit 501c3 organization with mission to promote the legacy of Jean-Baptiste Pointe DuSable, founder of Chicago, through educational and cultural activities.  Since its creation in August 2002, DHA has welcomed individuals from diverse background with an interest in the life of DuSable, including the history and culture pertaining to the early settlement of the American Midwest.