ورشة عمل:"ما أوصلك إلى هنا قد لايوصلك إلى هناك" صناعة التحول الشخصي للعام الجديد

Saturday, December 3, 2016 from 11:00 AM to 5:00 PM (AST)
Who's Going

Loading your connections...
3 of your friends are going.
Share it to get more people on board!
Share

Sara Haughty
San Francisco, California

Luke Picard
London, United Kingdom

Rick Vespucio
Florence, Italy
Event Details

ما أوصلك إلى هنا قد لايوصلك إلى هناك
What Got You Here, Won't Get You There.
صناعة التحول الشخصي للعام الجديد

يستفيد من هذه الورشة كل طموح يخطط ويرسم أهدافه في كل عام! ويسعى لتحقيقه
تعرف على نقاط قوتك ولا تجعل أهدافك مجرد حديث نفس. وانضم إلى 15 مليون ممن قاموا بذلك
في فحوى الورشة نناقش لماذا لم تتحقق أهدافك للعام الماضي؟  وكيف يمكن تحقيقها؟
مع الكوتش فريد نافع الصبحي



كوتش فريد مؤمن شغوف بإمكانيات الفرد، سيساعدك على معرفة نقاط القوة لديك لتحقق اهدافك عن طريق ورشة صناعة التحول الشخصي التابع للقياس العالمي
The #Strengths_Finder


أما المحاور الأساسية فهي 
 .قياس أثر واقعك الخاص -
.الوعي بقواك وتأثيرها على صناعة التحول -
.فهم وتطبيق عملية الأداء -

المخرجات المتوقعة من الورشة
  ١- اكتشاف أفضل خمس نقاط لديك وكيف يتم الاستفادة منها في تحقيق السعادة والوعي وتقدير الذات، وبناء علاقات إيجابية والتخطيط للمستقبل
٢- قياس تعاملك مع واقعك
الرباعية Gallup ٣- رفع مستوى الآداء وفق مصفوفة 
لديك بعد الورشة:
ا- اكتشاف أفضل خمس نقاط قوة لديك
٢- كيف يتم الاستفادة من نقاط قوتك في
تحقيق السعادة،
الوعي وتقدير الذات،
بناء علاقات صحية إيجابية،
التخطيط للمستقبل،
 قياس تعاملك مع واقعك،

ولك أيضًا: تقرير نتائج مقياس نقاط القوة. (مشمولة من قيمة استثمارك ومطلوب قبل الورشة)
مدة الورشة: ٦ ساعات
تبدأ من الساعة ١١ صباحًا وحتى الساعة ٥ مساءًا وتتضمن استراحة لصلاتي الظهر والعصر.
المكان  
في مقر
Reach2Change  شارع العليا

التاريخ
٣ ديسمبر ٢٠١٦

قيمة الاستثمار:
للفرد: ٥٥٠ ريال سعودي
وهناك خصم للمجموعات بما يتعدى 3 أفراد.

 لغة التواصل: اللغة العربية

من هو فريد نافع؟
يؤمن الكوتش فريد بأن كل شخص منا يساهم في بناء مجتمع ناضج و واعي، لذلك يقوم بمساعدة الناس عن طريق إعادة توجيه جوهرهم الداخلي تجاه نقاط قوتهم ليتمكنوآ من إدراك ما يستطيعون تحقيقه.

كوتش متخصص في نقاط القوة مرخص من منظمة Gallup strength -
كوتش مرخص في تحليل احتياجات نقاط القوة من منظمة Strength Strategy - 
متخصص في رفع الأداء من منظمة Gallup -
شغوف باكتشاف وتطوير المواهب للأفراد وفرق العمل

معلومات التواصل:
Reach@Reach2Change.com
جوال: 0543031113
هاتف: 0114655751
 
Have questions about ورشة عمل:"ما أوصلك إلى هنا قد لايوصلك إلى هناك" صناعة التحول الشخصي للعام الجديد?
Contact Reach2Change
When & Where

Reach2Change
Olaya Street
Riyadh, Riyadh Province 12221
Saudi Arabia

Saturday, December 3, 2016 from 11:00 AM to 5:00 PM (AST)
Add to my calendar
Organizer
Reach2Change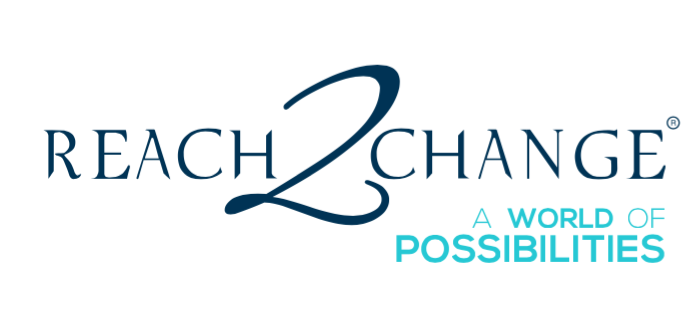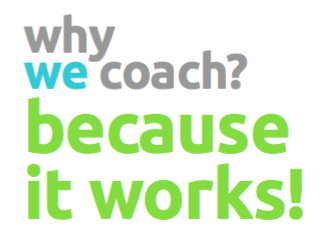 ما هو الكوتشينج "التمكين"؟
يتمحور الكوتشينج حول تمكين الأشخاص والمجموعات وفرق العمل و قطاعات الأعمال من تكوين قرارات واعية وتمكينهم ليصبحوا قادة لأنفسهم، ولأعمالهم و للآخرين


What is Coaching?
Coaching is about enabling individuals, groups, teams or businesses to form conscious decisions & empowering them to become leaders of their own paths.

ELEVATE YOUR BUSINESS OR SELF GROWTH

Empowering people is always been our ultimate goal, we know from experience what one can achieve when we shed the light on our skills and potentials. We at Reach2Change are pashonet about enable positive switches in the lives of others as individuals and as a community and the world at large, by inviting everyone to explore their own World of Possibilities.


" Be the change you want to see in this world"_ Mohammad Gandi
Our Services: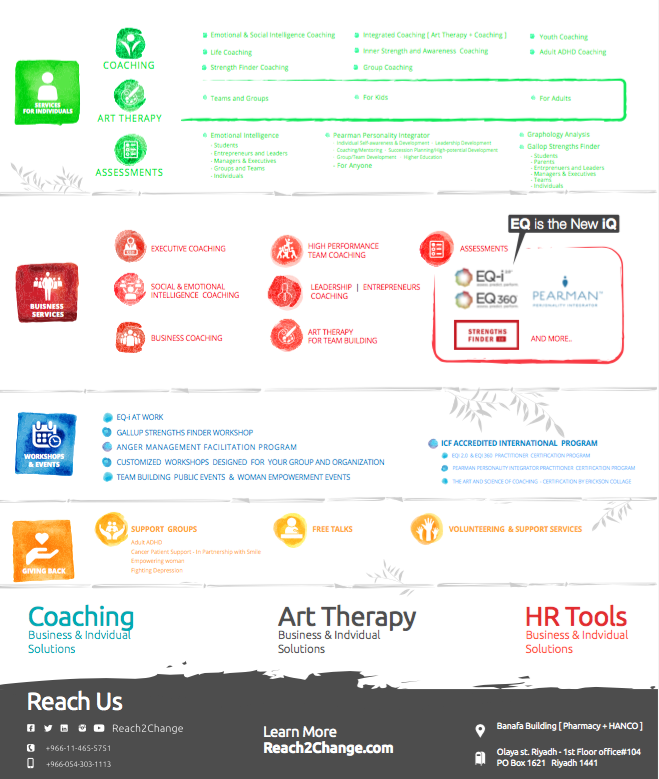 Reach Us:
Email: Reach@Reach2Change.com
Mobile: +966543031113    -   Office: 011-4655751
ورشة عمل:"ما أوصلك إلى هنا قد لايوصلك إلى هناك" صناعة التحول الشخصي للعام الجديد