Description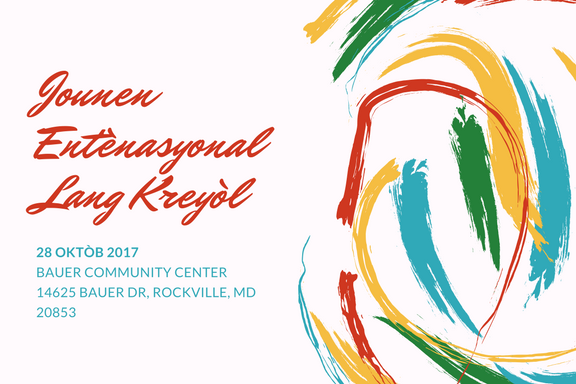 Pou selebre Mwa Kreyòl la, KOMITE POU AVANSMAN LANG KREYOL LA, an kolaborasyon ak Anbasad Dayiti nan Wasington DC, Montgomery County Recreatio Center, envite tout kominote a vin patisipe nan yon sware espesyal nan dat 28 oktòb 2017.
Aktivite yo ap kòmanse depi katrè (4 pm) pou rive nevè (9:00 pm) diswa.
Ayiti a lonè!!!
Haitian Creole is the creole langage with the largest number of speakers and it is the most widely spoken creole langage in the world ! It is also spoken by members of a diaspora estimated at more then 3 million people who have emigrated mainly in the US, Canada and France, as well as many Caribbean countries, especially the Dominican Republic, Cuba, Cayman Islands, French Guyana, Guadeloupe, martinique and the bahamas. Haitian creole has been standardized for use in education, administration and the media. There are several newspapers written in haitian creole and a number of radio and television broadcasting in haitian creole in cities such as Montreal, New York, Miami, Boston and Washington DC. The voice of America, creole section, has been on air for more than 30 years.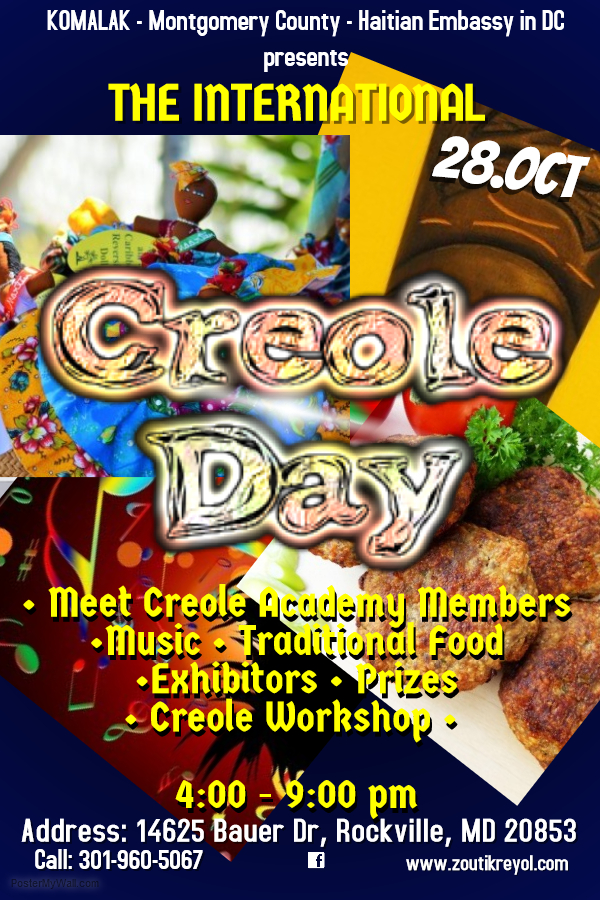 October has become the month of the worldwide celebration of the creole language.
Highlighting October as creole heritage month is all part of our cultural re-birth and our attempt to recover and remember our past.
International Creole month is a time to rejoice with a program of celebrations, cultural demonstrations and musical performances.
Rezève plas ou jodi a. Vin fete e pase yon bon moman.