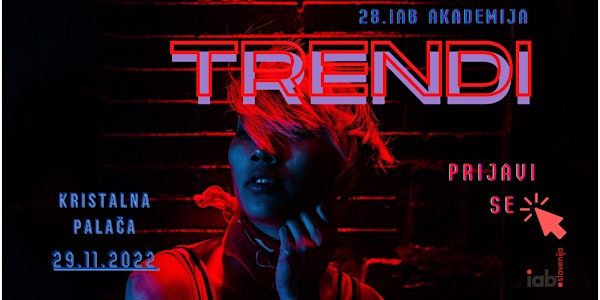 28. IAB AKADEMIJA- Trendi v digitalnem marketingu
Zadnjo Akademijo v letu že tradicionalno posvečamo top trendom digitalnega marketinga. Ozremo se v tekoče leto in nakažemo smernice v 2023.
When and where
Location
Kristalna palača, Kongresna dvorana, 2. nadstropje Ameriška ulica 8 1000 Ljubljana Slovenia
About this event
Med vsemi dogodki IAB Slovenija so prav Trendi najbolj znani in tudi najbolj obiskani.
Trendovski program je tokrat tudi vizionarski.
PROGRAM:
12:00-12:15 Uvodni pozdrav
12:15-13:15 Trendi 22/23 - Zoran Savin, IAB Slovenija
13:15-13:45 Troubleshooting the trends - Živa Deu, Atlantic grupa
13:45-14:15 Kavica
14:15-14:45 Zakaj bo TikTok spremenil digitalno komuniciranje? Aljaž Peklaj, Bold Group
14:45-15:15 Kdo je Tiktoker? Irena Žagar, Buzztik.com
15:15-16:00 Okrogla miza: Kaj nam kaže čarobna krogla?
Vizionarji bodo: Igor Željan, Moje delo; Jaka Repanšek, Republis; Miha Rejc, iProm; Uroš Žižek, E-laborat
Ostanite v trendu! PRIJAVITE SE!
POMEMBNO OBVESTILO: Za člane IAB je udeležba na dogodku brezplačna. Imetniki DIMAQ strokovnega certifikata za digitalni marketing pa si z udeležbo pridobite 15 točk.