| | |
| --- | --- |
| 28 Day Healthy Eating Challenge | |
Event Details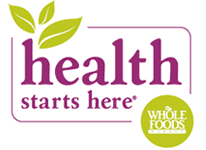 with 
WHOLE FOODS MARKET, ARLINGTON
 May 1st - 29th, 2012
*Class meets every Tuesday with additional classes on various dates.
**Location of class may change depending on the week. Space is limited!
$30 
Portion of proceeds donated to a local Arlington School.
The 28 Day Challenge will give you the tools to find your personal path to optimum health and wellness.  For the first 3 weeks of the 28 Day Challenge, via special guests and our own Healthy Eating Specialist, you will learn about nutrition, cooking healthy and how to incorporate the 4 Pillars of Health into your life.  The last 7 days of the Challenge, we will eat a 100% nutrient dense, whole food, healthy fat and plant strong diet.  We believe that by understanding Healthy Eating, you will enjoy a lifesyle that embraces health and a positive relationship with food. 
Tuesday, May 1st 7:00-8:30pm 
*This class will be at the Clarendon Adult Education Center, 2801 Clarendon Blvd., rm 308/309, Arlington, VA 22201
Introduction to the 4 Pillars of Health and nutrient dense food choices. "Kickstart Your Health: Learn How to Boost Metabolism, Lower Cholesterol, and Dramatically Improve Health" with Dr. Neal Barnard
Thursday, May 3rd 7:00-8:30pm
Forks Over Knives Movie Screening  with healthy snacks:  The feature film, Forks Over Knives, examines the profound claim that most, if not all, of the degenerative diseases that afflict us can be controlled, or even reversed, by rejecting animal-based and processed foods.  "I LOVED IT AND I NEED ALL OF YOU TO SEE IT!"  Dr. Oz, The Dr. Oz Show.  "A GREAT FILM" Sanjay Gupta, MD, CNN chief medical correspondent.
Tuesday, May 8th   7:00-8:30pm
Essential cooking methods of healthy eating,  practical meal planning, label reading and tips on eating healthy at your favorite restaurants with Healthy Eating Specialist, Brenna Scarrott and Marketing Liaison, Jackie Zovko,  "Fitness on the Move" with Washington Sports Club Trainer, Wendy Christensen
Tuesday, May 15th  7:00-8:30pm
Cooking Instruction and Food Substitution class with Healthy Eating Specialist, Brenna Scarrott.  Healthy Eating Budget Store Tour with Marketing Liaison, Jackie  Zovko.
Tuesday, May 22nd   7:00-8:30pm
"Why Dieting and Will Power Don't Work" with Senior Healthy Eating and Wellness Educator, Akua Woolbright. Ms. Woolbright will address food addictions and cravings.
Tuesday, May 29th  7:00-8:30pm
We'll close the 28 Days with a Celebratory Supper Club and this is your time to ask a panel of experts about cooking, eating, exercising, and staying motivated.

  ARLINGTON 
 2700 WILSON BOULEVARD • ARLINGTON, VA •
703.527.6596
Where
2700 Wilson Blvd
Arlington, VA 22201


Organizer
presented by Whole Foods Market
28 Day Healthy Eating Challenge