#27Answers to Create Buzz May Success Call

Tuesday, May 27, 2014 from 8:30 PM to 9:30 PM (EDT)
Event Details
Topic: Breaking FREE- generate more paying customers. Turn friends and followers into loyal lifetime customers.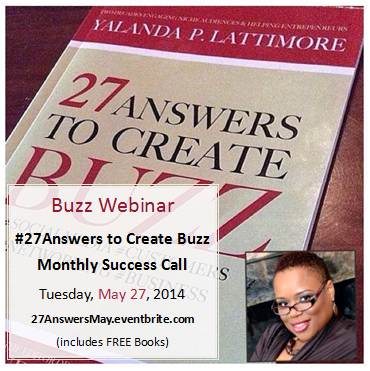 Your monthly tune up call to creating buzz about your business, nonprofits and the arts.  Get updated on social changes, secrets, and demands of digital customers.  Create buzz and generate more leads with your PACH™ (peers, audience, customers, and avoid haters).  
Speaker: Yalanda P Lattimore -- two decades engaging niche audiences, editor of DryerBuzz.com and author of #27Answers to Create Buzz 
Organizer
DryerBuzz.com Presents
DryerBuzz -- you just got the buzz from Atlanta's award winning superblog DryerBuzz.com -- transforming way we look -- at life from Atlanta and beyond. Established by superblogger and author Yalanda P Lattimore. 
Follow the buzz for great leade, lifestyle, and local events. 
#LivingAtlantaStyle #DryerBuzz