27Answers to Create Buzz for Moms

Friday, August 1, 2014 from 12:00 PM to 3:00 PM (EDT)
Event Details
Set your favorite mompreneur on the right track this Mother's day. Pre-order her signed copy of #27Answers to Create Buzz for Moms, highly anticipated follow up to 27Answers to Create Buzz from Yalanda P Lattimore, editor of DryerBuzz.com, scheduled for release August 1, 2014.
In anticipation of release date and receiving her very own signed copy, mom will enjoy #27Answers weekly newsletter with chapter previews along with advice to create buzz and generate more leads with her PACH™ . 
Hot off the press, mom will received her signed copy of #27Answers to Create Buzz for Moms in the first batch shipped August 1st. 
Order today during presale. Mom will receive her first newsletter and chapter preview for Mother's day along with great advice to start creating buzz now.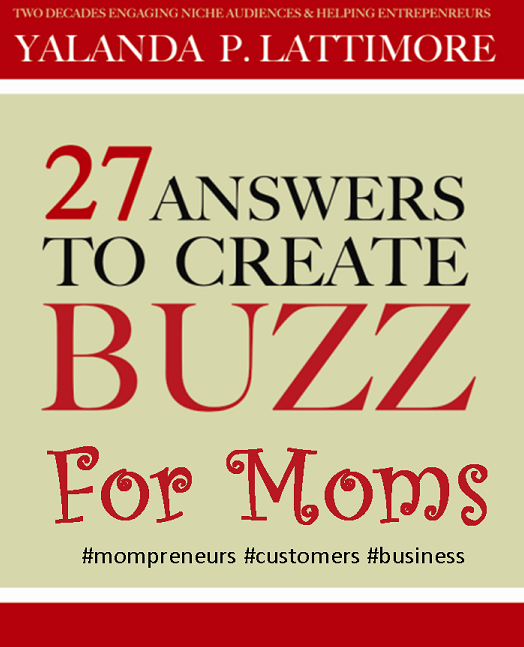 Yalanda P Lattimore answers frequently asked questions from mom entreprenuers. #27Answers to Create Buzz for Moms table of contents to include:
1. My office hours... How to balance family and business
2. The PTA is your network 
3. Lunches and Legacies
4. Build a Mommy Following in 3 Easy Steps
5. How to Ghange the Game and Diapers
6. How to start a business for FREE (™) and Fully Reimburse Each Expense
7. Create Buzz and Generate Leads with your PACH (™) [Peers Audience Customers and avoid Haters]
More exciting chapters inside. Order pre-sale for exciting chapter previews and weekly newsletter.
Organizer
DryerBuzz.com Presents
DryerBuzz -- you just got the buzz from Atlanta's award winning superblog DryerBuzz.com -- transforming way we look -- at life from Atlanta and beyond. Established by superblogger and author Yalanda P Lattimore. 
Follow the buzz for great leade, lifestyle, and local events. 
#LivingAtlantaStyle #DryerBuzz 
27Answers to Create Buzz for Moms