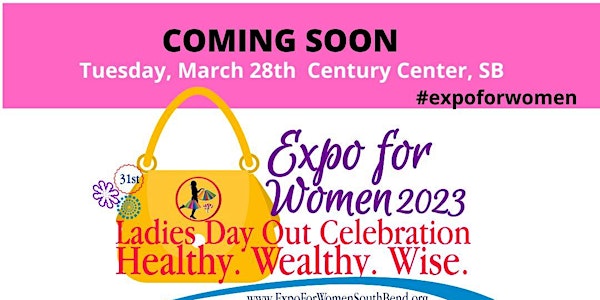 Early Bird Booth Space Rental Expo for Women Ladies Day Out 2023
31st ANNIVERSARY CELEBRATION 2023 Expo for Women Ladies Day Out Celebration premier women's event of the season, don't miss it!
By Cindy Cohen RN, Wellness Consultant, C2 Your Health LLC
Date and time
Tuesday, March 28 · 2 - 8pm EDT
Location
Century Center - Dr. Martin Luther King Jr. Blvd & Washington St 120 Doctor M.L.K. Jr Blvd South Bend, IN 46601
About this event
31st ANNIVERSARY CELEBRATION
2023 Expo for Women Ladies Day Out Celebration
Tuesday, MARCH 28th, 2022 2 PM - 8 PM 
2 - 8pm Exposition opens to the public
5 - 8 pm Ladies Night Out Cocktail Party for Charity 
http://www.expoforwomensouthbend.org
ROLLING EARLY BIRD PRICE BACK TO 2019 PRICES - HURRY!
Single BOOTH RENTAL - $199 EARLY BIRD DISCOUNT ENDS FEBRUARY 28TH
Your booth space is 8 x 8, 6 foot table, 2 chairs, WiFi 2 exhibitor passes. Electricity is an extra fee $75
COMPLETE THIS EXHIBITOR APPLICATION CONTRACT - MAIL, OR SCAN to event coordinator.
The theme of this spring's Expo for Women is BEAUTY INSIDE AND OUT creating the largest-of-its kind Ultimate Ladies Day Out Celebration in Northern Indiana attracting 3,000 attendees and 60+ exhibitors.
The mission of the Expo for Women is to support women from all walks of life educating, empowering and mentoring girls and women through community collaboration to improve their quality of life.
The goal of the South Bend area Expo For Women is to set aside a day for shopping, relaxation, rejuvenation, health, fun and to empower women to create the life they are seeking for themselves, their families and our community. This event takes place at the Century Center Conference Center, South Bend, IN.
BONUS GIFT - Every early bird exhibitor receives this eBook to help you with your tradeshow marketing. Self-Marketing Handbook for Women - Online and Offline.
This Expo for Women's outreach strategy includes:
FACT SHEET (click here for event details) 
Women's health expo type booths and wellness activities - urgent care, fitness, healthy eating, weight loss, and massage.
Women's fashion shows including - latest trends in beauty, hair, clothing, skin care and make-up trends
Women's business expo atmosphere - featuring 'women owned' business ideas+Women's prominent role in the family and Michiana community.
Nonprofit organization highlights - supporting women, families and community awards. 
Before March 1st Single booth $199 After March 2nd Single Booth $275
 Before March 2st Double booth 8 x 20 $499 After March 2nd Double Booth $525
**Tickets are sold in advance at Martin's Supermarkets prior to the event.
Questions? Call or text us 574- 404-3118 Email CindyCohenRN@yahoo.com
About the organizer
Cindy Cohen and the team at C2 Your Health LLC have been organizing the Expo for Women since 2008 for the Michiana Area. This is the largest Ladies Day Out event in Northern Indiana witn 3.000+ attendees and 60+ exhibitors. 
Contact: Cindy Cohen RN www.expoforwomensouthbend.org    www.CindyCohenRN.com   (800) 245.8917  
C2 Your Health LLC provides important health and wellness solutions through personal health coaching, worksite & organizational wellness and to our community encouraging a healthy South Bend, IN and surrounding community. C2 Your Health LLC is certified in worksite wellness, the recipient of national wellness awards and has assisted companies with achievement of the Indiana Business Wellness Tax Credit Certification. You can find them on social media.