27 Tips To Becoming A More Successful Presenter/Closer FREE*
Description
It's not what you put into it…it's what they get out of it.
Join us for a few hours filled with tips, tricks, and techniques that are practicable and actionable to enhance your bottom line.
•Pay the $97 for the ticket and upon completion of the event, that same day, we will refund $100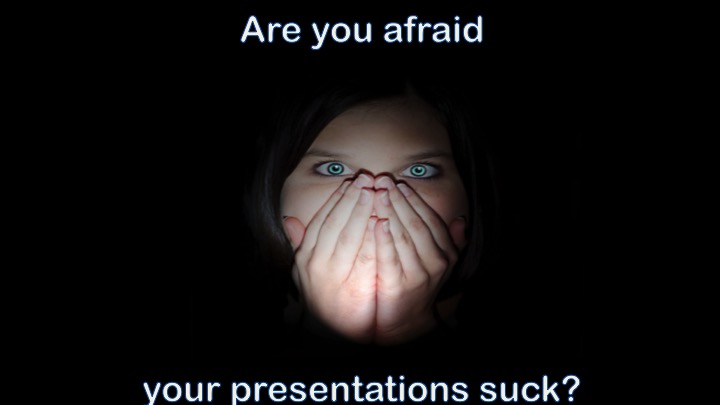 Effectively increase the business impact of your presentations by applying useful tools, tips, and resources. Historically visual aids suck. They are boring. Organizations that sell anything to anyone using visual aids should attend this insightful and resourceful presentation that will take you from boring to WOW. You will leave with the tools and tips to be more impactful, more understandable, and more memorable.

Does your 'pitch'...
COMMAND ATTENTION AND GET BETTER RESULTS TO ACHIEVE MASSIVE SUCCESS?
Every Presentation must be 'PITCH' perfect in order to persuade your audience to buy from you.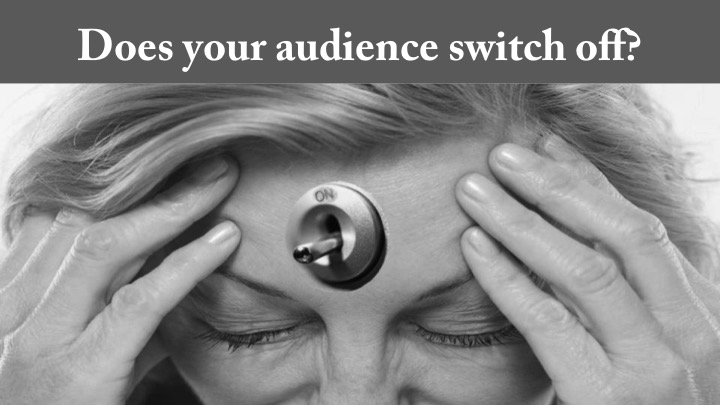 Learn from a Certified Speaking Professional, Platform Certified Speaker, PowerPoint Expert, and innovative resource. You will leave with dozens of tips, tricks, resources, and insights to creating a more powerful and persuasive presentation.
What if tomorrow you were asked to present your concepts to investors? Are you ready?
Join us for an afternoon of in-indepth coaching and implementation to take your presenations to the next level.
What if you could try out for Shark Tank? The Profit? Billion Dollar Buyer?
These REALITY shows require
Concise presentations!

Focused Presentations!

Persuasive Presentations!
In 'reality' they are no different than any presentation pitch. You have little time to persuade your audience to trust you in order to buy from you.
This afternoon of education will help immerse yourself in a diverse learning environment that focuses on providing participants with the tools and knowledge required to build better presenters in your organization. Our process prepares you to present information effectively, respond to participant questions and lead activities that reinforce selling/presentation positive outcomes. We will demo the latest TAG Tecslate 65" for our presenation.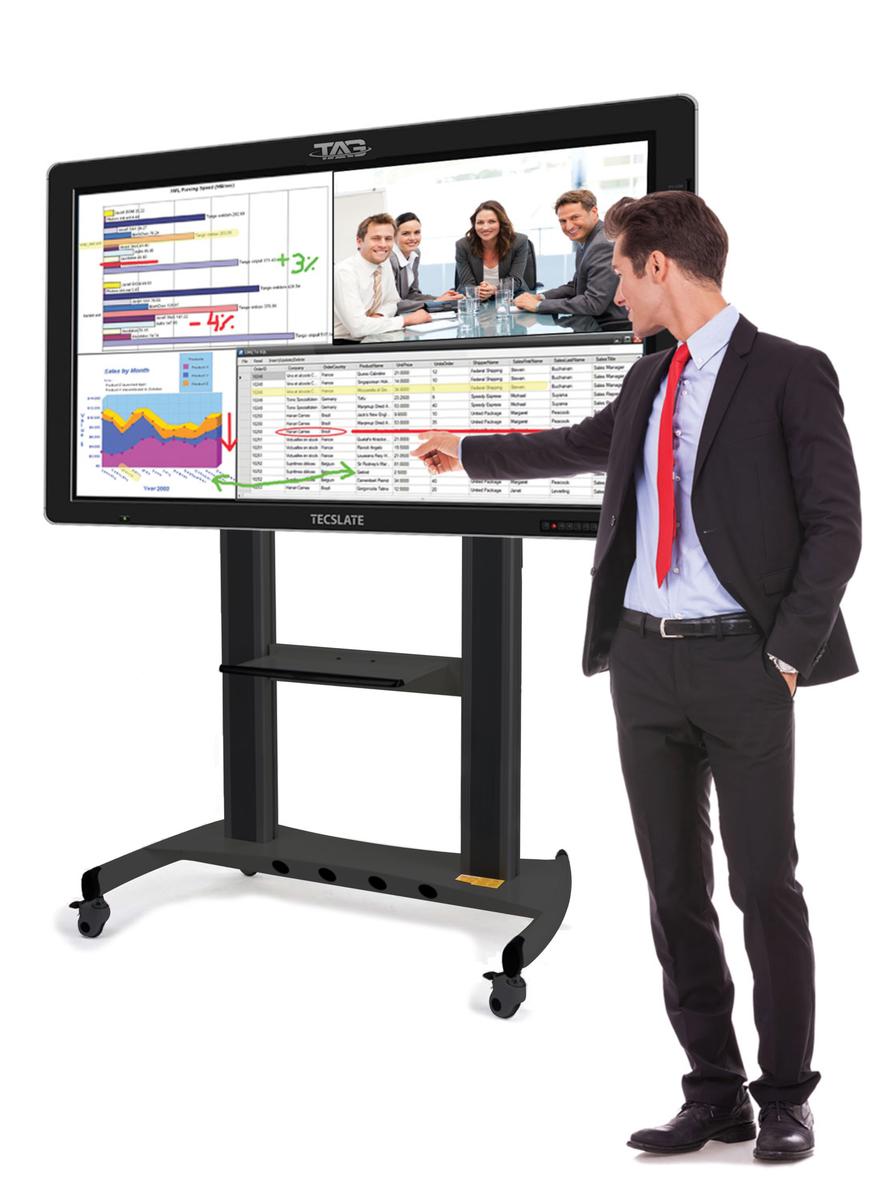 Do you want your presentations to...
Boost your Income?

Narrow your Niche?

Leverage Your Brand?

Gain Unfair Advantage?

Increase Your Market Leadership?

Become More Productive?

Nail Your PowerPoint/Keynote Presentation?

Create Persuasive Presentations?
Did you answer YES to any of the above questions? Then this bootcamp is for you.
Ask Yourself? "What keeps me up at night?
How do I compete?

Do you want to scale your business?
Do want to offer presentations to turn more suspects into prospects?

Are you able to hire the right people and sell more products using PowerPoint or Keynote presentations?

Do you want to deliver WOW presentations?
THIS IS THE KNOWLEDGE YOU NEED, IN A FORMAT YOU WANT!
Do you want to learn how to :
Set Clear Objectives.

Magnetize, materialize, mesmerize, monetize your presentations.

Design Visual Slides. Learn what to use and why.

Find new fonts, graphics, templates, and other visual WOW tools.

Create ways to simplify complex ideas.

Create an engaging Communication style.

Become more Confident in your Delivery.

Locate resources for slide creation, motion picture license, newest technology/equipment and more.
After the bootcamp you will be provided with an opportunity with one-on-one coaching to hone your new learned skills to your specific business needs. This is an afternoon that can change the way to present your ideas and become more persuasive with each presentation. You will leave with techniques, and tips.
If you sign up for the all day work shop look at all the extras.
Presenters need to have presentable luggage to hold all their materials. We believe that you need to be prepared for any event by bringing your own projector, sound system, and all your cables, etc. Our Professional registration option includes a NEW carry-on ( 22"x14"x9") holds all your AV tools as well as room for a change of clothes and more. We are including this TUMI bag with our Professional bootcamp registration. MSRP $599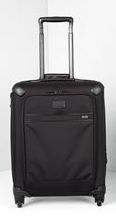 Because we believe in cutting edge technology we will introduce you to the tools we use to WOW our audience. These are just a few of the cutting edge insights offered as part of this persuasive presentation bootcamp.
No obligation to buy. We are showcasing a few of our personal tools that enable us to be totally prepared for any event. We believe in Murphy's Law and our Tumi Bag is loaded with the latest cables, USB drives, projector, and sound system so that we are ready for any 'shifts' that happen.
OPTOMA ML550 Projector (so cool you have to have it in your briefcase)

and

AMPLIVOX portable sound system. (so people in the back can hear you)

Both fit easily into your new Tumi Bag.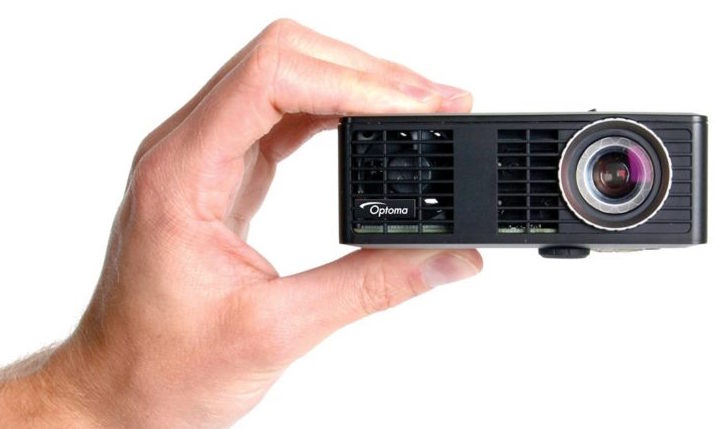 ML550 ultra-compact portable LED projector. Easily transportable between your home and office, this tiny projector weights less than 0.4kg and comes with a convenient carry bag. Watch HD movies or present that winning presentation, the ML550 has everything you need to impress your audience.
MSRP $899
Packed full of features the ML550 incorporates a media player, native office viewer and built-in speaker. Project without a laptop using the built-in memory, a microSD card slot, USB connection. Easily connect and display from a mobile or table device using MHL connectivity to view business files, photos, videos and listen to music.

Using the latest "Lamp-free" technology for exceptional colour fidelity, reliability and longevity, the Optoma LED ultra - compact portable projector is your perfect entertainment and business partner.
Insert the micro SD card straight from your phone or camera to instantly share memories with small or large groups, without the need for extra cables. Alternatively leave a slideshow with audio running in the background before kicking off a meeting, to whet your audiences' appetite and stimulate discussion.
Presentation and Documents
With native support for Microsoft Office and Adobe PDF files, you can simply save your work onto the ML550 internal memory, a microSD card* or USB memory stick* and you are ready to go.
*MicroSD Card & USB memory stick not included. Connection to some devices may require additional cables, available separately.
Media Player and Native Office Viewer
Play videos, photos, Microsoft Office & Adobe PDF files directly from the internal memory, a microSD card or USB stick and view them directly on the projector without the need to connect the projector to a laptop, PC or DVD player.
Videos
Sit back after a long day to enjoy your favourite movies…the ML550 supports the most popular video and music file formats and being both HD-Ready and LED, you can also be sure of vibrant colours, depth, and clarity that will not disappoint.
Wireless Presentations
Present from your phone or tablet using the free App: EZ View. Available for both Android and iOS devices, EZ View gives you the freedom to wirelessly share and present documents, photos, videos and your devices camera turning it into a document camera. Creating a more connected and collaborative experience for everyone.
Instantly connect and display presentation material wirelessly from a PC, Mac or mobile device using the optional mini WiFi dongle which connects discreetly to the USB port on your ML550, bringing you seamless wireless connectivity in a highly portable package. Enjoy big-screen presentations streamed to your projector, cable-free.
LED Technology
Using the benefits of LED technology, the ML550 LED projector uses individual Red, Green and Blue LED modules to create the projected image without the need for a colour wheel. LEDs increase efficiency and have an increased lamp life up to 20,000 hours.
Saving you both time and money; while leaving you certain that your projector will be fully operational for many years to come. Don't leave your office without one!


We also carry our own sound system in our TUMI bag.
It is our belief that every presenter must use a microphone for every presentation over 8 people. Often the meeting does not provide what you need. This is just another tip and resource we offer to our attendees.
Amplivox
Power Pod PA system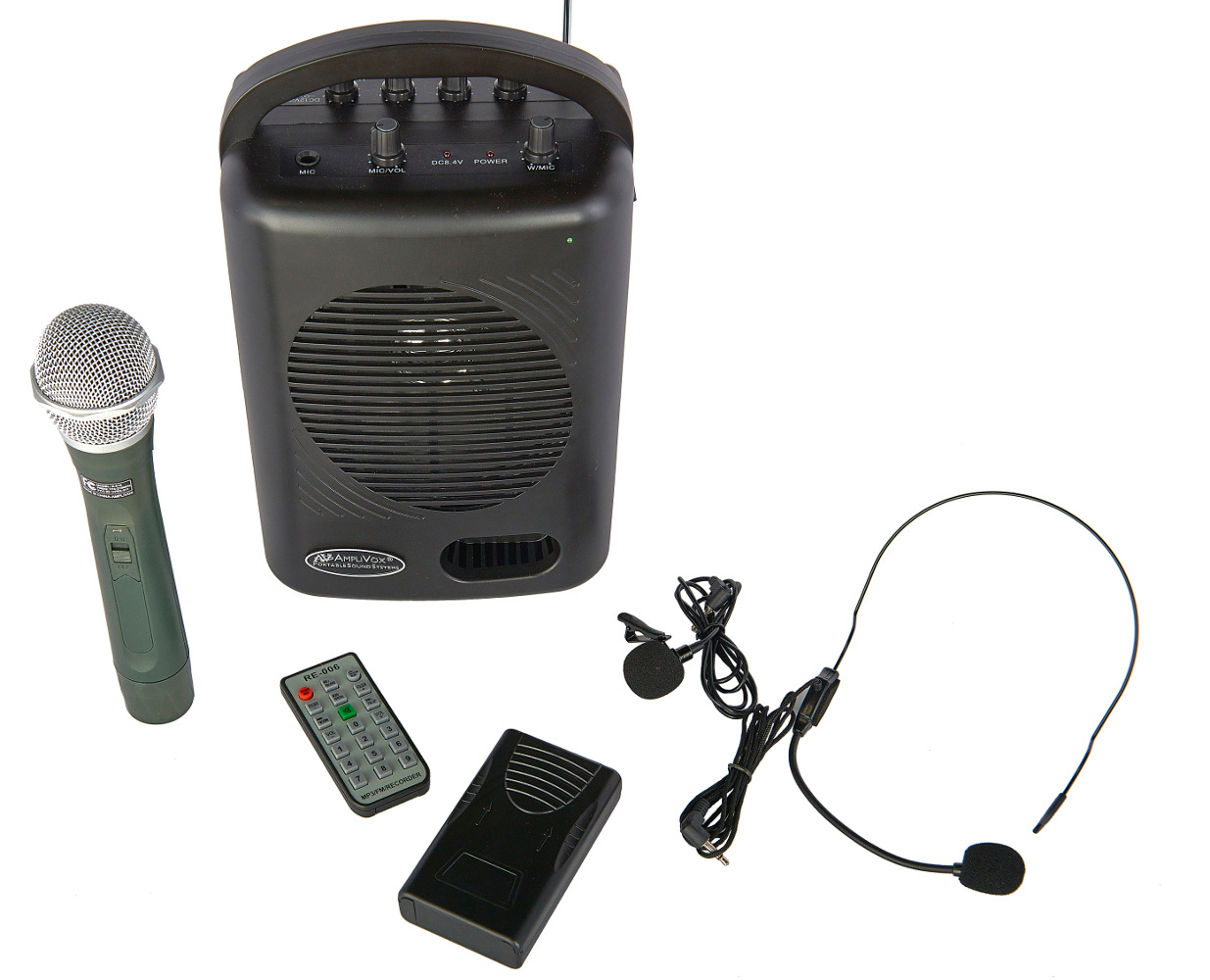 The SW245 Power Pod PA system packs 50 watts of power into a unit weighing less than six pounds, reaching an audience size of 300 people with crystal clear sound. MSRP $899

Includes a lapel microphone, headset microphone, bodypack transmitter and a handheld wireless microphone with built-in transmitter. The wireless microphone has a range that allows the presenter to stand up to 100 feet away from the PA system while speaking.

Built-in single channel VHF receiver in the unit allows for only one wireless microphone to be used at a time. Optional wired microphone can be plugged into the Power Pod PA to allow for dual presenters, with one presenter speaking from the wired microphone and the second presenter speaking from the wireless microphone.

Loaded with a media player that gives you the ability to play recorded audio from a SD card or a USB thumb drive and includes FM radio with remote control. You can even record a presenter's speech that is spoken into the microphone onto the thumb drive. The media player and FM radio is accessible by either using the control panel on the unit or the remote control.

The unit runs up to 8 hours off its internal rechargeable battery. A full set of controls include wired mic input with wired microphone volume, wireless microphone volume, wireless antenna, echo effect, auxiliary volume, tone control, MP3/FM volume and recharging connect.

It also includes a carrying case with pockets for accessories. MSRP $899
If you are ready to make your presenations more persuasive we have a special VIP package for our attendees.
The full day workshop-$997
Tumi Carry-On $599
Optoma LED Projector -$899
The Amplivox PowerPod PA-$899
4 sessions (45min each) of one-on-one coaching with Jim -$1999
TOTAL VALUE $5393
SPECIAL VIP REGISTRATION OFFER -ALL of the above $1997
(This offer will not be available at this special price at the bootcamp)
========================================
NEED A FEW MORE REASONS TO ATTEND?
Anyone who sells anything to anyone and wants to improve their presentation skills, become more engaging, and make more money should attend this event.
Everyone in business can learn how to WOW their audience with these field tested presentation and training tips, tools, and techniques should attend this event.
Anyone that wants to go from where you are to where you want to be.
Anyone that wants access to presentation resources for marketing, branding, technology, funding, incentives, to take your business to the next level.
Our easy strategies will turn your marketing dreams into a way to monetize your expertise with WOW presentations that offer solutions for your customers.
Learn from one of the best practitioners in business who offers real-world relevance and practical applications.
He will provide access to the insights and information you need to move forward through challenging market conditions.
Jim has provided over 3,000 presentations. He brings you insightful, intuitive, revolutionary information that you can use immediately.
Limited to 10 participants this provides one-on-one consultation, specific presentation assistance, as well as take aways tailored to your presentation requirements.
The full day workshop will help you develop additional decision-making and business tools to help build your business across a competitive and complex marketplace.
Do you want…
an almost unfair advantage over your competition?

cutting edge content from practitioners who speak?

to nail your next presentation?

insider' tips and tricks to define problems, gather data, and develop solutions?

to learn the essentials of how to think, not what to think?

a comprehensive understanding of leadership skills, marketing, branding, strategy and tactics?
This practical presentation skills training bootcamp is filled with information rich, interactive participation that will help you take your presentations to the next level. You'll learn a step-by-step process to create remarkable presentations that gets you results and make more money.
Everyone will find a full day of food, thoughts, tips, tools and handout materials. Limited to 10 attendees.
Breakfast with muffins, bagels, danishes, croissants, fruits, coffee, juices, teas
Deluxe lunch
Afternoon break with desserts, coffee, teas
DRAWINGS ALL DAY for valuable prizes

Total investment for VIP Registration-$1997
Bootcamp Only $997
==================================================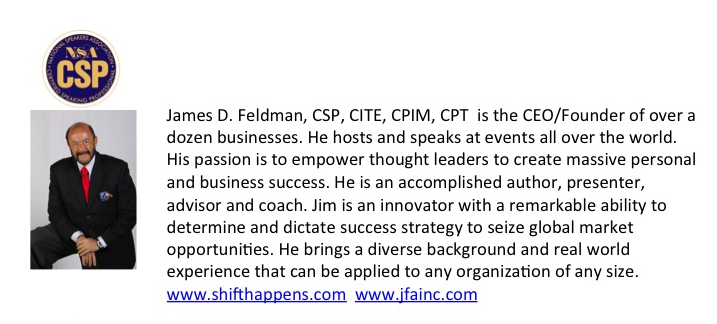 ©2017 James Feldman Associates, Inc. All Rights Reserved.
FAQs
Are there ID requirements or an age limit to enter the event?
No
What can/can't I bring to the event?
No video or audio recording allowed. Bring your laptop, tablet, smartphone.
Where can I contact the organizer with any questions?
312 527-9111 jfeldman@shifthappens.com
Is my registration/ticket transferrable?
Yes
Can I update my registration information?
Yes
There is on street parking as well as parking lots nearby.
What are my transport/parking options getting to the event?
There is on street parking as well as parking lots nearby
Do I have to bring my printed ticket to the event?
No
What is the refund policy?
15 days in advance full refund.
After 14 days no refund but tickets are transferable.
The name on the registration/ticket doesn't match the attendee. Is that okay?
Yes. However if you plan to give your ticket to someone else please print it out and have them present it at the door.