27 February 2018 Lunch with Maurice Taylor CBE, Chief Executive, Chardon Tr...
Description
12.00 - 12.30 pm : An Opportunity for Informal Networking
with Members & Guests of the Glasgow Business Club
12.30 pm : Lunch followed by our Guest Speaker, Maurice Taylor, CBE,
Chief Executive of Chardon Trading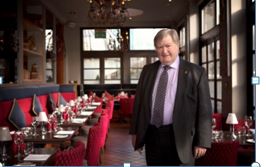 Founder & Chief Executive of The Chardon Group, Maurice is renowned and respected both nationally and internationally. He is recognised for his dedication to entrepreneurship and innovation, and distinguished by strategic vision.
Maurice owns a number of Scotland's most successful hotels and restaurants, including Holiday Inn Glasgow Theatreland and Holiday Inn Express Edinburgh Airport. Back in 1975, he also launched Glasgow's original French Mediterranean Brasserie, the award winning La Bonne Auberge, and today diners can still enjoy the delights of its tantalizing, 'in-vogue' menus at Maurice's Glasgow Holiday Inn Theatreland.
In addition he created, developed and ran the prestigious Parklands Country Club in the Newton Mearns area of Glasgow – another first in its class at the time.
Throughout his years in the industry Maurice has been the proud recipient of a plethora of awards including Lifetime Achievement and Entrepreneur of the Year from a number of august bodies. He is currently visiting Professor at the Scottish Hotel School and holds an Honorary Doctorate from the University of Strathclyde and also elevated Maurice to their own "Hall of Fame" for Entrepreneurs.
Maurice's most recent achievements are Lifetime Achievement Award from Inspiring City Awards, The Lifetime Excellence Award from CIS Excellence Awards and in 2016 he was appointed as a Commander of the Order of the British Empire (CBE) for services to business and charity.