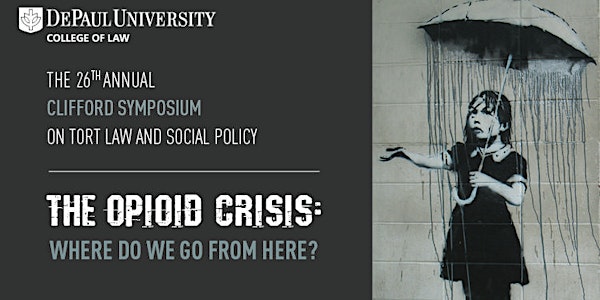 26th Annual Clifford Symposium on Tort Law and Social Policy Webinar
When and where
Location
DePaul University College of Law Webinar Chicago, IL 60604
Description
THE OPIOID CRISIS: WHERE DO WE GO FROM HERE?
The darkest days of America's opioid crisis may be behind us. For the first time in four years American life spans are rising—apart from the effects of COVID-19—as opioid deaths decline. We have, however, a long way to go, both to heal a sorely damaged community and learn from the catastrophe. At the 26th Clifford Symposium, some of America's leading experts will consider the legal and public health implications of the scourge and our response to it. The symposium will begin with reports from the front lines of the opioid litigation by those intimately involved in the matter. It will then turn to consideration of the procedural mechanism that has framed our primary response to the crisis—multi-district litigation. Symposium faculty will then consider some of the substantive legal tools being used or considered to address the problem and those who caused it, most particularly tort claims (especially public nuisance) and criminal sanctions. The symposium will then examine a range of public health initiatives to assist in the nation's recovery. Finally, a number of prior litigation experiences (especially the tobacco imbroglio) will be examined as signposts to where our responses may lead us.
DePaul University College of Law is an accreditated CLE provider. This webcast has been approved for up to 7.0 of general CLE credits. This is a two day only event to earn CLE credit.
Day 1 4.50 CLE credits
Day 2 2.50 CLE credits
WEBINAR AGENDA - THURSDAY, MAY 28
Opening Remarks (15 minutes)
Robert Clifford
Clifford Law Offices
Jennifer Rosato Perea
Dean, DePaul University College of Law
Stephan Landsman
Director, Clifford Symposium, DePaul University College of Law
---
SESSION I: REPORTS FROM THE FRONT LINES (60 minutes)
Kenneth Feinberg, The Law Offices of Kenneth Feinberg, Mediator Purdue Pharma Bankruptcy
David Nachman, New York State Attorney General's Office
William Rubenstein, Harvard University, Advisor to the Court in the Federal Opioid MDL
---
SESSION II: MDL MACHINERY (90 minutes)
Law, Federalism and the Opioid Crisis
Abbe Gluck, Yale University
Information as a Public Good
Elizabeth Burch, University of Georgia
Alexandra Lahav, University of Connecticut
Opioid Cases and State MDLs
Zachary Clopton, Northwestern University
Theodore Rave, University of Houston
Discussant: Judith Resnik, Yale University
---
SESSION III: TORT SOLUTIONS (60 minutes)
Revenue and Responsibility
John Goldberg, Harvard University
Benjamin Zipursky, Fordham University
Nuisance Framing
Catherine Sharkey, New York University
Discussant: Stephan Landsman, DePaul University College of Law
---
SESSION IV: LEGAL LEVERS FOR INDIVIDUAL AND CORPORATE ACCOUNTABILITY (60 minutes)
Corporate Misconduct in the Drug Industry
Richard Ausness, University of Kentucky
Irresponsible Owners: Purdue Pharma and the Limits of Criminal Law
Miriam Baer, Brooklyn Law School
Legal Restrictions on Opioid Prescribing
Michelle Mello, Stanford University
Discussant: Michelle Mello, Stanford University
---
WEBINAR AGENDA - FRIDAY, MAY 29
SESSION V: PUBLIC HEALTH RESPONSES (90 minutes)
No Moral Panic: Public Health Responses to Illicit Fentanyls
Daniel Ciccarone, University of California, San Francisco
Improving Access to Treatment in Rural Communities
Sheri Doyle, The Pew Charitable Trusts
Using Litigation to Effectively Abate Opioid Health Harms
Rebecca Haffajee, Rand Corporation and University of Michigan
The Evolving Opioid Crisis: Evidence-Based Approaches to a Public Health Problem
Elizabeth Salisbury-Afshar, American Institute for Research
Discussant: David Hyman, Georgetown University

---
SESSION VI :THE PAST AS PROLOGUE (60 Minutes)
Super Litigation for Super Cases: From the Electrical Equipment Cases to the Ultimate MDL
Andrew Bradt, University of California, Berkeley
The Legacy of Tobacco Litigation and Lessons from Opioids
Nora Engstrom, Stanford University
Robert Rabin, Stanford University
Discussant: Mark Galanter, University of Wisconsin
CONCLUDING REMARKS