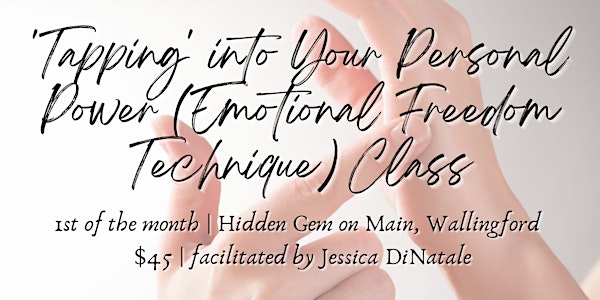 'Tapping' into Your Personal Power (Emotional Freedom Technique) Class
Event Information
Location
Hidden Gem on Main
33 North Main Street
#suite d
Wallingford, CT 06492
Refund policy
Contact the organizer to request a refund.
Eventbrite's fee is nonrefundable.
Come to this class/meditation to learn a safe, powerful, and easy-to-learn & use technique for stress relief!
About this event
Are you looking to calm your brain, lower your cortisol levels, clear negative emotions, and promote peace and joy in your life and the lives of those around you?
Wouldn't it be so freeing to move through your day positively and inspired? To put that inner critic away from the forefront of our minds?
Join us in a group setting over at Hidden Gem on Main in Wallingford to learn about an alternative method of healing through the self-help acupressure called Tapping (EFT) and how you can apply it to your every day life.
----
So what the heck is Tapping (EFT)?
Emotional Freedom Techniques (EFT) also known as tapping, is a fast acting stress release technique that leverages acupressure and psychology for powerful results. Numerous clinical research trials attest to its efficacy; it's simple, safe, portable, versatile and very effective! It's been an authorized treatment for war veterans with PTSD, and has demonstrated some benefits as a treatment for anxiety, depression, physical pain, insomnia, and more.
Many of us are living in a state of chronic stress, which takes a HUGE toll on our bodies and spirits. Tapping can help you quickly reset the "fire alarm" going off inside of your brain.
In this class, we will learn how to use this method of tapping on your pressure points to diffuse everyday stress and anxiety so that you can calm your mind and think clearly, regardless of what is happening around you. The goal of this class is to teach you a technique that you can take home with you which allows you to be the calm within the storm. A workbook and take-home materials will be provided for you as well!
----
A Little About Your Facilitator:
Jessica DiNatale is an Energy Healing Practitioner who assists her clients with illuminating subconscious blocks to pave the way to personal fulfillment in a safe and comfortable space. Her mission is to assist you in the enlightenment of your heart, mind, body, and soul.
She is able to accomplish this with such notable success by creating client specific 1-on-1 programs and removing obstacles to personal autonomy. In turn, this leads to greater authenticity, creativity, energy, and ultimately: personal awakening. This introspective process is essential for discovering one's Highest Self, and provides a roadmap to inner peace.
She also runs an online spiritual community, Woogle: Community, Connection, and ALL Things "Woo" - here is where she and other experts in their field help individuals explore the many layers of Spirituality to deepen their human experience within their spiritual bodies.
For any additional questions, please feel free to reach out to Jessica at: Jessica@SoulOverMatter.com
*Ticket purchases are non-refundable.
Location
Hidden Gem on Main
33 North Main Street
#suite d
Wallingford, CT 06492
Refund policy
Contact the organizer to request a refund.
Eventbrite's fee is nonrefundable.