Description
AGORA NEXT BY TELEFONICA EMPRESAS (5th GLOBAL TRAVEL & TOURISM INNOVATION SUMMIT) 26th November | Madrid
Exponential Technology Will Impact The Future Of Travel & Tourism Industry by #MORNINGS4
Tuesday 26th at 9:00AM.
Edificio de La Fundación Telefónica, Gran Vía 28, MADRID, Spain
What happened during the 2-day entrepreneurial retreat in one of the world's biggest startup hotspots: #Madrid!
Applications are already open for startups who want to join the 5th edition of our Global Startup Travel Tech Pitching competition during november 25th (BBVA OPEN SPACE MADRID). Out of all the applications for the Global Travel & Tourism Startup Competition, the top 250 most promising startups will be announced to the public.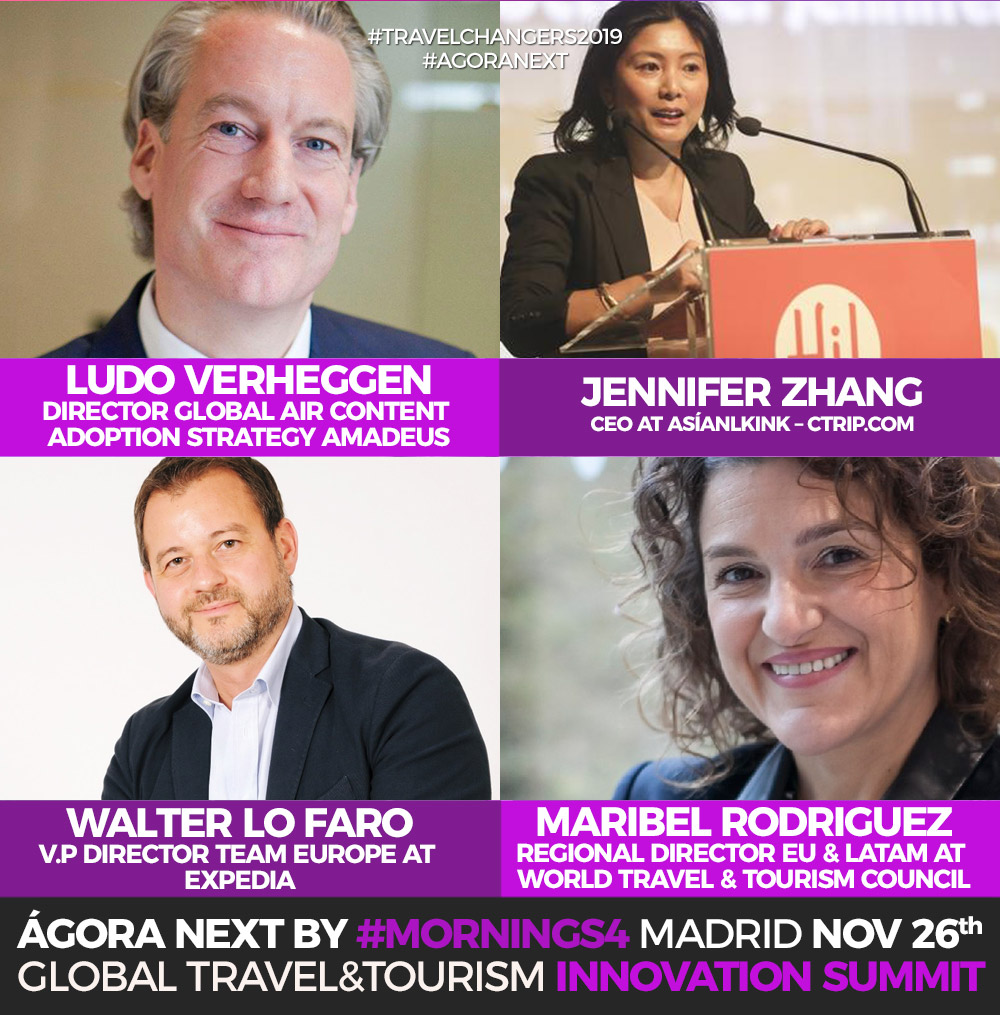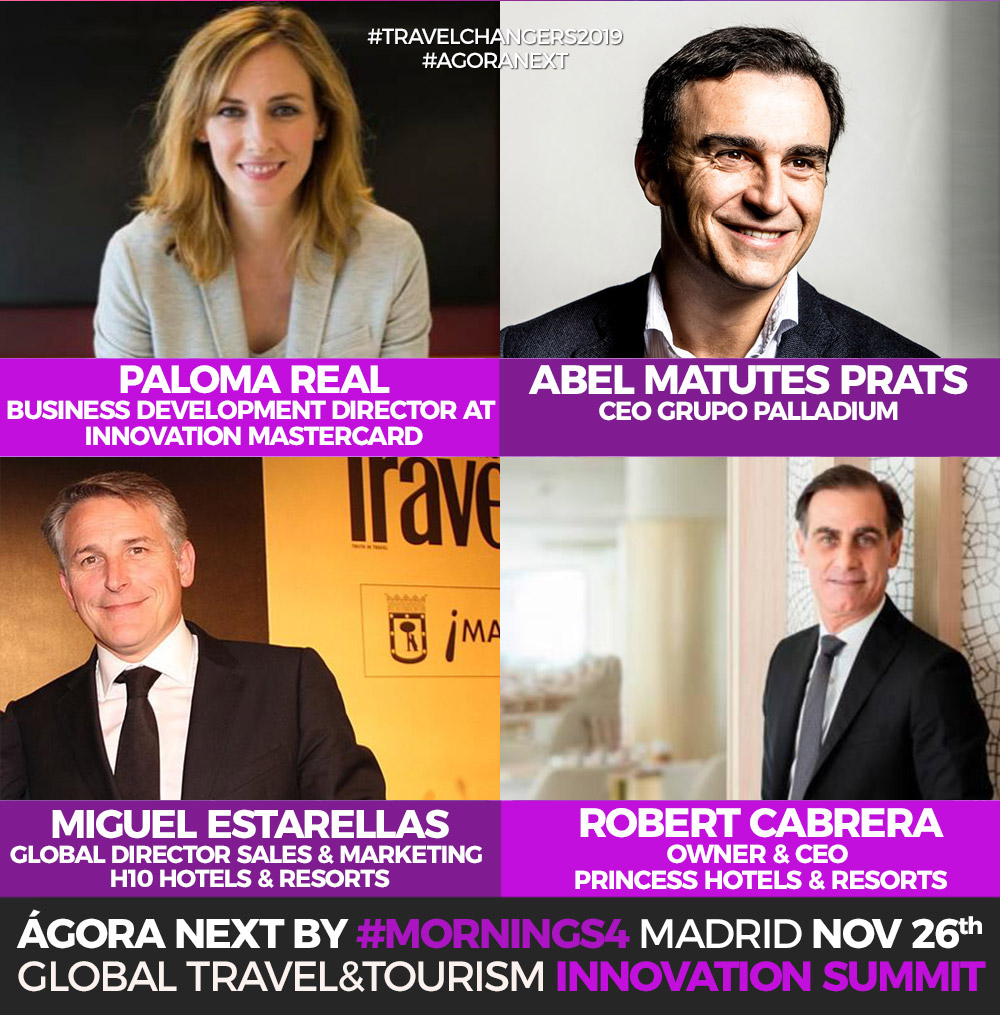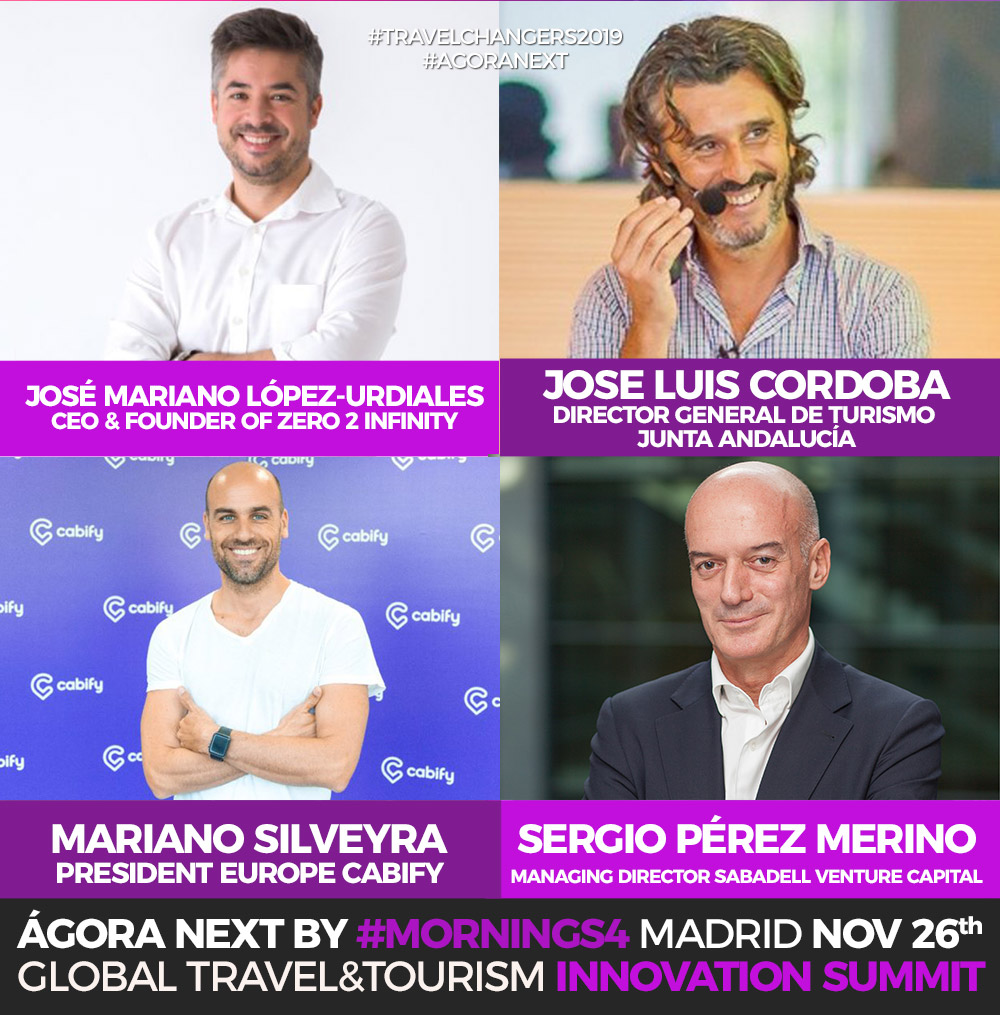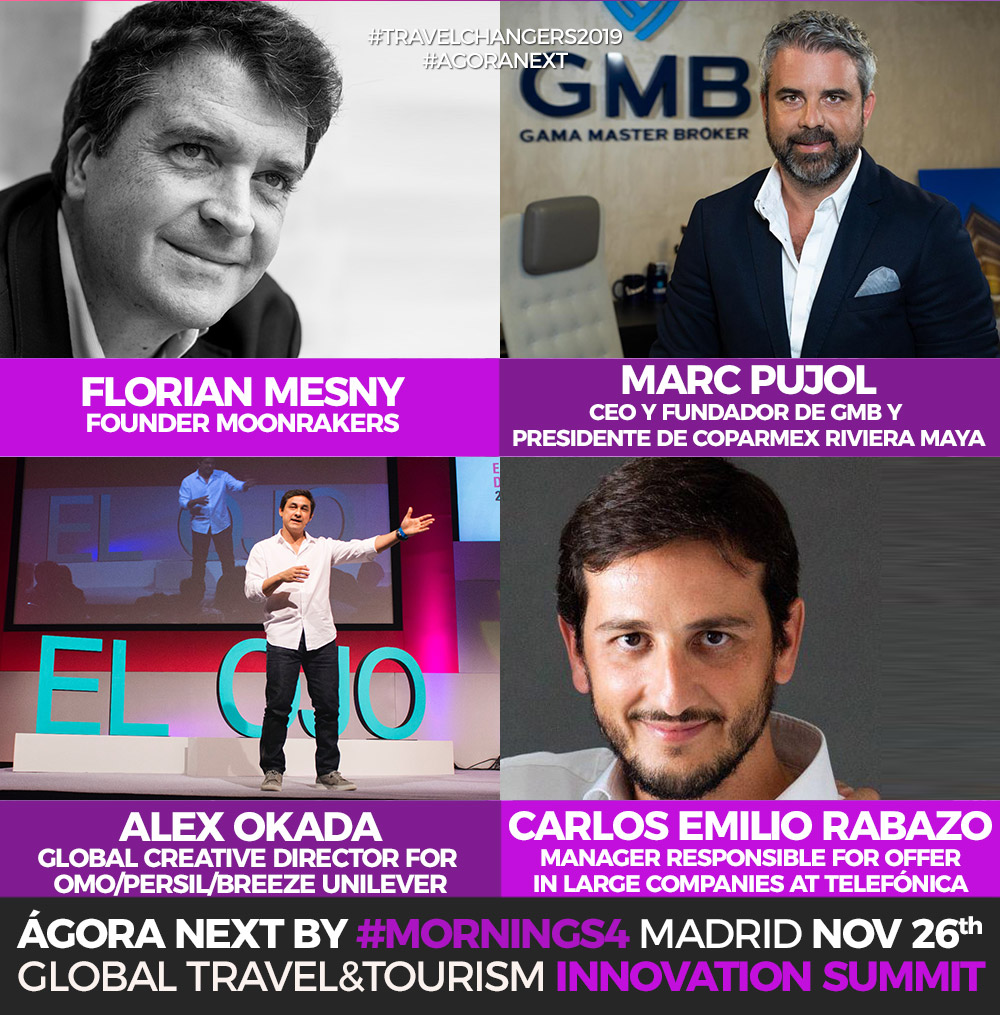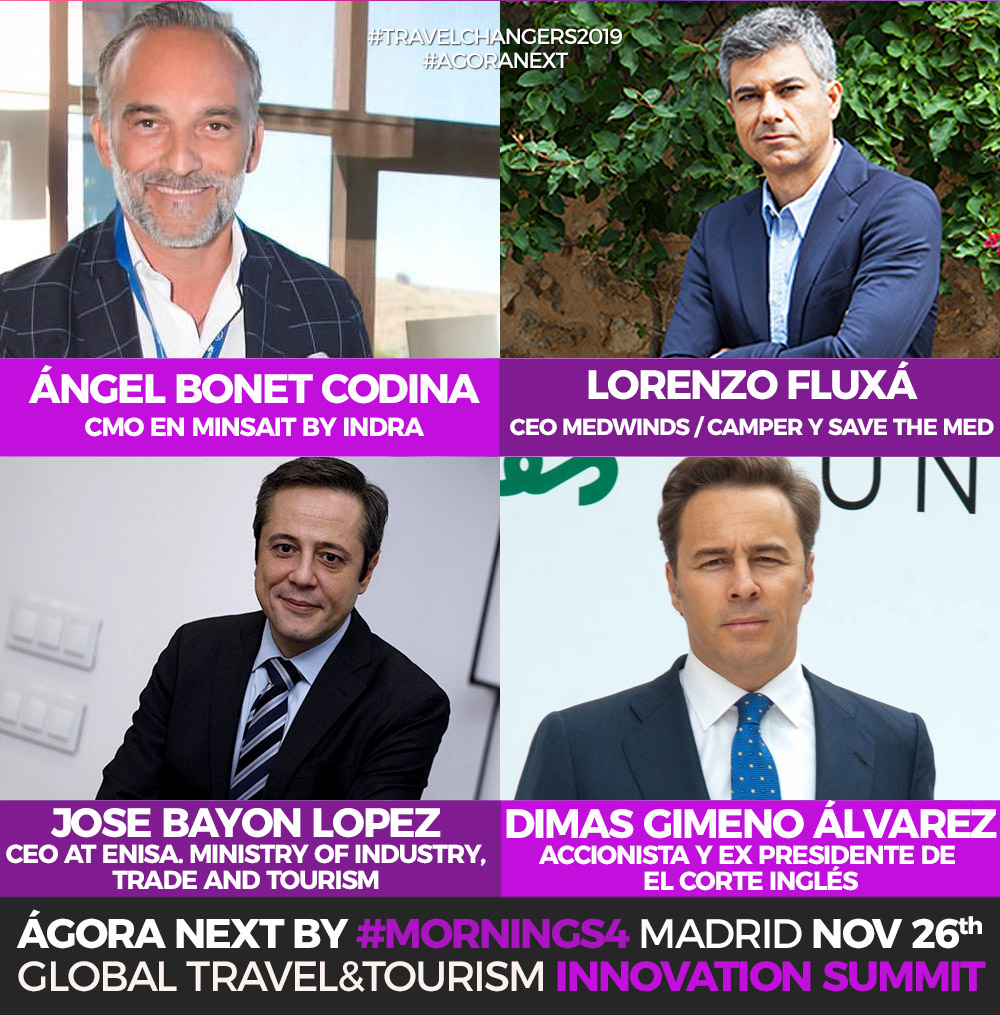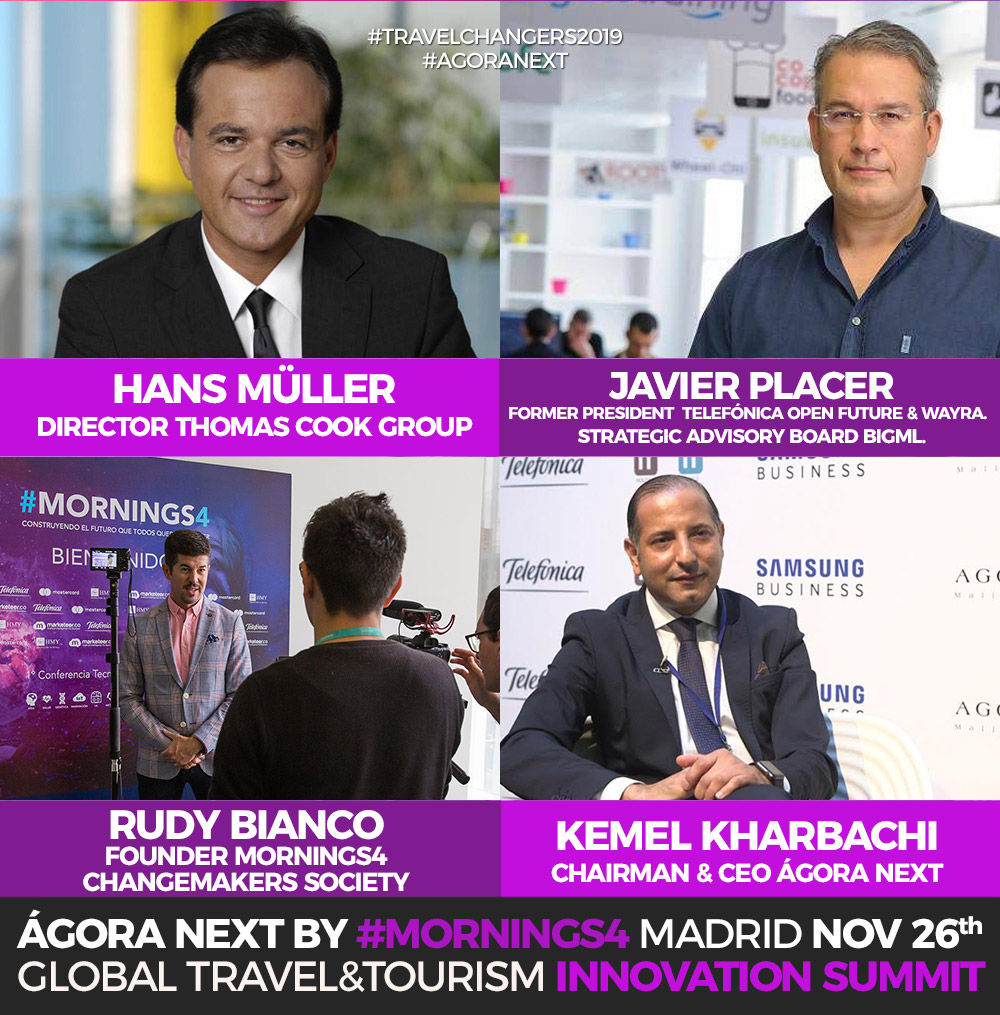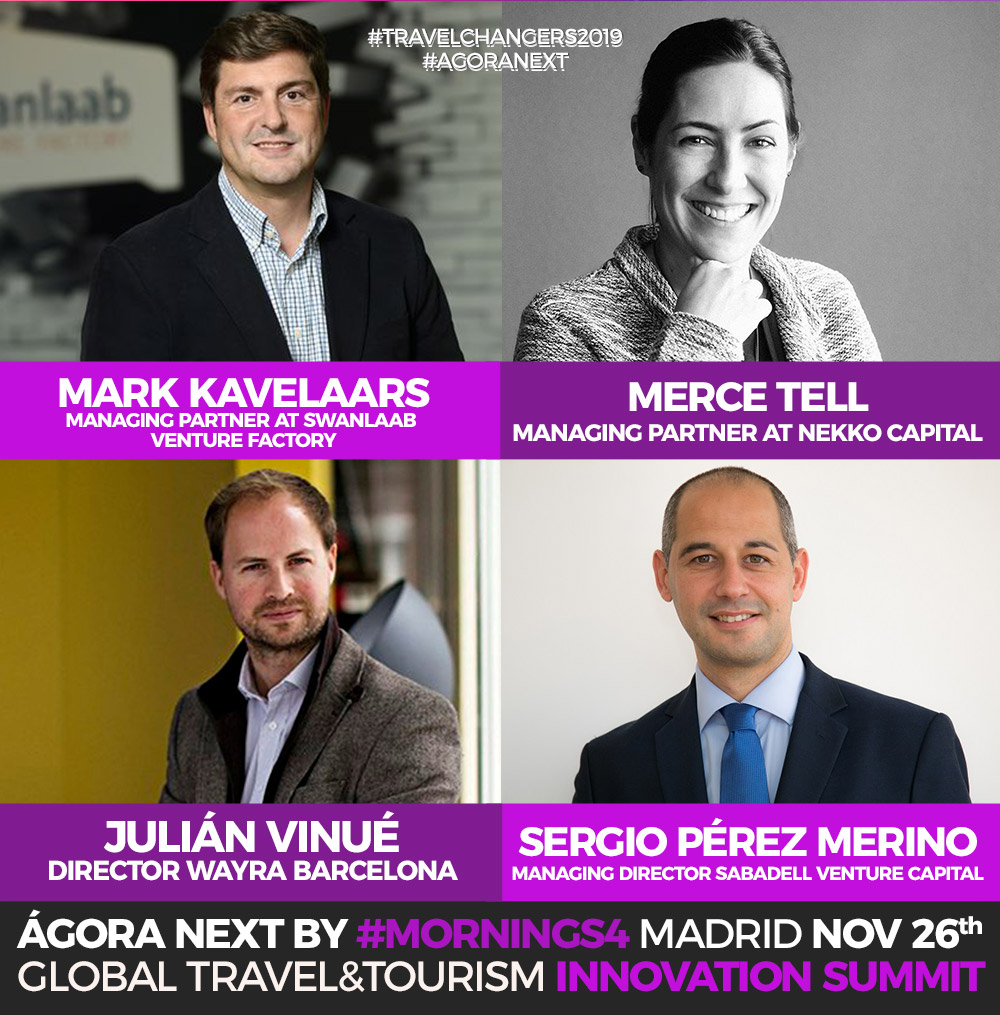 Este es nuestro 5to aniversario, fomentando la innovación responsable, el desarrollo de tecnologías sostenibles, y apoyo a startups a nivel mundial en el vertical del travel Tech y turismo desde nuestra central en Palma de Mallorca, sede de grandes grupos hoteleros españoles y destino de grandes operadores europeos.
Sin duda es el evento de referencia internacional de transformación digital e innovación en turismo y tiene por objetivo crear las bases de la Inteligencia artificial, Big Data, BlockChain, Internet de las cosas, Robotics y las nuevas tendencias y soluciones del smart Tourism.
Unimos en un mismo espacio expertos nacionales e internacionales, empresarios y multinacionales turísticas, CEOs, altos directivos C level del sector Hotelero, Touroperadores, OTAS, Travel Tech, consultoras Internacionales, operadoras de telecom, fabricantes tecnologicos, desarrolladores, inversores (Venture Capital Tech) y Startups.
SRC: summit@agoranexthub.com Colabora: TELEFONICA EMPRESAS #Mornings4
Vídeos de las ultimas conferencias.
Agora Next Hub &
Telefónica Open Future
, es la mayor aceleradora de Startups en el vertical de la industria turistica y del ecosistema de la innovacion del travel tech.
Agora Next
nos proponemos producir un impacto positivo en nuestra industria turística y ser una referencia a nivel mundial a través de la creación de nuevas startups: con la generación de puestos de trabajo cualificados para la industria turísticas, así como la aceleración de empresas tecnológicas con un alto potencial de crecimiento en colaboración y Co-inversión de los partnership, grandes grupos y multinacionales turística, compañias tecnologicas, consultoras, universidades, Cluster, etc..
Un impulso para nuevos proyectos de desarrollos
aplicado a la industria turística inteligente:
- Data Lake (Plataforma de datos en Inteligencia Turística)
- Leading Smart Destination
- E-Commerce AI Big Data
- Blockchain
- Internet of Things (IoT)
- Inteligencia artificial (AI)
- Business Intelligence y Analítics
- Realidad virtual y aumentada (VR-AR)
- Robótica aplicado al Turismo
- Facial recognition & Biometrics E-Travel
- Tourism Tech Sustainability Start- Up
- Clean technology