25th Cutting Edge Entertainment Law Seminar - August 24 - 26, 2017

Thursday, August 24, 2017 at 8:00 AM

-

Saturday, August 26, 2017 at 1:00 PM (CDT)
Event Details
 25TH ANNUAL CUTTING EDGE ENTERTAINMENT LAW SEMINAR
Transactional Law: Contracts and Consequences
Strategies, Tactics, and Winning Techniques
August 24, 25 & 26, 2017
Location: InterContinental Hotel, New Orleans
Artists agreement, including Producer Agreements, Talent Agency, Management, Songwriting & Publishing Contracts, Copyrights, Trademarks, "Special Film Contracts Toolkits"  
Approved for 17.5 hours of Mandatory Continuing Legal Education (MCLE) credits, including 1 hr of Ethics, 1 hr of Professionalism and 1 hr of Legal Practice by the Louisiana Supreme Court MCLE Committee.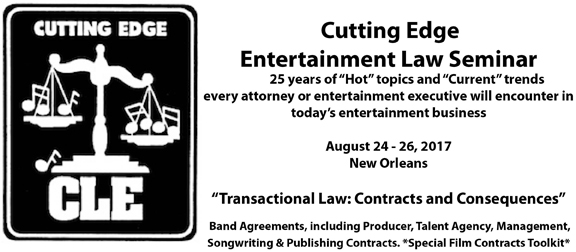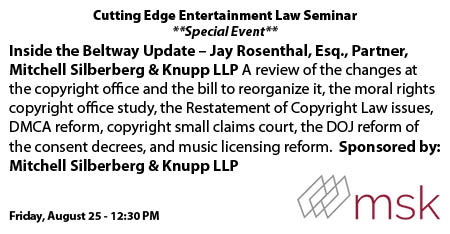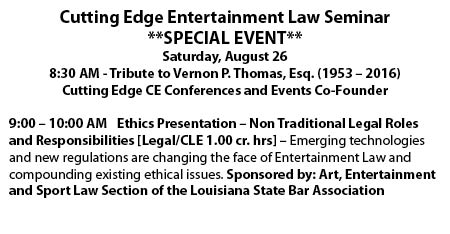 Thursday, August 24, 2017
9:00 – 10:00 AM              Professionalism – The Ornery Adversary [Legal/CLE 1 cr. hr]
What do you do when the attorney on the other side is being unprofessional, or nasty, or simply impossible?  What do you do when you have an adversary who stalls, doesn't return calls, or simply delays matters?  How do you get the most out of your negotiation?  How do you save a deal from going south? (1.0 cr. hr.)
10:15 – 12:00 PM       "STOP! Don't sign that contract" Pitfalls of Recording, Film and Management Agreements. [Legal/CLE 1.75 cr. hrs.]
A review of important negotiation techniques to help attorneys and music executives protect their clients and companies in a music world of visual medias (Film, TV, Advertising, Theatrical Trailers, Video Games, etc.). Covering essential clauses and transactional issues when considering Double Dipping/360 Deals/Revenue Sharing/Global Rights Deals/Double Distribution Fees
12 Noon              Lunch
12:30 – 1:15 PM       Legal Mentorship [Legal/Film/CLE 1.0 cr. hrs]–
Law students, pre-law college students, new to the practice of law or just have an entertainment law legal question. Find a mentor at this session.
1:30 – 2:30 PM       Legal Practice Management: Building a Successful Independent Entertainment – Intellectual Property Legal Practice [Legal/Film/CLE 1.0 cr. hrs]–
New Orleans has become a hub for music, film and TV industries, but what does that mean for an attorney and their independent music and filmmaking clients. This panel will walk you through the process of maintaining communication with clients, client funds management, making sure the filmmaker/client engagement letters are correct. Review user generated content rights and procedures with filmmaker clients. Establishing a disbursement system for staff fees payment. Review intellectual property agreements, tax credit financing incentives and distribution.
2:45 – 3:45 PM       Dealing with High profile Talent. What happens when an artist, athlete or celebrity has a run in with the law [Legal/CLE 1.0 cr. hr]
The discussion will center on the analysis of the legal issues related to representing athletes and entertainers when there is a crisis and representation is needed with the media and in the court room. The panel will also cover changes in legal business issues under various collective bargaining agreements.      
4:00 – 5:15 PM       Band Partnerships: The Honeymoon and The Divorce  [Legal/CLE 1.5 cr. hr.]
A review of written partnership agreements and their importance, co-authorship issues, record deals, publishing deals, touring and merchandising. An analysis of litigation issues when the party is over.
5:30 pm                            Networking Event
Friday, August 25, 2017
9:00 – 10:15 AM       Litigation [Legal/CLE 1.25 cr. hrs]  –
Co-authorship claims between band members, collaborators and producers, co-producers claims.
10:30 – 12:00 PM              Digital Distribution Agreements Reviewed. Including agreements as they effect Virtual Reality (VR) and Augmented Reality (AR) [Legal/CLE 1.5 cr. hrs]
This panel will review digital distribution agreements, problems encountered with the transactional contracts offered by digital aggregators, explanation of neighboring rights and the issues involved in collection of international neighboring rights revenue; importance of label copy and copyrights to the transnational aspects of collection of revenue derived from downloads, streaming, YouTube etc, for independent labels and artists.
Virtual Reality ("VR") and Augmented Reality ("AR") technologies have gone mainstream. The penetration of VR/AR in the music industry was inevitable.  It was in use at this year's Coachella music festival and many more uses are on the horizon.  From using holograms at music concerts to specialized apps that cater to the music scene, the music industry, like many other industries, will see the implementation of VR and AR for uses that were previously the thing of science fiction.  As with many other scientific advances, technological capabilities are growing faster than the law that applies to them.  As this new technology takes hold, a wide variety of legal issues are also arising:  intellectual property, privacy/First Amendment, products liability and other areas of the law will surely be tested as this innovation is implemented across many uses. 
12:00 pm
12:30 – 1:15 PM       Inside the Beltway Update [Legal/CLE .75 cr. hrs.] Sponsored by: Mitchell Silberberg & Knupp LLP
This panel willgo over the changes at the copyright office and the bill to reorganize it, the moral rights copyright office study, the Restatement of Copyright Law issues, DMCA reform, copyright small claims court, the DOJ reform of the consent decrees, and music licensing reform.  A quick down and dirty review of everything music coming from DC.
Speakers
Jay Rosenthal, Esq., Partner,Mitchell Silberberg & Knupp, Washington, DC
1:30 – 2:30 PM       "Television and Film Music Deals: Licensing Pre-Existing Songs and Writing Original Songs for Today's Audio-Visual World".  [Legal/CLE 1.0 cr. hrs.]
There are over 450 scripted original television programs produced in the U.S. every year and countless motion pictures (whether they be produced by the majors, or are indies, student produced or created on an iPhone), virtually all of which need some form of music. Based on the increasing number of distribution outlets/media (streaming, downloading, network, cable, pay cable, VOD, etc.) and new production players in the market (Apple, Netflix, Amazon, Hulu, etc.), the use of music and the opportunities for music use in television and film is at an all time high. This panel will tell you everything you need to know about the deal structures, negotiating tactics and fees of this ever-growing business.
2:45 – 5:15 PM       A Film Deal in a Box Workshop: Drafting and Negotiating Film Development, Finance, Production and Distribution Agreements. [Legal/CLE 2.5 cr. hrs.]
Attendees will learn the role of the lawyer in the development, financing, production and distribution or sale of a film project.  Using actual film documents tailored to a hypothetical film project, attendees will examine why film projects are structured the way they are.  Our guest lecturers will walk you through every legal facet of a film from acquiring or developing underlying intellectual property to the ultimate commercialization of the project. 
Saturday, August 26, 2017
8:00 AM       Breakfast Event
8:30       AM       Tribute to Vernon P. Thomas, Esq. (1953 – 2016), Cutting Edge CE Conferences and Events Co-Founder
9:00 – 10:00 AM       Ethics Presentation – Non Traditional Legal Roles and Responsibilities [Legal/CLE 1.00 cr. hrs] –
Emerging technologies and new regulations are changing the face of Entertainment Law and compounding existing ethical issues. New revenue streams have created new contractual structures that inherently alter artist-attorney and artist-manager relationships. How can attorneys, artist and managers recognize and avoid possible ethical violations? Sponsored by: Arts, Entertainment and Sports Law Section of the Louisiana State Bar Association 
10:15 – 11:30 AM "Music Publishing Deals: the Current State of Agreements and How They Affect You". [Legal/CLE 1.25 cr. hrs.]                                
Whether signing with a major company, a large or small independent or doing it yourself, it is essential that you know the current state of all of the different types of publishing agreements applicable to your situation and bargaining power. Agreements covered include single song agreements, co- publishing contracts, administration, sub-publishing, sample, promotion and joint venture arrangements as well as acquisition agreements if you are thinking of buying or selling outright.
11:45 – 12:45        PM       Crossover Event: The Recording Academy – Conversations with Music Supervisors – [Legal/Business/CLE, 1.0 cr. hrs]
Conversation will center on how music is selected for Films/TV/Games, agreements for songs selected and expected compensation price points.
1:00 PM       Keynote Address: Thomas Barsoe, Founder, Executive Producer, OC Hit Factory [Legal/Business/CLE, 75 cr. hrs] – Certified Platinum and Gold Recording Artist and Producer.
Speakers
Kenneth J. Abdo, Esq., Fox Rothschild LLP, Minneapolis, MN
Thomas Barsoe, Founder, Executive Producer, OC Hit Factory
Jeffery Brabec, Esq., Vice President, BMG Chrysalis, Los Angeles, CA
Todd Brabec, Esq., Co-Author (w brother Jeff), Music Money and Success: the Insiders Guide to Making Money in the Music Business
John F. Bradley, Esq., Fort Lauderdale, FL
David Bercuson, Esq., Miami, FL
Brian Caplan, Esq., Reitler Kailas & Rosenblatt, New York, NY
Darryl Cohen, Esq. Cohen, Cooper Estep & Allen, Atlanta, GA
Wallace Collins, Esq., New York, NY
David Dalia, Esq., New Orleans, LA
Judith DeFraites, Esq., New Orleans, LA
Nicholas C. Ferrara, Esq., Nicholas C. Ferrara & Associates PLLC
David Fink, Esq., Kelly Drye, Los Angeles, CA
Martin Fischman, Esq., NFLPA Contract Advisor, New Orleans          
Allen Fredric, Esq., Jones Walker, New Orleans, LA
Edgar "Dino" Gankendoff, Esq., Provosty & Gankendoff, LLC, NOLA
Elizabeth Townsend Gard, Esq., Co-Director, Tulane Center for IP, Media & Culture, New Orleans
Lesli D. Harris, Esq., Stone Pigman, New Orleans, LA
Joel C High, Creative Control Entertainment, Culver City, CA
Scott Keniley, Esq., Keniley Kumar, LLC, Atlanta, GA 
Tom Leavens, Esq., Leavens, Strand & Glover, LLC, Chicago, IL
Sabrina Ment, Esq., LaPolt Law, Los Angeles, CA
Richard W. Perna, Austin, TX
Nadine Ramsey, Esq., New Orleans, LA                                    
Jay Rosenthal, Esq., Mitchell Silberberg & Knupp, Washington, DC
Rhodes Spedale, Esq. New Orleans, LA
Suzette Toledano, Esq.,New Orleans, LA                                                            
When & Where

InterContinental Hotel
444 St Charles Avenue
New Orleans, LA 70130


Thursday, August 24, 2017 at 8:00 AM

-

Saturday, August 26, 2017 at 1:00 PM (CDT)
Add to my calendar
Organizer
Cutting Edge is produced by the New Orleans based non-profit organization Music Business Institute (MBI). The Cutting Edge is dedicated to the many musicians whose dreams and efforts make the music business a reality for the rest of us.