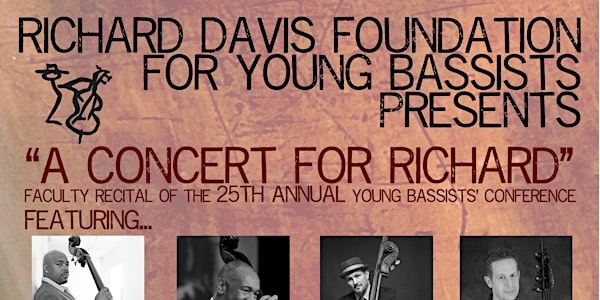 25th Annual Richard Davis Foundation for Young Bassists Inc., Faculty Conce...
Location
University of Wisconsin - Memorial Union, Great Hall
800 Langdon Street
Madison, WI 53706
Description
The Richard Davis Foundation for Young Bassists Inc. presents, "A Concert for Richard" as part of the annual conference for young bassists.
For the 25th consecutive year, the Richard Davis Foundation welcomes over 40 young bassists and their families, from around the country, to Madison WI for a special 2-day workshop focused on musical learning related to the upright and electric bass.
Annually, conference faculty present an evening concert to expose young people to the potential of the bass as a solo instrument, introduce a broad spectrum of stylistic possibilities with the instrument, and foremost, to inspire young players.
This evening concert will feature unaccompanied works for the solo bass and bass ensembles. Performances by the 2018 faculty of the Richard Davis Foundation and Alumni.
All proceeds support the Richard Davis Foundation, a volunteer-run 501(c)(3) nonprofit organization.