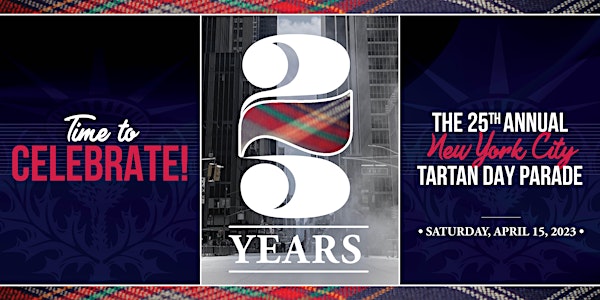 25th Annual NYC Tartan Day Parade
New York City Tartan Week celebrates its 25th anniversary year in 2023 as the largest Scottish-themed event in NYC.
When and where
Location
6th Avenue 6th Avenue New York, NY
About this event
There is NO charge to march or to attend the Parade.
Lineup: 1:00pm on West 45th Street between 5th Ave & 6th Ave.
Parade: 2:00pm on 6th Ave between 45th Street & 55th Street.
The official Line of March will be announced ONE week prior to the Parade.
Groups larger than 7 will be required to carry a banner with your group's name during the Parade. We ask that one lead person submit one registration for the entire group. You do not need an individual ticket for each participant.
Individual marchers and groups with less than 7 participants are encouraged to register with the Friends of Scotland group in the Parade. Individual Pipers and Drummers not associated with a band are encouraged to register with the Jock Nisbet Memorial Tunes of Glory Band.
Register by February 15, 2023 to be featured among our list of marchers in our NYC Tartan Week Guide.
FINAL DEADLINE TO REGISTER MARCH 15, 2023.
The National Tartan Day New York Committee was formed in 2002 and obtained official nonprofit 501(c)(3) status in 2003 to organize the NYC Tartan Day Parade and all the associated activities that make up NYC Tartan Week. In following its mission to celebrate and spread awareness of the contributions made by Scottish Americans to the United States, the committee continually partners with organizations throughout New York City, the United States, and Scotland to present opportunities for those who have or identify with Scottish heritage to connect through more than a dozen Scottish-themed events each year during NYC Tartan Week. The committee is committed to providing meaningful exchanges and inspiring experiences in order to showcase the rich Scottish heritage that continues to thrive in America. The committee is comprised of representatives from The Saint Andrew's Society of the State of New York, The New York Caledonian Club, The American-Scottish Foundation, and Clan Campbell.