Welcome to the Howard University School of Business MBA (HU MBA) Program's 25th Annual MBA Exclusive (MBAX) Conference!
About this event
This two-day, student-run conference consists of a career fair, networking events, workshops, and panel discussions. This year's theme entitled "A New Landscape" speaks to our commitment to academic excellence, community service, and continuous professional development in a cutting-edge environment. 
The conference will include the 16th Annual National Minority Case Competition, sponsored by LMI.  Business students from across the country have an opportunity to win cash prizes by solving a complex case and have full access to all conference activities. The deadline to register for the case competition is Wednesday, October 20, 2021 at 11:59pm; registration is $100 per team. Hotel accommodations are complimentary for the first 15 registered teams -- so register today for the 16th Annual Minority Case Competition!
MBAX also provides an excellent opportunity for MBA students to gain access to wide variety of corporate sponsors, including some of the largest names in the industry today. 
Participate and enjoy the MBAX experience as career enhancing opportunities await you at every turn. Current MBA, MS, and MPA students from all programs are welcome to attend. We look forward to hosting you at this exciting and enriching event!
Participating Companies for the Career Fair Include:
LMI, Humana, Kellogg, CSL Behring, Northern Trust, Raytheon, LiveRamp, and American Airlines
To submit your resume to corporate recruiters prior to the conference, please upload here by October 20, 2021.
Who Should Attend:
Current MBA, MS, or MPA candidates
MBA, MS, or MPA degree holders seeking full-time employment
Corporate recruiters
HU MBA alumni
Faculty, administrators, and staff of Business programs
COVID Protocol
For proof of vaccination please download the application "VACPASS: Vaccine Passport Card". Here you will upload your photo ID and vaccination card. If you are not vaccinated please provide documentation to mbahowardu@gmail.com of a negative COVID test 72 hours before the conference.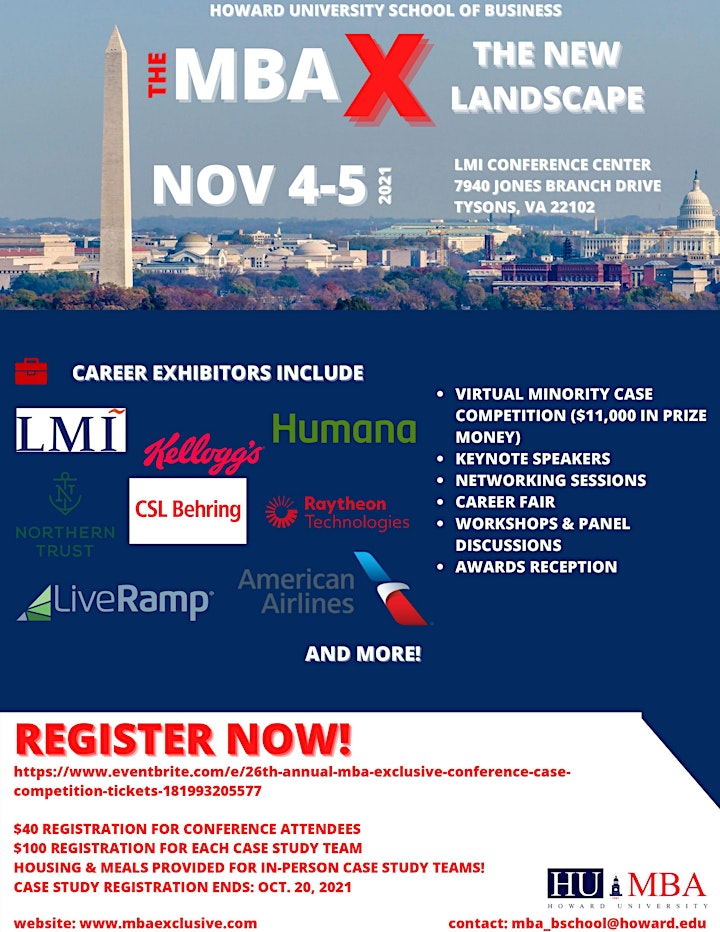 Organizer of 25th Annual MBA Exclusive Conference & Case Competition
Celebrating our 45th anniversary in 2015, Howard University's School of Business has maintained a legacy of excellence in higher education. The Howard University MBA program is ranked among the top 60 of the nation's top business schools by Bloomberg Businessweek. The Princeton Review has consistently ranked the program #1 in opportunities for minority students and among the top 10 for most competitive students.