25th Annual Franklin County Regional Horse Farm Tour
The latest equine educational information learned directly from farm owners and N.C. Cooperative Extension.
About this event
We will start bright and early in the morning and visit four stops this year in the Youngsville and Pilot areas of Franklin County.
Hidden Pond Equestrian Center, near Youngsville
Two Grey Farm, near Youngsville
LT Stables, near Pilot
Old Mule Hay & Feed Facility and Old-fashioned Pig Pickin' lunch , near Pilot. (During luncheon, the featured speaker will be a NC Horse Council representative with " Updates on Legislative issues affecting the equine owner."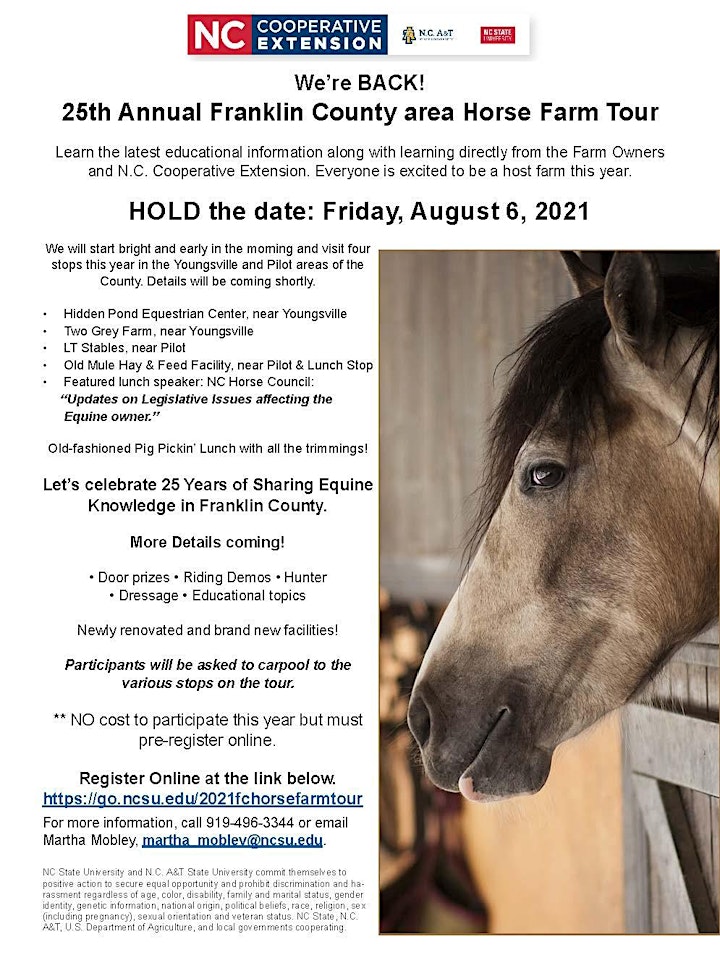 Organizer of 25th Annual Franklin County Regional Horse Farm Tour
---
NC State University and N.C. A&T State University work in tandem, along with federal, state and local governments, to form a strategic partnership called N.C. Cooperative Extension, which staffs local offices in all 100 counties and with the Eastern Band of Cherokee Indians.
Read our Privacy Statement
N.C. Cooperative Extension prohibits discrimination and harassment on the basis of race, color, national origin, age, sex (including pregnancy), disability, religion, sexual orientation, gender identity, and veteran status.
Individuals with disabilities are invited to request reasonable accommodations to participate in Extension sponsored programs and events. Please contact the county Extension office offering the program at least 14 days prior to the event to make arrangements.