Event Information
Refund Policy
Contact the organizer to request a refund.
Eventbrite's fee is nonrefundable.
Patients Out of Time, 25th Anniversary Virtual Symposium & Gala
About this Event
Join us for Patients Out of Time's first Virtual Symposium & Gala on February 13th and 14th, 2021 as we celebrate our 25th Anniversary!
Patients Out of Time, a leader in education on cannabis therapeutics, has worked successfully with other organizations to re-institute cannabis as a legitimate medicine by bringing researchers, clinicians, health care-professionals and patients together since its founding in 1995 through its ground-breaking National Clinical Conference on Cannabis Therapeutics.  Looking to the future the organization is celebrating its past, reaffirming its legacy, while expanding its mission to further address the needs and interests of medical cannabis patients. 
Saturday, February 13, 2021
(Schedule is on Eastern Standard Time)
11:00am - 12:30pm The History of Patients Out of Time - Mary Lynn Mathre, RN, MSN
Mary Lynn has invited several pioneers to share their experiences and memories of the American reefer madness culture that led to the creation of Patients Out of Time and the struggle to teach health care professionals and the public about the therapeutic use of cannabis. Highlights from the first 13 clinical conferences reflect the vast history of medical cannabis, its remarkable margin of safety, and the discovery of the endocannabinoid system, which is providing an understanding of how and why cannabis can help patients heal from a variety of health problems. The final portion of this session will focus on a look to the future and how each of us can play a role to end the stigma and prohibition of the cannabis plant.
12:30pm - 1:30pm Patient Advocacy
While much headway has been made towards patients gaining legal access to cannabis therapeutics, many roadblocks remain. We have drafted a resolution to demand the end of the federal prohibition of cannabis and have more than 100 organizations joining our Coalition to De-Schedule Cannabis. This session will review the document and show how YOU can join the coalition and use this document to teach others about this versatile, healing, and earth friendly plant.
1:40pm - 2:20pm Film: Marijuana is Medicine
This is a 1992 documentary film directed by Roger Grant that features the first 5 patients accepted into the Compassionate Investigational New Drug (IND) Program when they met for the first time in Washington, DC in 1990 to do a panel presentation at the annual NORML conference. This marked the beginning of the end of the Compassionate IND program. The 2 surviving patients, Elvy Musikka and Irvin Rosenfeld, will share updates to their stories
2:30pm - 5:00pm Policies for Patients
For this session, we have asked our friends to address medical cannabis issues at the state, federal and international levels. Lennice Werth has decades of experience lobbying the Virginia General Assembly. Jon Gettman launched two attempts to have cannabis rescheduled under federal law. Michael Krawitz played an integral role in convincing the United Nations to recognize medical cannabis use. Eric Steenstra has played a central role in the legalization of hemp cultivation in the United States. Their presentations will be followed by a live Q & A period for the audience participation.
Sunday, February 14, 2021
(Schedule is on Eastern Standard Time)/
11:00 am - 1:30 pm Cannabis Cultivation
Safe access to cannabis is the first priority for persons seeking therapeutic benefits from cannabis. For this session we have reached out to experts in cannabis cultivation and regenerative growing practices to share their knowledge and observations. Robert C, Clarke, world traveler and ethnobotanist; Jorge Cervantes, world renowned expert on cannabis cultivation; and Jeff Lowenfels, a nationally recognized organic gardening columnist. Their presentations will be followed by a live Q & A period for the audience participation.
2:00 pm - 3:20 pm Discussions with 4 Cannabis Authors
Our board member and infamous cannabis book seller, Michael Green, leads discussions with 4 cannabis authors to explore their cannabis-related backgrounds and insights. Authors include: Social Researcher Uwe Blesching (Your CBD:THC Ratio), Citizen Scientist Max Montrose (Interpening: The Art of the Cannabis Sommelier), Regenerative Cannabis Cultivator Tina Gordon, (Moon Made: A Monograph about a Farm) & Practicing Medical Cannabis Physician Bonni Goldstein M.D. (Cannabis is Medicine).
3:30pm - 5:00pm Cannabis Preparations
Contrary to reefer madness and the stoner stigma, smoking cannabis is not the only or preferred way to consume cannabis. Oaksterdam University's charming Executive Director, Dale Sky Jones will describe the various preparations available for using cannabis therapeutically.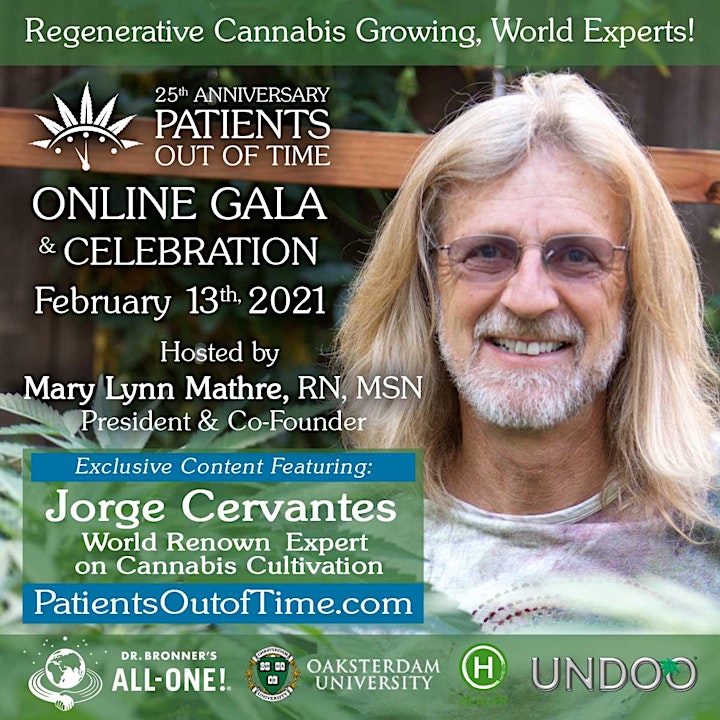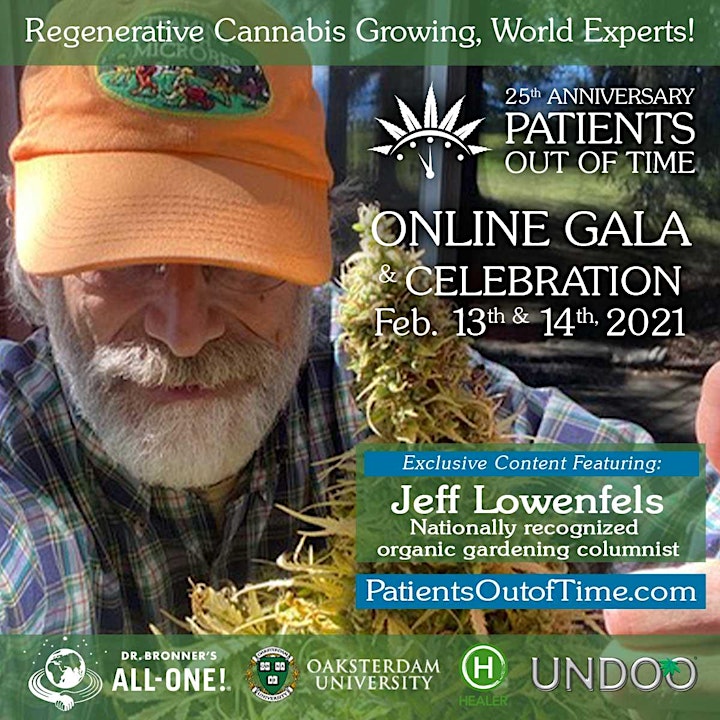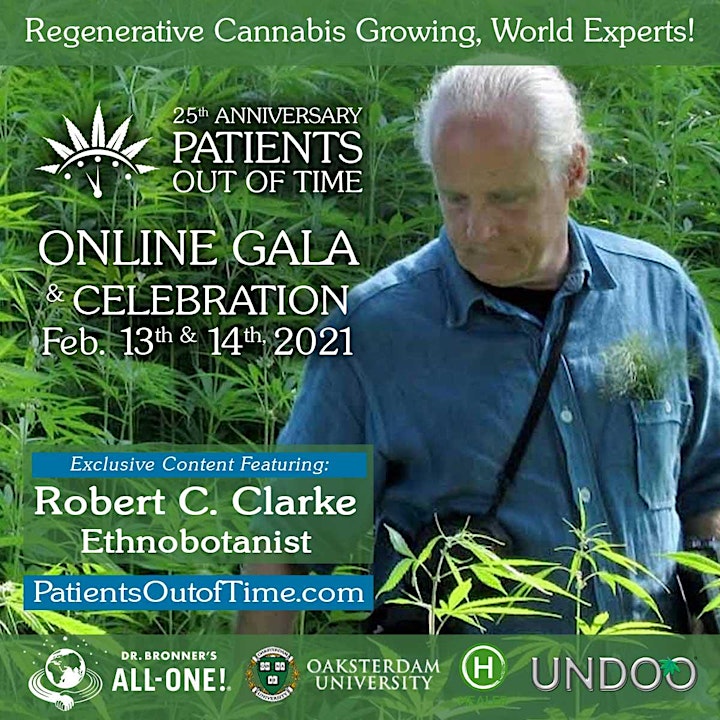 Announcing a Gala Celebration for
Patients Out of Time's 25th Anniversary!
February 13th, 2021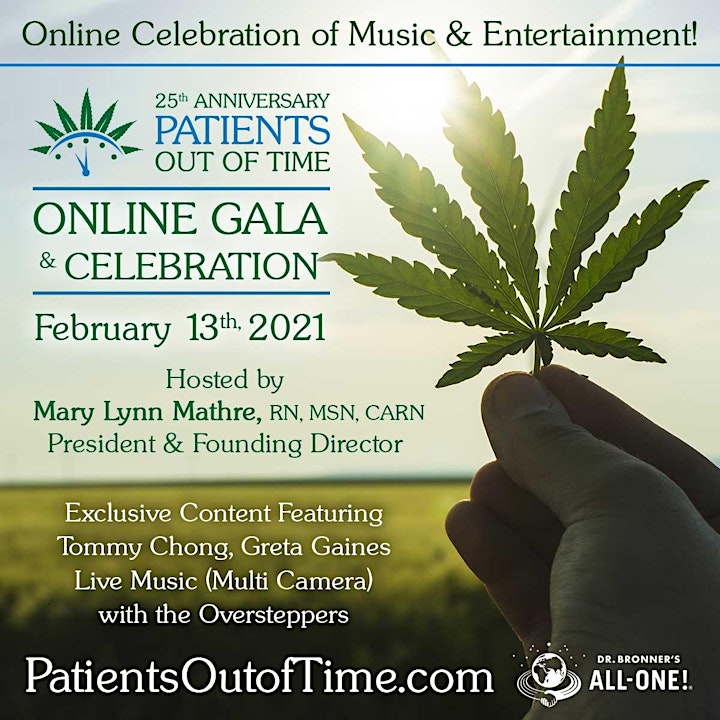 Join us online for an evening of music and celebration to commemorate Patients Out of Time's long legacy of serving patients, caregivers, researchers, and health care professionals. 
Featuring appearances from special guests including...
Tommy Chong & Greta Gaines
Live music & multi camera broadcast
with Virginia's hot and groovin' roots, rock, reggae ensemble
The Oversteppers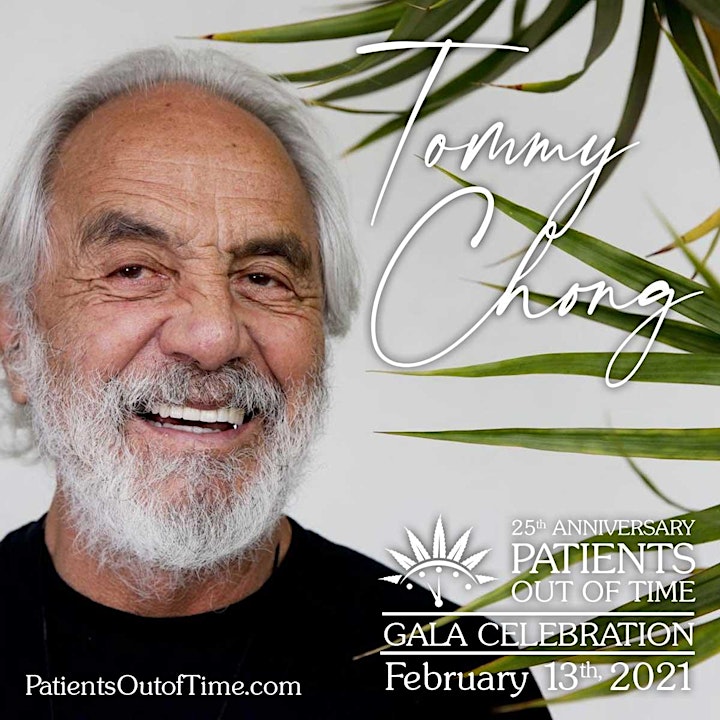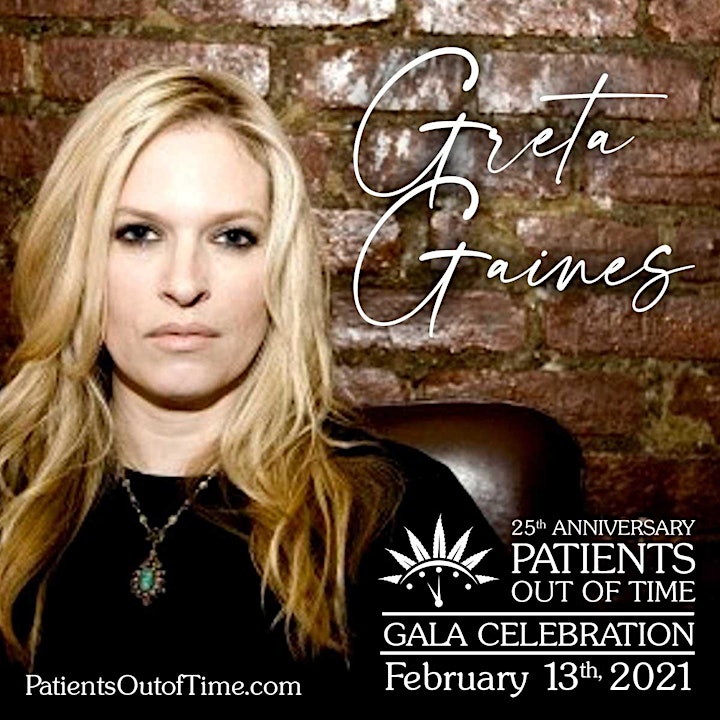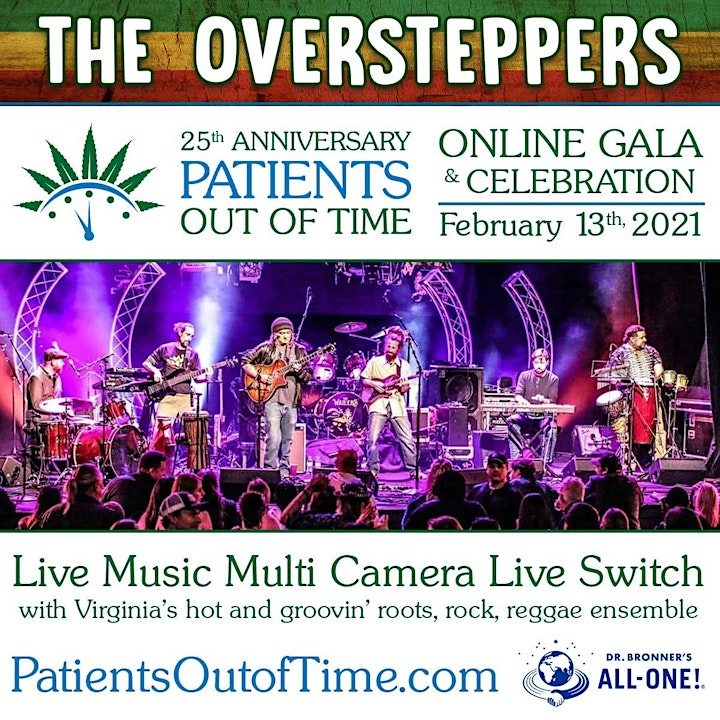 Location
Refund Policy
Contact the organizer to request a refund.
Eventbrite's fee is nonrefundable.