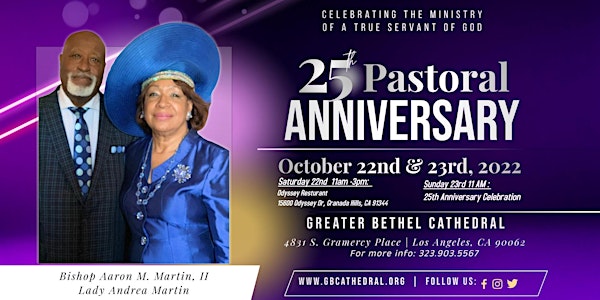 25th Anniversary Celebration
Be our guest as we celebrate 25 years of pastoral leadership.
When and where
Location
Odyssey Restaurant & Events 15600 Odyssey Drive Los Angeles, CA 91344
About this event
August 16, 2022
Grace and Peace Be Multiplied Unto You,
We are incredibly excited to share this momentous occasion to honor Bishop Aaron M. Martin, II, for 25 years of pastoral fellowship at Greater Bethel. Bishop Martin has ministered around the world. And throughout October 2022 we will stop to reflect and celebrate God using His vessel.
You are cordially invited to be our guest as we will be commemorating with a banquet at the lovely Odyssey Restaurant overlooking the beautiful San Fernando Valley, Saturday, October 22, 2022, from 12 noon to 3 pm. Greater Bethel will be hosting this event and we ask that instead of admission you will bring a love gift reflective of this grand affair.
Odyssey Restaurant
15600 Odyssey Drive
Granada Hills, California 91344
We also invite you to share an ad space in the "Special Edition" Souvenir Booklet. We would love for you to send a congratulatory page, advertise your business, or words of encouragement. Please submit your ad pages by September 17, 2022. Pages can be purchased in (full size) for $100 and (half page) for $50. Please RSVP and email your ad pages in full color to media@gbcathedral.org, on Event Brite, or by calling the church office at: 323.903.5567. Payment can be submitted with your ad by mailing a check to the church address or submitting payment online via the church website at gbcathedral.org.
Should you need any additional information regarding the souvenir booklet, services, or the celebration please contact the church office at (323) 903-5567. Thanks in advance for sharing on this momentous occasion.
Always In His Service,
Event Coordinator
Missionary Margaret Bronson