Celebrating 25 years of the Chesapeake Inn Restaurant & Marina
About this event
Join us for a celebration 25 years in the making! Celebrate with us on August 5th as we celebrate 25 years of providing great food, fun and friends since 1996 with Chesapeake Inn Restaurant & Marina. The evening will include live music from DON'T CALL ME FRANCIS, food stations, red carpet and so much more!
GENERAL ADMISSION ($100)
-Party Admission from 7 p.m. to 11 p.m
-Passed hors d' ouevres, assorted food stations
-Unlimited Frozen Drinks and of course Orange Crushes!
VIP ADMISSION ($125)
-Special VIP Hour from 6 p.m. to 7 p.m. and admission to the event
-Open bar included from 6 p.m. to 7 p.m.
-Complimentary Valet
-Commemorative 25th Anniversary Gift to first 100 guests to arrive!
-Additional full bar selections available to purchase for the entirety of the event.
ATTIRE: Please wear "upper casual" dress for our event. Still not sure what that means...here are some ideas that will help you when picking what to wear!
A restaurant that has labeled the dress code as casual may lead guests to believe that the door is left wide open. Yet, as a diner out on the town, keep in mind that when a fine dining restaurant mentions casual, their "casual" expectations are much higher than those of your typical Saturday afternoon on the couch. Your sweats and stained t-shirt are not recommended—you do not want the entrée's appearance to out-do your own. A casual dress code for fine dining restaurants means comfortable… yet polished. You may want to reference Gap stores, with simple tees or comfy Polo shirts atop fitted jeans, finished with the shoes of your choice. Quoting the more lackadaisical-casual fashions, such as that of Abercrombie and Fitch, where flip-flops and ripped jeans seem to be standard, may not work as well for a fine-dining setting. Think the attire of golf, but not that of surfing.
In defining casual, it may be easier to juxtapose it with what are considered dressier characteristics. Light colors, especially bolds or patterns, are considered more casual than your darks and blacks; and while collared shirts are standard for most fine diners, collarless shirts are only acceptable when casual wear is recommended. Rough fabrics, such as linen and canvas can take an outfit down a couple notches, whereas leather shoes and smooth fabrics will take an outfit up some.
"In general, business casual or "upper casual" means dressing professionally, looking relaxed yet neat and pulled together." ;) Hope that helps!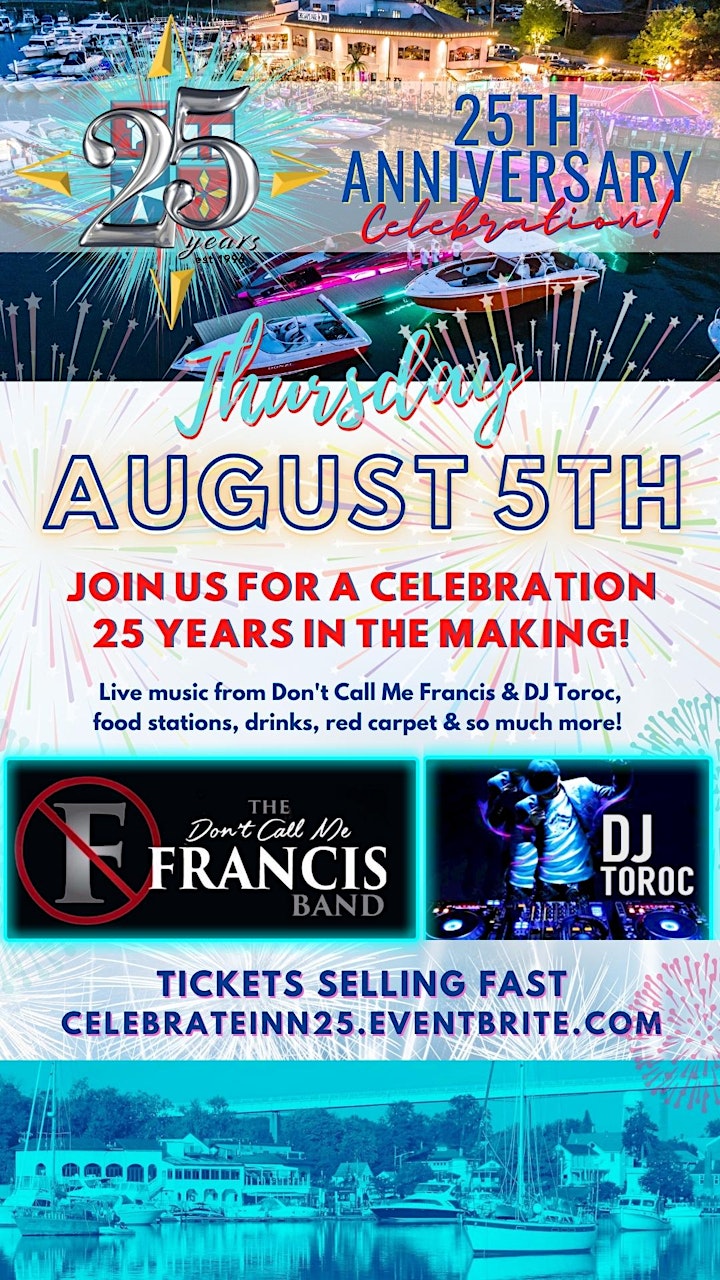 Organizer of 25th Anniversary Celebration!
The Chesapeake Inn has something for everyone and is open 7 days of week! We have waterfront indoor & outdoor casual dining on our Deck with wood burning brick oven pizzas, homemade burgers, fresh tacos, a variety of salads & sandwiches are just a few of our favorites! On the Deck, located on the first level of the restaurant we have live entertainment 6 days a week and an active Tiki Bar facing the basin of the C&D canal - Reservations for the Deck are available for 10 or more & over the phone ONLY.  Visit our events calendars on our website for the full live entertaiment schedule & our daily specials! 
We also have upper casual dining available on our second level dining room where there  is indoor or outdoor seating (on the terrace) available with our full dining room menu. Reservations online through www.opentable.com/chesapeake-inn-restaurant are available for the second level Dining Room ONLY.
Please don't forget we offer sushi year round - the full sushi menu is available on the deck or in the dining room 7 days a week May-September.
Please visit www.chesapeakeinn.com to view our full menus available in each specific location! Our newly updated website gives you a view of everything that the Chesapeake Inn has to offer including virtual tours of our banquet rooms, our waterfront Ballroom and all our catering and banquet options.