Description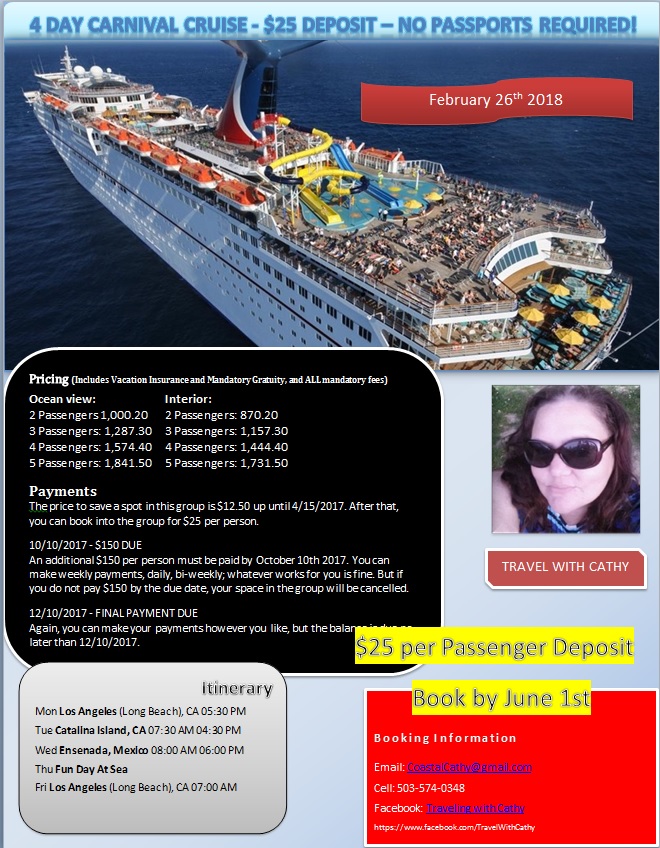 Who's ready toJoin me on a 4 Day Cruise! Let's plan a Baja Mexico Cruise with No Passports Required!

$12.50 Deposit Per Person Holds Your Spot at This Price!

Cruise Info:
Ship: CARNIVAL INSPIRATION
Destination: Baja Mexico
Sail Date: Feb 26 2018
Days: 4
Departure Port: Los Angeles, CA
Debarkation Port: Los Angeles, CA



Itinerary:
Mon Los Angeles (Long Beach), CA 05:30 PM
Tue Catalina Island, CA 07:30 AM 04:30 PM
Wed Ensenada, Mexico 08:00 AM 06:00 PM
Thu Fun Day At Sea
Fri Los Angeles (Long Beach), CA 07:00 AM


Pricing (Includes Vacation Insurance and Mandatory Gratuity, and ALL mandatory fees)

Oceanview:
2 Passengers 1,000.20
3 Passengers: 1,287.30
4 Passengers: 1,574.40
5 Passengers: 1,841.50


Interior:
2 Passengers: 870.20
3 Passengers: 1,157.30
4 Passengers: 1,444.40
5 Passengers: 1,731.50

Although passports are always recommended when you leave the country, they're not required for this particular cruise. You can take this cruise with your birth certificate and state ID. Just don't do anything silly and like, miss the ship.. that's when a passport would come in right handy. Even if you miss the ship, it'll wait for you. So you REALLY must have been LATE if you get left. As long as you're on an official Carnival Excursion, it'll wait for you reguardless.

HOW PAYMENTS WORK
You can book into the group for $25 per person. I cannot however assign you a room until you've paid a total of $150 per person toward your total vacation price.

10/10/2017 - $150 DUE
An additional $150 per person must be paid by October 10th 2017. You can make weekly payments, daily, bi-weekly, whatever works for you is fine. But if you do not pay $150 by the due date, your space in the group will be cancelled.

12/10/2017 - FINAL PAYMENT DUE
Again, you can make your payments however you like, but the balance is due no later than 12/10/2017.

You don't have to get the insurance, and you can pay the tips later, you can also add flights later if you like, or just book them on cathyroberts.inteletravel.com.

This particular cruise is perfect for couples and families looking to plan a vacation for next year that they can make payments on between now and then.



The ship sales out of California. You can book from 2-5 people per cabin, so if budgeting is an issue, maybe comment below and look for a couple to double with! :D

Check out the water slide, the bars.. really just get to know the cruise ship here. . http://bit.ly/2lmSqzL
Check out the kids club! http://bit.ly/2lnbgXA
Group Booking #5XL6L5