24th LASAM Annual General Meeting and Scientific Seminar
Description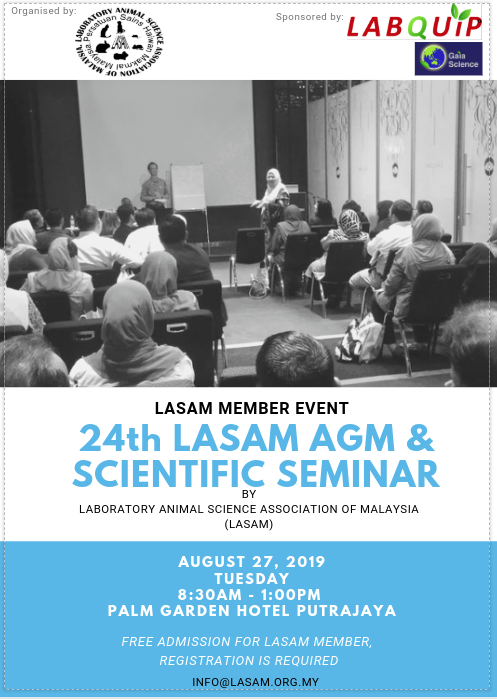 Seminar Itinenary
8.30 am - 9.00 am: Registration
9.00 am -9.10 am: Welcome speech from LASAM President
9.10 am - 9.40 am : Talk 1: Combination therapy of dual antigen DNA vaccine and anti-PD1 using a preclinical transgenic mouse model - Mrs Nur Syafinaz Zainal - Cancer Research
9.40 am - 10.00 am : Tea Break
10.00 am - 10.30 am: Talk 2 - : Rodent models of addiction and dementia: Neuroscience perspectives - Dr Jayakumar UKM
10.30 am - 11.30 am : Talk 3 - Inhalation anaethesia on animal surgey - Miss Christy Shen - RWD Life Science/Labquip
11.30 am - 12.00 am: Talk 4- High cell viability microinjection system for small laboratory animal- Mr Steven Ta - GAIA Science Sdn Bhd
12.00 pm - 1.00 pm : LASAM 24th AGM
1.00 pm - LUNCH BREAK
Who Should Attend
Veterinarians, lecturers, graduate students, research assistants, research officers, science officers, assistant science officers, laboratory technicians and all those involved in animal studies.

REMARK
1. LASAM members are entitled to join the seminar for FREE (with no outstansing fee)
**Please note FULL payment must be received before the seminar.

MEMBERSHIP REGISTRATION
http://lasam.org.my/user/register
Jenis Keahlian (Type of membership)*
Ahli Biasa (Ordinary Member)- RM40
Pelajar (Student Member)- RM15
Ahli Seumur Hidup (Life Member) - RM500
Ahli Bersekutu -(Associate Member) RM50
Any inquiries, please contact info@lasam.org.my / nura@primanexus.com.my
017-305 1076 (Nura)
WEBSITE: http://lasam.org.my/events/24th-lasam-agm-scientific-seminar?event=24th%20LASAM%20AGM%20&%20Scientific%20Seminar=
Thank you to our Main Sponsor: LabQuip
Other Sponsor: Gaia Science