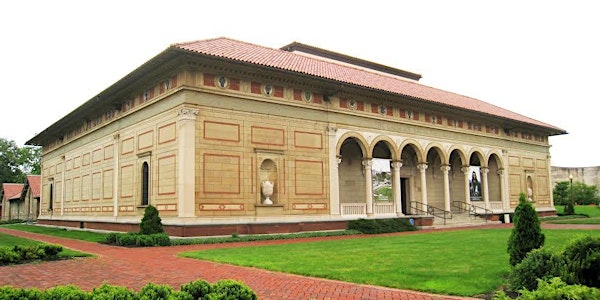 24th Annual Conference on the Arts & Crafts Movement
24th Annual Conference on the Arts & Crafts Movement in Cleveland and Environs
When and where
Location
Opening Sessions are at Cleveland Museum of Arts 11150 East Blvd Cleveland, OH 44106
Refund Policy
Contact the organizer to request a refund.
Eventbrite's fee is nonrefundable.
About this event
Initiatives in Art and Culture explores Cleveland and Environs as a hub for the Arts & Crafts Movement and subsequent expressions of the Movement's ongoing living spirit. We will investigate: Cleveland's cultural connections to Chicago and other cities, its important metal-working tradition as well as its ceramic expressions, the architecture and planning of the city and environs, and its history of significant cultural markers and institutions for the training of women, and its proximity to other important centers of the Movement such as Oberlin.
Among confirmed presenters to date:
Mark Cole, Chair of Modern, Contemporary and Decorative Art and William P. and Amanda C. Madar Curator of American Painting and Sculpture, CMA;
Jeannine deNobel Love, author of Cleveland Architecture 1890 – 1930: Building the City Beautiful (Michigan State University Press, 2020);
Annie Storr, Resident Scholar, Women's Studies Research Center, Brandeis University, an authority on the influence of John Ruskin, William Morris, and the Arts & Crafts Movement on Ellen Gates Starr and the Movement at Hull-House Settlement;
Stephen Harrison, Deputy Director and Chief Curator, Museum of Art Munson–Williams–Proctor Arts Institute;
Leslie Cade, Director of the Ingalls Library and Museum Archives, CMA;
Andria Derstine, Director, AMAM, Oberlin College;
Richard Guy Wilson, architectural historian and Commonwealth Professor Emeritus in Architectural History at the University of Virginia.
Among confirmed sites to date:
Lake View Cemetery (founded in 1869; favored by wealthy families during the Gilded Age, the extensive early monument-building at Lake View helped give rise to the Little Italy neighborhood. Notable monuments to be visited include:
The James A. Garfield Memorial (George Keller, 1890). The stone memorial features a distinctive 180-foot tower, stained-glass windows, a golden dome, and exterior reliefs by Caspar Buberl depicting scenes from Garfield's life.
Wade Memorial Chapel (Hubbell & Benes, dedicated 1901). Wade Memorial Chapel is one of the few remaining structures that features an interior entirely designed by Louis Comfort Tiffany and his studios.
The Cleveland Museum of Art (1916, Hubbell & Benes in a landscape designed by the Olmsted Brothers; 1970 educational wing, Marcel Breuer; addition 2009 – 2012, Rafael Viñoly).
The Old Stone Church. The First Presbyterian Church of Cleveland (1884, Charles Schweinfurth closely based on the 1834 original) features stained glass windows, four of which were designed by Louis Comfort Tiffany and an impressive, trussed wood, barrel-vaulted ceiling.
The Society for Savings Building, also known as the Society Corp. Building, (1889, Burnham & Root) the tallest building in Cleveland until 1896 and often considered to be Cleveland and Ohio's first modern skyscraper). The building features Walter Crane murals and leaded glass skylight and a Burnham interior.
The 1903 Group Plan. An ambitious city-planning scheme devised by Arnold W. Brunner, John M.Carrére and Daniel Burnham; in it, the Mall⎼ to feature Beaux Arts buildings of uniform height⎼ was to become the city's functional and symbolic center. This plan to create an official gateway leading from a new railroad depot on the lakefront to Public Square was quashed in the 1920s by the Van Sweringen brothers' decision to build their Union Terminal train station on Public Square (1927). Seven buildings (one demolished) were realized as part of the plan of which we will visit the following:
The Original Cleveland Federal Building (now the Howard Metzenbaum Courthouse) -- Arnold W. Brunner and the first building erected under Cleveland's 1903 Group Plan.
The Cleveland Public Library (Walker & Weeks, construction begun in 1923; Stokes Wing, 1997 connected by an underground corridor). A garden designed by landscape architecture firm OLIN, with sculptures by Maya Lin and Tom Otterness.
The ARCADE (John Eisenmann and George H. Smith 1890), two nine-story buildings are joined by a five-story arcade with a glass skylight spanning over 300 feet and four balconies.
Cleveland Trust Company (George Browne Post's 1903). The basement now houses a bar and nightclub, the first and second floors are occupied by Heinen's Fine Foods grocery, and the third floor contains offices. The building features important murals by Francis Millet and sculpture by Karl Bitters in its pediment.
The Union Club of Cleveland, E. 12th St. and Euclid Ave. (established 1872; present building: Charles F. Schweinfurth, 1905).
Rose Iron Works, LLC, 1536 E 43rd Street, Cleveland, OH. Founded in 1904 by Martin Rose, a highly skilled ornamental blacksmith trained in Budapest and Vienna, Rose Iron Works remains a family-owned source of architectural, ornamental, and sculptural metalwork.
Buildings in Oberlin:
The First Church in Oberlin, United Church of Christ (cornerstone laid in 1842; renovations, 2019 by Weber Murphy Fox with funds from the state of Ohio, the National Fund for Sacred Places, and the community). In a sanctuary with the largest auditorium west of the Alleghenies when it was built .
The Allen Memorial Art Museum (AMAM; 1917; 1977 addition, Robert Venturi). AMAM includes painted ceiling decorations by Frederick J. Wiley, other paintings include stanzas from a poem by the 19th-century transcendentalist Christopher Pearse Cranch at the clerestory level, and ironwork by Samuel Yellin.
Tour the Oberlin Campus and View the following buildings designed after Silsbee's 1903 Memorial Arch:
Finney Chapel (1908) Cox Administration Building (1915), AMAM, Allen Memorial Hospital (1925) and the 1931 quadrangle for the Graduate School of Theology, all by Cass Gilbert
Hall Auditorium (Wallace Harrison, 1954)
Minoru Yamasaki's White Conservatory and King Building (1962-66),
The Mary Church Terrell Main Library, formerly known as The Mudd Learning Center (1974, Warner, Burns, Toan & Lunde).
Weltzheimer/Johnson House (Frank Lloyd Wright, 1947). The first of nine Usonian homes to be built in Ohio and the only non-Californian Usonian to use redwood. Keeping with many of Wright's projects, the construction budget rose from $15,000 to $50,000.
Hotel Accommodations - BLOCK IS FULL.
Initiatives in Art and Culture has a room block at Hotel Indigo Cleveland Downtown, located at 651 Huron Road E Cleveland, OH 44115. If you plan on arriving before Wednesday, September 14 or leave after September 18, kindly call the reservations team directly at 216-377-2008.
https://www.ihg.com/hotelindigo/hotels/us/en/find-hotels/hotel/rooms?qDest=651%20Huron%20Road,%20Cleveland,%20OH,%20US&qCiMy=82022&qCiD=14&qCoMy=82022&qCoD=18&qAdlt=1&qChld=0&qRms=1&qRtP=6CBARC&qIta=99801505&qGrpCd=iac&qSlH=CLEHR&qAkamaiCC=US&qSrt=sBR&qBrs=re.ic.in.vn.cp.vx.hi.ex.rs.cv.sb.cw.ma.ul.ki.va.ii.sp.nd.ct.sx.we.lx&qAAR=6CBARC&qWch=0&qSmP=1&setPMCookies=true&qRad=30&qRdU=mi&srb_u=1&qSHBrC=IN&icdv=99801505
Email erin.welsh@artinitiatives.com with any questions
Transportation from Cleveland Hopkins International Airport including shuttle/taxi's and rapid transit information:
o https://www.clevelandairport.com/parking-transportation/shuttles-limos-and-ride-shares
o https://www.cleveland-airport.com/taxi.php
o https://www.clevelandairport.com/parking-transportation/public-transportation
§ The Greater Cleveland Regional Transit Authority (RTA) offers convenient service to and from Cleveland Hopkins International Airport. RTA's Red Line provides regular service between CLE and downtown Cleveland via the Tower City Station. The trip takes less than 30 minutes and trains depart from CLE every 15 minutes for the majority of the day.