Location
Hilton Dallas/Plano Granite Park
5805 Granite Parkway
Plano, TX 75024
Refund policy
Contact the organizer to request a refund.
Eventbrite's fee is nonrefundable.
The local Marine Corps League invites you to join us for this unique celebration of military ceremony, history, and tradition.
About this event
The observance of the Marine Corps Birthday, on or around the 10th of November each year, is a time honored tradition among Marines. Whether Marines are in the thick of battle or at peace, we always take a moment to observe the birth of our illustrious Corps.
At a minimum Marines generally practice the tradition of cutting and sharing a birthday cake, as well as reading the Commandants' birthday messages. When possible, Marines prefer to celebrate the birth of our distinguished military organization with a military ball, including all the pageantry, ceremony, and tradition you would expect from a military ball.
Generally the only people who get to experience this event are the Marines and their dates. A few distinguished guests from around the country and globe get the honor to attend the Commandant's Ball in Washington D.C. Also, each year, our State Department personnel and foreign dignitaries look forward to attending the event hosted by the Marines stationed at the U.S. embassies around the world.
The Marine Corps League, LCpl Jacob D. Hayes Detachment is proud to be bringing this special event to the Collin County community for our 6th year. We open our Ball to the community in order to share this unique event of history, tradition, and ceremony that few get to experience. Please join us in celebrating the Marine Corps' 247th birthday.
Free valet parking
Cocktail hour
Photographer
Commemorative glasses
Ceremony conducted by Marines
Pick your seats & meal for plated dinner
Music & dancing
Support Toys For Tots program
Discounts on rooms in the hotel
Funds raised from the Marine Corps League, LCpl Jacob D. Hayes Detachment's Marine Corps Birthday Ball support Marines, FMF Corpsmen, and their families right here in the Collin County Community, as well as other veteran causes/initiatives that promote the ideals of the Marine Corps League.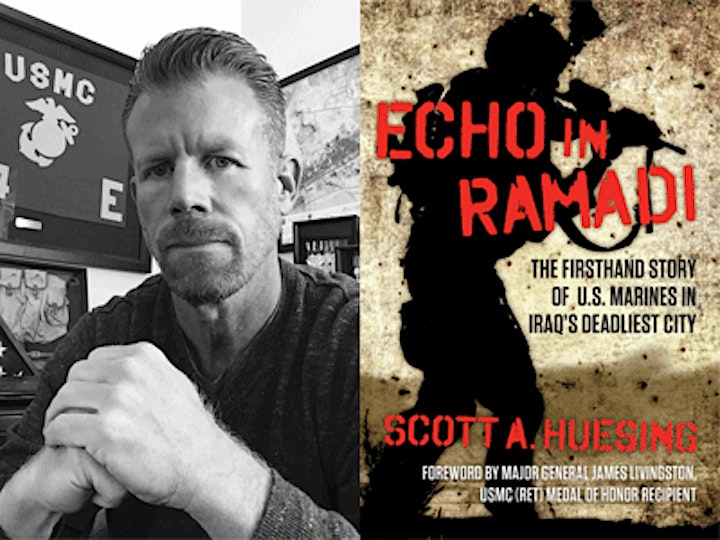 Scott A. Huesing is an American bestselling author and public speaker with over 25 years of experience writing, teaching, and getting his audiences to connect to the material he presents, both in the military and private sector.
Scott has been a featured guest on Fox & Friends, One America News Network, NBC 7, KTLA 5, KUSI San Diego, KTVU Fox 2, The Hugh Hewitt Show, Brian Kilmeade Radio, The David Webb Show, Frank Buckley Interviews, and over 300 local and nationally syndicated radio shows and podcasts. He has been a guest speaker at the Reagan Ranch Center, The Nixon Library, The Citadel, and The Marines' Memorial Club.
Scott is a retired USMC Infantry Major with 24 years of service, both enlisted and as a commissioned officer. His career spanned 10 deployments in over 60 countries worldwide. During his numerous deployments to Iraq, Afghanistan, and the Horn of Africa he planned, led, and conducted hundreds of combat missions under some of the most austere and challenging conditions.
He has spoken to audiences of over 2,000 conveying his thoughts, intent, and goals in order to motivate listeners about leadership, team-building, and personal challenges.
Scott is an expert contributor and has written articles, editorials, and scholarly pieces for Fox News Channel, Entercom, The Marine Corps Gazette, Military Times, Townhall, and The Daily Signal. He has been an author for the U.S. Marine Corps doctrine shaping the future of training within the world's most elite branch of service. He is the creative author for Marine Expeditionary Units, America's first response force, with The Lightning Press.
As a Marine Infantry Officer in 2006 Scott was privileged to command Echo Company, 2d Battalion, 4th Marines as part of the 15th Marine Expeditionary Unit (MEU) while attached to 1-9 Infantry Battalion ("Manchu"), 1st Brigade Combat Team (1 BCT "Ready First"), United States Army (USA) as part of the Surge Strategy in Al Anbar Province, Iraq.
Details
ATTIRE: The Marine Corps Ball is a black tie event. Civilian guests should attend in formal, black tie attire. Military members should wear their branch's appropriate dress uniform. Marine Corps League members or members of other veteran organizations may wear the appropriate dress uniform for their organizations.
MEALS: At approximately 8:00pm, after the conclusion of the ceremony a plated will be served for dinner. Guests will need to select the meal they would like when they purchase their tickets so that the detachment can supply the hotel with the number of meals before the event.
All meals come with
Salad: Mesclun Greens, Shaved Cucumber, Carrots, Baby Tomato, Radish, Dried Cranberries, Garlic Croutons, with Maple Mustard Vinaigrette or Ranch Dressing.
And choice of:
BEEF: Red Wine Braised Angus Beef, Roasted Mushrooms Port Wine Demi, Chive Whipped Potato, and Asparagus
CHICKEN: Rosemary Grilled Chicken Breast, Red Wine Demi Roasted Bacon, Onions, Mushrooms, and Chive Whipped Potato Winter Vegetable Medley
VEGETARIAN: Vegetable Wellington, Wild rice, Smoked Gouda, Basil, Seasonal Vegetables, Chive Whipped Potato, and Roasted Tomato Sauce
*If you have special dietary needs, please let us know when ordering your tickets so that we can make arrangements with the hotel. Dessert will be the traditional Marine Corps Birthday cake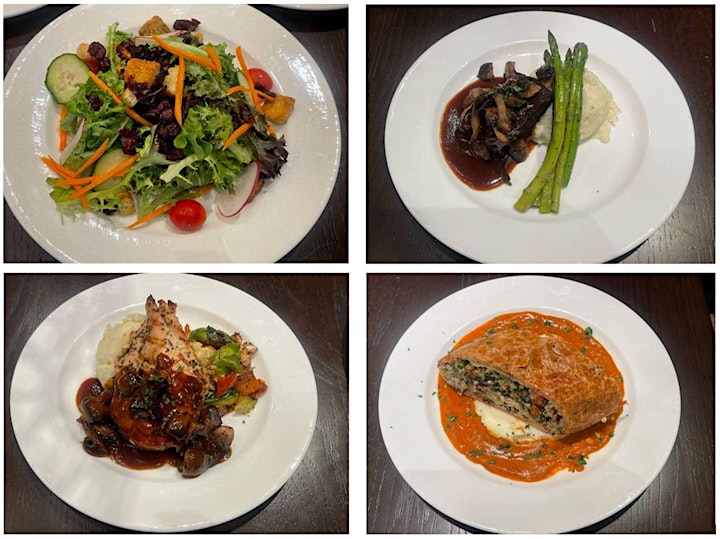 HOTEL ROOMS: The Marine Corps League has secured a block of rooms at a discounted rate. A Standard King or Double Queen room for $139.00. This rate includes breakfast the following morning. To reserve your room use the following link: https://book.passkey.com/event/50285792/owner/13589314/home
TOYS FOR TOTS: The Marine Corps Birthday Ball falls within the Toys for Tots season and the Marine Corps League, LCpl Jacob D. Hayes Detachment is the local coordinating organization for Toys for Tots within Collin County. We would like to ask each attendee to bring a new unwrapped toy to support the local Toys for Tots mission. We will have a convenient drop off location during cocktail hour.
CORPORATE SPONSORSHIPS AVAILABLE: Does your business support veterans? Here is an opportunity to support local veterans while getting to experience a unique military tradition. Find out more about becoming a sponsor today: https://www.collinmcl.org/marine-corps-birthday-ball-sponsors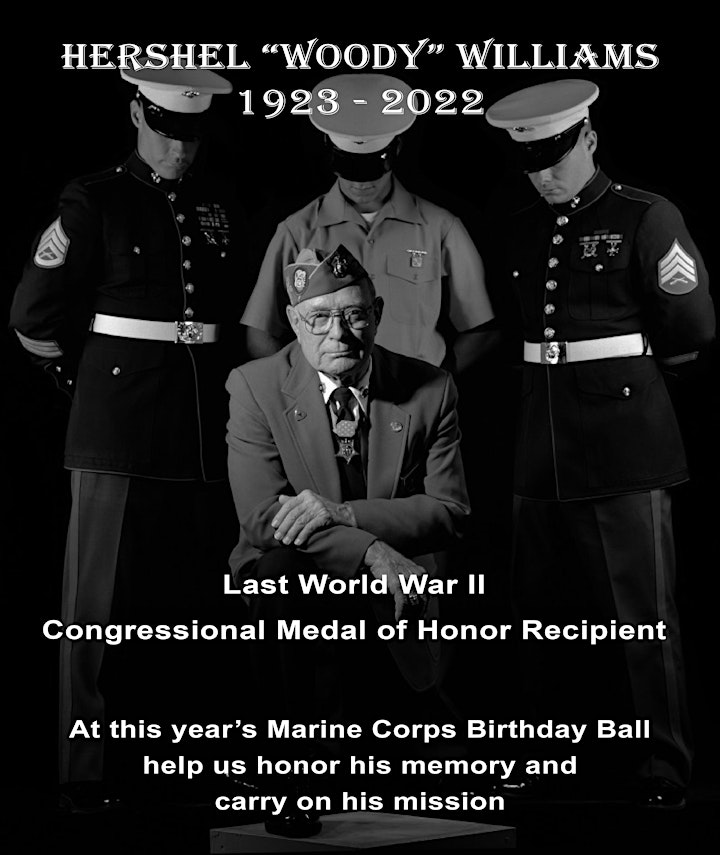 Dear Guests:
On June 29th America lost its last World War II Congressional Medal of Honor recipient, Hershel "Woody" Williams. Woody was presented the Medal of Honor by President Harry Truman, for his actions as a flamethrower during the Battle of Iwo Jima.
Woody served in the Marine Corps for 20 year before retiring as a Chief Warrant Officer 4. After the war he worked for the Department of Veteran Affairs for 33 years and created the Woody Williams Foundation. Woody lived a life of service throughout his 98 years of life.
The Woody Williams Foundation is a charitable 501c(3) nonprofit organization that pursues specific endeavors and goals through the vision of Medal of Honor recipient Hershel "Woody" Williams. The Foundation encourages, with the assistance of the American public and community leaders, establishing permanent Gold Star Families Memorial Monuments in communities throughout the United States, conducting Gold Star Families Outreach across the country, providing Living Legacy scholarships to eligible Gold Star Children, and advocating for the educational benefits for all Gold Star Family members.
Hershel "Woody" Williams was the Guest of Honor/Speaker at the Collin County Marine Corps League's 243th Marine Corps Birthday Ball in 2018. He was 95 at the time and still knew how to motivate Marines. Several of our members personally worked with Woody and his foundation to have a Gold Star Families Memorial Monument built in Frisco. Our Marine Corps League also donated to the cause.
Upon Woody's passing, his family has indicated that Woody wished for people to carry on his mission. Our detachment not only wants to honor our friend Woody William's wish, but we also believe in his mission of honoring Gold Star Families who have sacrificed their loved ones for our nation. This is why our Marine Corps League detachment is now looking at various ways to support the Woody Williams Foundation.
The Marine Corps League of Collin County hopes to help raise funds to support the creation of more Gold Star Families monuments across Texas. Specifically, we would like to support projects in cities where there are other Marines Corps League detachments, so that we may assist them with their involvement of Honor Gold Star Families in their communities, in order to help them build better community relations and a stronger Marine Corps League in their respective cities.
To kick start this goal we added special incentives to our corporate sponsorships packages, and we will have additional fundraising opportunities at the Marine Corps Birthday Ball. The additional funds will go to the Woody Williams Foundation. Please follow the detachment for updates on these initiatives and consider supporting our effort to honor Hershel "Woody" Williams and continue his mission of honoring Gold Star Families. Thank you.
The Marine Corps League, LCpl Jacob D. Hayes Detachment reserves the right to adjust seating based on number of tickets sold or other special considerations. We will make every effort in such cases to keep attendees in the approximate location they selected and with the other guests they wish to sit with. Couples will always be kept together.
*Tickets are nonrefundable after 6:00pm on Sunday, November 4th.