242nd Marine Corps Birthday Ball

Saturday, October 28, 2017 at 6:00 PM

-

Sunday, October 29, 2017 at 12:00 AM (CDT)
Event Details
An elegant evening of military history and tradtion to support local veterans.
The observance of the Marine Corps Birthday, on or around the 10th of November each year, is a time honored tradition among Marines.  Whether Marines are in the thick of battle or at peace and stateside, they always take a moment to observe the birth of their illustrious Corps. 

At a minimum Marines generally practice the tradition of cutting and sharing a birthday cake, as well as reading the Commandants' birthday messages.  When possible, Marines prefer to celebrate the birth of their distinguished military organization with a military ball, including all the pageantry, ceremony, and tradition of the elegant military balls of eras long past.
Marines around the globe can be found enjoying an evening of celebration - from the Commandant's Marine Corps Birthday Ball in Washington D.C., which is attended by distinguished guests from around the county and globe, to the Marine Security Guard Birthday Balls at embassies around the world, which are attended by ambassadors and dignitaries, to the Marine Unit Birthday Balls held on or near Marines bases.
The Marine Corps League, LCpl Jacob D. Hayes Detachment is proud to be once again be bringing this special event to the Collin County community.  We open our Ball to the community in order to to share this unique event of history, tradition, and ceremony that few get to experience. Please join us in celebrating the Marine Corps'  242st birthday. 
Funds raised from the Marine Corps League, LCpl Jacob D. Hayes Detachment's Marine Corps Birthday Ball support Marines, FMF Corpsmen, and their families right here in the Collin County Community, as well as other veteran causes/initiatives and programs that promote the ideals of the Marine Corps League. 
---


Omni Hotel Frisco, a part of the The Star campus, new home of the Dallas Cowboys headquarters. The Omni is located at 11 Cowboys Way, Frisco, TX 75034. Free parking will be available in the Blue and Silver parking garages across from the hotel. 
The hotel will also be offering a reduced valet parking rate of $15 for Ball guest.  The detachment has also secured a block of rooms at a discounted rate of $189 per night.  There are a limited number of rooms so please reserve yours as soon as possible.  To reserve rooms through the following link.
https://www.omnihotels.com/hotels/frisco/meetings/marine-corps-of-collin-county-birthday-ball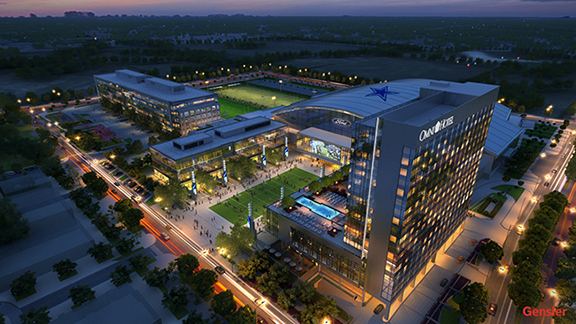 ---


Guest of Honor/Speaker:  The Guest of Honor/Speaker at this year's Marine Corps Birthday Ball will be Jacob Schick.  Jacob is a local 3rd generation Marine who wasserverly injured in Iraq.  His physical injuries included compoundfratues, skin, ligament, and bone loss, partial loss of his left hand, right leg below the knee, and included 46 surgeries and 23 blood transfusions.  He was also diagnosed with PTS (Post Traumaic Stress) and TBI (Traumatic Brain Injury). 

Jacob Schick not only over came his injuries but has gone on to become a national advocate for veterans and the issues they face.  He appeared, on the HBO special "Alive Day Memories: Home From Iraq" as well as "60 Minutes Sports" and was in Clint Eastwood's production of "American Sniper."
Jacob then went on to work for the Center of BrainHealth at UTD as a member of the Warrior SMART Training Team.  A program that assists veterans overcome the effects of PTS and TBI.  He also served as an ambassador for Carry The Load and veteran projects.
Jacob is now the excutive director of 22Kill.  22KILL works to raise awareness about the suicide epidemic that is plaguing our country, and educate the public on mental health issues such as PTS.  22KILL also serves as a resource for veterans, and works to build a network of like-minded organizations to be able to connect veterans with programs and services in their local area.



---


Attire:  The Marine Corps Ball is a black tie event.  Civilian guest should attend in formal, black tie attire.  Military members should wear their branch's appropriate dress uniform.  Marine Corps League members or members of other veteran organizations may wear the appropriate dress uniform for their organizations. 
MARINE CORPS LEAGUE UNIFORMS
Marine Corps League's Ship Store:
https://www.mclnational.org/store/p362/Men%E2%80%99s_Red_Blazer.html
Marine Shop:
https://www.marineshop.net/catalogsearch/result/?q=red+blazers
​
TUX RENTAL
Men's Wearhouse is offering our guests a special rate of $99 tux rentals.  Should individuals want to choose a more elegant or accessories you will still receive a substantial discount.  In addition to the discount, for every tux rented Men's Wearhouse will be donating $5 back to the Marine Corps League.
​
Men's Wearhouse will also have a representative at our Sept 19th meeting to take measurements.  You will also be able to pick up your tux at the hotel the day of the Ball.  The discount is good at any area Men's Wearhouse but we would prefer you show the location at 2401 Present Rd. in Plano support.  Just mention you are attending the Marine Corps Birthday Ball and give them Group #7551711 to receive the discount.
---


Meals:  After the ceremony there will be a plated dinner.  Guest will need to select the meal they would like when they purchase their tickets so that the detachment can supply the hotel with the number of meals before the event. 
All meals  will be accompanied by artisan bread, butter, west rock coffee & decaffeinated coffee and hot tea.  Served with classic Caesar salad (Anchovies, Reggiano, Croutons, Romaine).
                        CHOICE OF:

                        -Beef:  Aromatic Short Rib, Rice Grits, Chinese Broccoli, Fried Garlic, Plum Sauce

                        -Chicken:  Herb Roasted Chicken, Sweet Potato Mash, Brussels Sprouts, Rosemary Jus 
                        -Vegetarian:  Butternut Squash (chop), Brussels Sprout Salad, Pomegranate, Walnut Pesto)

                        *If you have special dietary needs, please let us know when ordering your tickets so that we can make arrangements with the hotel.
Dessert will be the traditional Marine Corps Birthday cake
---


Toys for Tots:  The Marine Corps Birthday Ball falls within the Toys for Tots season and the Marine Corps League, LCpl Jacob D. Hayes detachment is the local coordinating organization for Toys for Tots within Collin County.  We would like to ask each attendee to bring a new unwrapped toy to support of the local Toys for Tots mission.  We will have a convenient drop off location during cocktail hour.   
---


The Marine Corps League, LCpl Jacob D. Hayes Detachment reserves the right to adjust seating based on number of tickets sold or other special considerations.  We will make every effort in such cases to keep attendees in the approximate location they selected and with the other guests they wished to sit with. Couples will always be kept together.
Venue map / Omni Hotels & Resorts
50680982
Regular
5
#ff3377
71419439
Purple Heart
11
#33bbff
71419440
Medal of Honor
9
#99aaff
71419441
Silver Star
7
#cc52cc
71419442
Navy Cross
10
#4da6ff
When & Where

Omni Hotels & Resorts
11 Cowboys Way
Frisco, TX 75034


Saturday, October 28, 2017 at 6:00 PM

-

Sunday, October 29, 2017 at 12:00 AM (CDT)
Add to my calendar