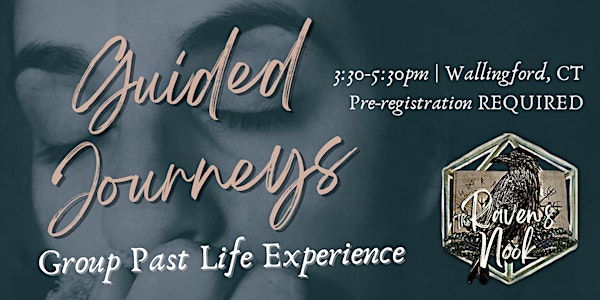 Guided Journey's: Group Past Life Session (Wallingford, CT)
About this event
HAVE YOU EVER WANTED TO EXPLORE A PAST LIFE? 👤
"𝗚𝘂𝗶𝗱𝗲𝗱 𝗝𝗼𝘂𝗿𝗻𝗲𝘆𝘀:" is a 𝘛𝘞𝘖 𝘏𝘖𝘜𝘙 event that includes a channeled meditation that connects you and your spiritual team to a previous life to discover and understand *while maintaining an observer's perspective:*
-Why you feel a deep connection with certain places, cultures, professions, hobbies, people, and relationships.
-Identify and understand any physical and mental ailments you have, which may be remnants of a past life experience.
-Explore unresolved emotions or trauma which has carried through into this lifetime, creating fears or beliefs you've had trouble navigating, explaining or understanding.
-Acknowledge and embrace the key lessons learned through those lives.
These events conclude with an opportunity for attendees to share within sacred space, to wrap up loose ends and receive answers to individualized questions.
🔮🔮🔮
We now have Megan Ey joining us, a "historical enthusiast," on site at EACH session. She is the owner of "The Raven's Nook," which sells ritual herbal soaks and ceremonial baths that will be used in our session. Her guidance is intended to provide historical context and insights as it relates to your spiritual journey!
Optional: a yoga mat and journal to record your session afterwards.
*LIMITED IN PERSON SEATING! PRE-REGISTRATION IS STRONGLY ENCOURAGED!
Any questions prior to session can be emailed to: Jessica@SoulOverMatter.com